Applicators for kohl
Three bronze applicators, Sudan or Chad / Silver and bronze spoons, Saudi Arabia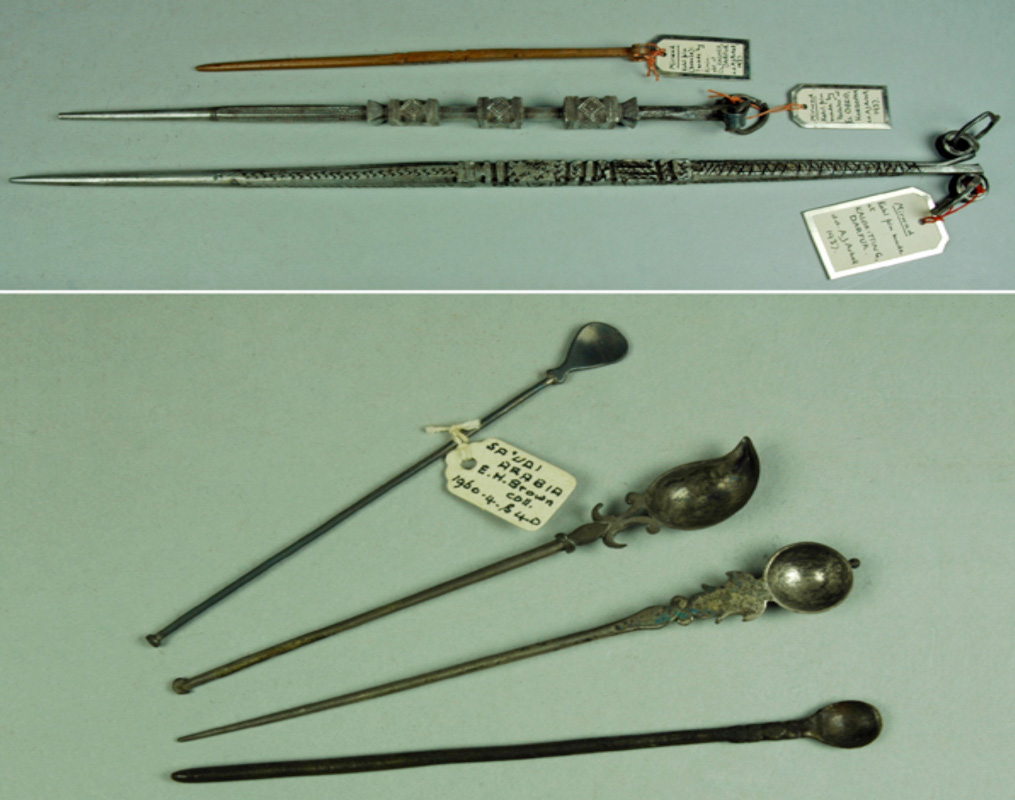 Top: Collected and donated by Anthony John Arkell in 1937; 1937.35.60 .2, .20 & .24
Bottom: Collected by E. H. Brown before 1960. Purchased from J. Thornton & Sons in 1960; 1960.4.39 & .40-42 BKohl was not just for outlining the eyes; it was also used to darken the lashes (a precursor to mascara) and the eyebrows. Spoons were used to extract the powdered kohl from a container, which was mixed with fat or oil to form a paint-like substance. This could then either be applied liberally to the brows or eyelids with the fingertips. Alternatively a narrow, pen-like tool (known in the Middle East as the 'needle') such as those shown here, could be used to draw strokes across the eye or brow. Although all these examples from Africa and Arabia are made of metal, scoops and applicators were also made of wood, ivory, or bone and were often embellished or engraved with designs.
Kohl was used in the Western world from the late 18th century. It became particularly associated with female performers on the stage and screen, whom ordinary women increasingly sought to emulate. In the 1960s, an enthusiasm for natural products prompted manufacturers to produce 'kohl' eye-pencils made from plant-based ingredients, which remain widely available and in-demand today. Modern kohl is still made in northern Africa, South Asia and elsewhere and a popular recipe includes charred almond shells and the soot of burnt sunflowers.