Armlets and anklets
Boar-tusk armlet, Hawaiian Islands, before 1825
Stringwork wrist ornaments, Brazil
Canework anklets, India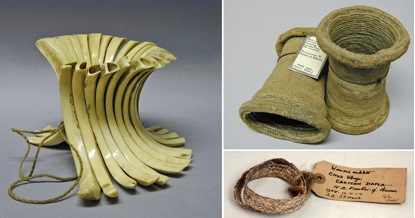 Left: Collected by Andrew Bloxham in 1825 and transferred from the Ashmolean Museum in 1886; 1886.1.1563
Above right: Collected and purchased from Henry Balfour in 1927; 1927.80.14
Below right: Collected by James Philip Mills and donated by him in 1948; 1948.10.11This ruffle or armlet from Hawaii was collected in 1825 but may well be older than that. Captain Cook collected similar ones during his three Pacific voyages between 1768 and 1780. It is made of twenty-two smoothed and polished boar's tusks, eleven from each side of the jaw. The tusks are cleverly arranged so as to make the olona plant fibre attaching them together through small holes barely visible. Such ornaments, known locally as kupe'e ho'okalakala, were used in dancing and gave the lower arms a distinctively tapering and flared shape.
In Amazonia tubular string- or bead-work bands were bound very tightly around the wrists and ankles to make the arm and leg muscles purposely bulge out. The resulting 'hardness' of the muscles was thought to be a sign of health and strength, the opposite of being soft and weak. The idea of 'hard' and 'soft' is carried through much of Amazonian landscape mythology, where 'soft' humans are likened to trees which eventually wither, die and rot, compared to the eternal and defiant 'hard' mountains and rocks.
The canework anklet is of the sort traditionally worn by women of the Dafla Hills in the Arunachal Pradesh region of northeast India. A pair of these anklets is woven on to the leg between the ankle and the knee extremely tightly, causing oedema and a bulging effect that is deemed attractive. The collector of this example, James Philip Mills noted that the bands caused "constriction almost amounting to deformity". The Dafla and Gallong women of the region also favour extremely heavy iron earrings which mean the earlobe has to be stretched dramatically – and sometimes slashed – to cope with the weight, so the commitment to ideals of beauty and identity among such women is undoubted.