Reshaping breasts
'Bullet bra', USA, 1950s
Breast implant, Oxford, UK, c. 2001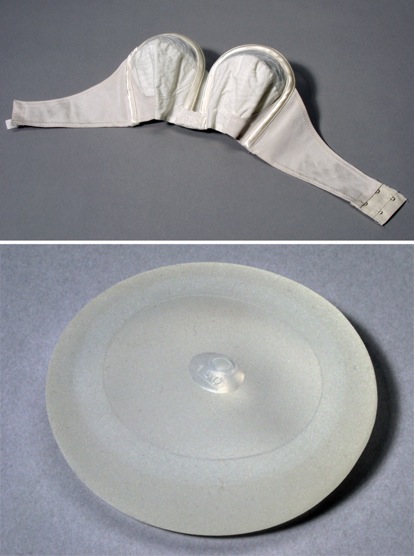 Top: Purchased for the Museum in 2002; 2002.24.1
Bottom: Donated by the Acland Hospital, Oxford in 2001; 2001.63.1As one of the most potent identifiers of a woman's gender and sexuality, breasts have been the subject of modification for centuries. As shown by these two objects, a bra and an implant, such modification can either be achieved externally or internally.
There is no medical reason to wear a bra and indeed in many societies, women choose not to. However in the West it is considered an almost obligatory piece of underwear, not only for functional reasons – support and comfort – but also as a way of shaping the breasts according to the demands of fashion or religion, and as a tool of seduction.
In Europe, precursors of the bra can be found in Bronze Age Crete where women wore a support around the ribs called a mastoeides and a cutaway jacket leaving the uplifted breasts exposed. In contrast in Rome nearly 3000 years later, in the 4th century, mosaics show women wearing a flattening bandeau around their chests to reduce movement while taking in games but also to disguise the appearance of a mature bust. By the middle ages the vogue was for flat, concealed breasts as a woman's curves were deemed contrary to the prevailing religious attitudes. However, with the dawn of the Renaissance, an artistic appreciation for fuller figures and an eroticization of the female form led to a trend for slim waists and uplifted, slightly exposed breasts. This ideal was generally maintained, through several variations, by the use of bodices and corsets until the invention of the first brassiere by American corset-maker Charles De Bevoise in 1904 (although the first piece of clothing patented as a 'brassiere' and existing as two 'cups' joined by silk straps was made by another American, Mary Phelps Jacob to go under her sheer evening dress in 1913).
Over the next few decades the bra went through intense development. The type of 'bullet' bra shown here was designed to give women the pointy-shaped breasts that came into vogue in the 1950s, helped by glamorous 'sweater girls' on the big screen such as Marilyn Monroe, Diana Dors and Jayne Mansfield. These were some of the first mass-produced bras, the conical shape achieved by circular machine stitching around the cups and the use of nylons and elastic providing a new level of comfort. This model was known as 'Loveable Ringlet' and was made using the Springform brand of cotton developed in the 1940s by Springs Industries in South Carolina, USA.
Silicone gel implants were developed in the 1960s but breast augmentation surgery only became more widespread in the 1980s. Despite the considerable cost and health risks in involved, breast enlargement is still the most popular cosmetic procedure performed on British women: more than 10,000 received silicone or saline implants in 2010.