Bamboo belts
Men in bamboo belts, Konyak Naga people, Nagaland, India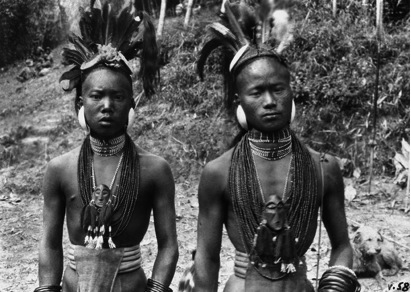 From a photograph taken by John H. Hutton 1913–1923; 1998.218.28.6Clothing that slims the waist is often associated with women: items such as bodies, corsets and, more recently, control-panelled underwear. However, this photograph demonstrates that the aesthetic appeal of a slim waist has not always been a female concern.
The image was captured in about 1920 by the anthropologist John Henry Hutton in the Naga Hills of Nagaland, near Assam in northeast India. It shows two Konyak Naga men wearing cane belts wound tightly wound their waist to make them look smaller and contrasting with their muscular shoulders to create a distinctive triangular silhouette. The men are also wearing items of ceremonial dress including feathered headdresses, pendant ornaments with carved human heads, and large ear ornaments.
Most of the men of the various Naga groups wore belts from which they could attach knives, shields and drums. However, for the Konyak these special belts made of splits of cane wound in seven or eight loops, were more ornamental than functional. Once put on as an adult, they were rarely, if ever, removed for the rest of the man's life. Due to constant contact with the skin and body oils, the cane gradually attains a beautiful golden yellow colour.
The forests of Nagaland are rich in cane and bamboo and it is a major focus of local craftwork. It is said that Naga people begin life in a cradle of bamboo and end life in a coffin of bamboo. It is used to make several items of men's traditional clothing including belts, hair combs and leggings, as well as more surprising things like weapons and cutlery.