Nail Extensions
Thailand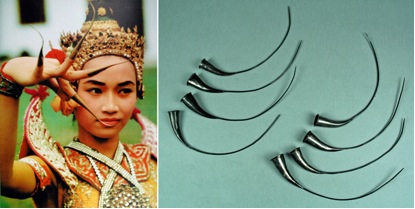 Left: Thai dancer wearing nail guards. From an image in Ritual and Seduction (London: The New English Library. 1980) Photo: © Charles and Josette Lenars, Paris.
Right: Nail extensions donated by Gerald Avery Wainwright in 1963; 1963.10.68–.75
Thai dance, a tradition that is still taught in schools, relies on gesture and posture. Training focuses heavily on achieving graceful and supple limb positions. To further accentuate dramatic and fared hand gestures, metal nail extensions were worn.
Different styles were adapted to the different styles of various dance; the silver set on the right have large sweeping curves in the style of talons, whereas the copper set worn by the girl in the photograph have a fairly straight profile with upturned ends. Other types are made of gold or stainless steel, sometimes embellished with rattan, gems, or beads. The sets of eight (none are worn on the thumbs) are custom-made by craftsmen to fit the wearer and take about a week to complete. Dancers obtain their first set when they are about eight to ten years old and are expected to replace them several more times during their dancing career.
Since the hand gestures are so fluid and fast it is vital that the extensions are a perfect fit. Dancers traditionally lick their fingers before putting them on (the last part of an elaborate costume) so that the saliva and the vacuum help keep the nails in place.