Paintings at King John's House and in Pitt-Rivers' private collections, Pitt-Rivers Art Catalogue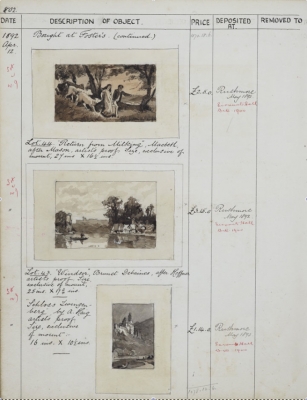 Art seems to have been important to Pitt-Rivers as it is clear that he collected it throughout his life. His art was displayed both privately (in his various homes) and in a purpose-designed gallery he established at King John's House on his estate on Cranborne Chase. Certainly in his private collection (bought presumably for his own, and his family's, pleasure), he seems to have had a taste for modern art of the period. The art he purchased or displayed in King John's House was purchased in order to tell a story about the evolution of art from its earliest beginnings. Some of these appear to be copied, and some original, Old Masters.
The boundaries between art collection and artefactual collection seem to have been blurred. Many paintings, drawings and objets d'art are listed in the catalogue of the second collection (some destined for his private use, some to be displayed publically). However, this is not a comprehensive list of his purchases between 1880 and 1900. In his private accounts he appears to distinguish between the two categories. Thompson lists the headings under which his accounts were presented which include
'... II Furniture and Art Objects Bought
... XIX Scientific Expenses ...' [Thompson, 1977: 78]
But it is clear that the boudaries were fluid.
The full extent of his art collection, like his own artefactual collections, will probably never be known. It is clear that he bought art from an early age (the earliest known purchase was a portrait in Malta) but no list survives (that we are aware of) of his art collection before 1880. A total of 174 objects are listed in the catalogue of the second collection (held by Cambridge University Library), as having been displayed at King John's House. The most complete, and contemporaneous account of what was in King John's House was written in 1894, a transcription of Le Schonix' account is given here.
There are many paintings, drawings and objets d'art in the catalogue of the second collection which were never put on display at King Johns House. It is clear from several sources that Pitt-Rivers also inherited a substantial number of works in 1880 with the rest of the estate. It is not clear why some paintings are listed in the CUL catalogue (of like type to the ones in the private family art catalogue described below) but not others, or why he seems to have obtained some paintings between 1880 and 1900 but not recorded them in the CUL catalogue. The 'missing' items may either have been obtained before 1880 (and were therefore part of his collection or separate private possessions that seem never to have been catalogued); or inherited from Lord Rivers and been on the Rushmore estate before Pitt-Rivers moved there; or else for some reason he did not catalogue some fine art items into the volumes of the catalogue even though he purchased them after 1880. There is no published account of Pitt-Rivers' private collection, but this account mentions some of the artworks displayed at Rushmore.
Pitt-Rivers seems to have purchased some of his art either directly from the artists, or from dealers, but he also bought from the Royal Academy, probably from the Summer Exhibition. He is known to have bought some terracotta figures from Horace Mountford [Add.9455vol2_p242 /1] and another terracotta figure from Edith Gwyn Jeffreys [Add.9455vol2_p242 /2] both in 1885. As Gere explains:
'Year on year the annual Summer Exhibition at the Royal Academy caused previously unequalled levels  of excitement ... the Times sometimes running commentaries on the ... Exhibition for as much as ten weeks. To be present at the exhibition opening was a social and fashionable necessity.
... The Private View of the annual Summer Exhibition at the Royal Academy marked the start of the London season. ... [it] regularly attracted well over 300,000 visitors, reflecting the enormous cultural value placed on contemporary art. [2010: 39, 46]
As usual in British private art collections, the two major components of his private collection are portraits, including portraits of his immediate family and himself, and landscapes. He shared the taste for landscapes with many of his fellow nineteenth-century landowners:
Men of fortune have begun to think their mansions incomplete unless the walls are adorned with a good few pictures; and, as a consequence, painting, most especially landscape painting, is making considerable progress towards perfection. [Henry Merritt.[?1857], 'Art-Treasures Examiner', p.73; shown as Plate 4.17 of Pergam, 2011]
Portraits of his family, and landscapes of his estates in Wiltshire and Dorset are the works that he commissioned from a variety of English artists, most notably Frederick Beaumont, with whom he seems to have had a long correspondence and (most of the time) a friendly  relationship.
This series of webpages is an attempt to provide as comprehensive a view of Pitt-Rivers' art collection as it was up to his death in 1900 as is possible. They try to trace all of the paintings that were in his various art collections. As well as providing further evidence of the extent of his collection, these webpages are here for comparison purposes, in case they shed light on what criteria Pitt-Rivers used when choosing to display some items at King John's House, and elsewhere).
Articles dealing with specific aspects of the collection:
As comprehensive list as is possible of the art works known to have been displayed in King John's House.
Items that are listed in Le Schonix, annotated with current knowledge about them
Items that are listed in the catalogue of the second Pitt-Rivers' collection as being displayed at King John's House but not listed in Le Schonix, annotated with current knowledge about them
Paintings and pictures that are listed in the catalogue of the second Pitt-Rivers' collection as NOT being displayed at King John's House and not listed in Le Schonix, but which appear to be very similar, annotated with current knowledge about them. Part I and Part II.
Known Pitt-Rivers paintings not listed in Le Schonix
Pitt-Rivers' pictures at 4 Grosvenor Gardens
Possible Pitt-Rivers paintings: links and references to paintings said to be have been owned by Pitt-Rivers but not matchable to other more definite links.
If you have any further information please let us know at This email address is being protected from spambots. You need JavaScript enabled to view it.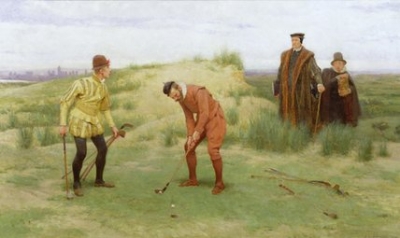 One item that was not in his art collection (unless as a reproduction) was a work by J.C. Dollman, now in the Harris Museum and Art Gallery, Preston. This had been exhibited at the 1896 Royal Academy Summer show, and Pitt-Rivers wrote to the artist to see if he could buy it, see L1648 S&SWM PR papers. The painting is called 'During the Time of the Summoners' and is shown here. Pitt-Rivers presumably wanted it to celebrate his newly opened golf course at Rushmore.
The Art Catalogue
A research tool that has proved useful is a bound catalogue that was produced for the family entitled 'Works of Art at Rushmore and No. 4 Grosvenor Gardens' (Pitt-Rivers' two main residences in Dorset and London). This is still in the family ownership and was kindly loaned to the research team for a short time. This appears to list some of the works owned by him by 1900 though it is only a selection. The criteria is not clear for this selection, some of the works were inherited and some were definitely purchased by Pitt-Rivers after 1880 as they are listed in the catalogue of the second collection. One of the items is the portrait Pitt-Rivers purchased many years before when he was serving in Malta with the British Army. The album was produced by William Edward Gray, a London based photographer who was known for photographing artworks. We are grateful to Anthony Hamper for pointing out the above link.
Although the family art catalogue suggests that the works photographed within were part of his private art collection as the title suggests they were displayed at Rushmore and Grosvenor Gardens, in fact it is known that some of them were shown in King John's House although the majority were not. It is unfortunate that even for those items which can be tracked down, there is little provenance data for before Pitt-Rivers owned them so it is mostly impossible to know when / where or from whom he acquired them.
Bibliography for this article
le Schonix, R. 1894. 'The Museums at Farnham, Dorset, and at King John's House, Tollard Royal', The Antiquary 30, 166-71
AP June 2010 / Updated and enhanced substantially December 2010, information about RA added March 2011, information about Dollman painting added June 2011