The Patti Langton Archive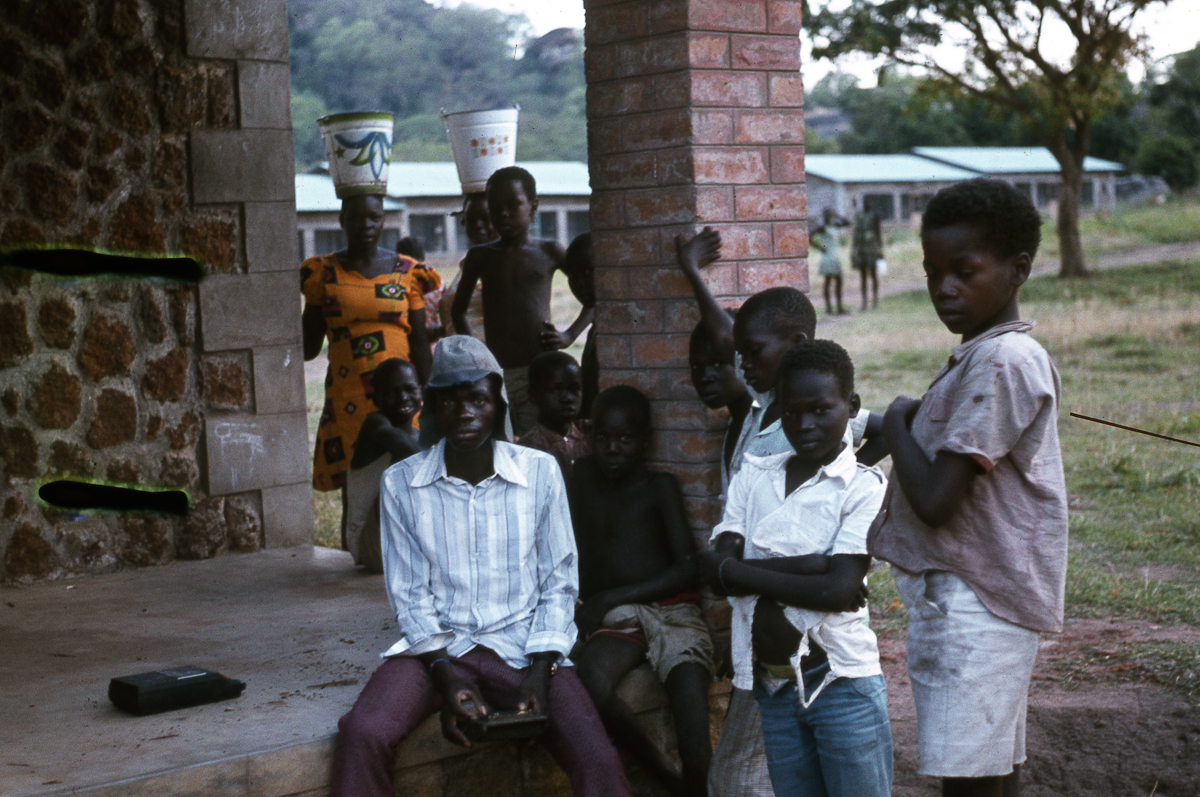 Boys and girls listening to Timon Beri playing sanza (Lui village school, Eastern Equatoria, Moru Misa, Jan-Feb 1979) [2008.78.1.27]After working as a probation officer in east London, Patti Langton came to Oxford to study anthropology at the Department of Ethnology and Prehistory in the Pitt Rivers Museum, completing an MLitt by thesis under the supervision of Schuyler Jones on ethnicity in Sri Lanka. She joined the first British Institute in Eastern Africa expedition to southern Sudan in January-March 1979, where she made a collection of objects for the Pitt Rivers Museum, mostly from the Moru, Tuich Dinka and Larim people. She returned to the Larim to conduct further fieldwork under difficult local conditions between January - July 1980. She subsequently worked as an award-winning producer for the BBC between 1982 and 1999, working on documentaries in Africa, India and Asia on cross-cultural and social issues. Her film A Time to Woo on marriage in the High Atlas Mountains of Morocco won a major prize at the Margaret Mead Film Festival for outstanding contribution to cross-cultural understanding, with two public screenings, as well as a special screening at the RAI Film Festival. Patti Langton donated her collection of fieldwork negatives and slides in 2008 as a result of the Museum's southern Sudan project, which had made her collection of objects available online. Her fieldwork photographs were sorted prior to donation, and then numbered and scanned by Museum staff. Since January 2009 Patti has been cataloguing her field photographs in great detail using the digitized images and her field notebooks, deposited at the same time as her photograph collection. Instead of cataloguing the collection at a distance, the Museum arranged for her to have Research Associate status at the Museum and come in regularly once a week to work on the documentation for her collection.
The Recordings
The Patti Langton audio collection consists of twelve audiocassettes containing music, as well as interviews, language and vocabulary. They were all recorded in Larim areas of South Sudan between 1979 and 1980. Patti has recorded a wide range of men, women and children's songs, including wedding songs, songs in praise of bulls, and children singing in praise of the rains. Her recordings contain some examples of instrumentation, including some beautiful sanza playing by Timon Beri, as well as the sounds of a recorder, and the sounds of metal and grinding stone percussion. Patti's collection is very well documented and includes full translations of most songs and interviews, which cover Larim oral histories that include origin myths, politics and wars.
The Playlist
The playlist includes two different examples of praise songs to a bull, and a Larim man's wedding song led by Peter Longole, one of Patti's main friends and informants. The sounds of everyday life, of children and cattle are present in many of the recordings.