The Louis Sarno Archive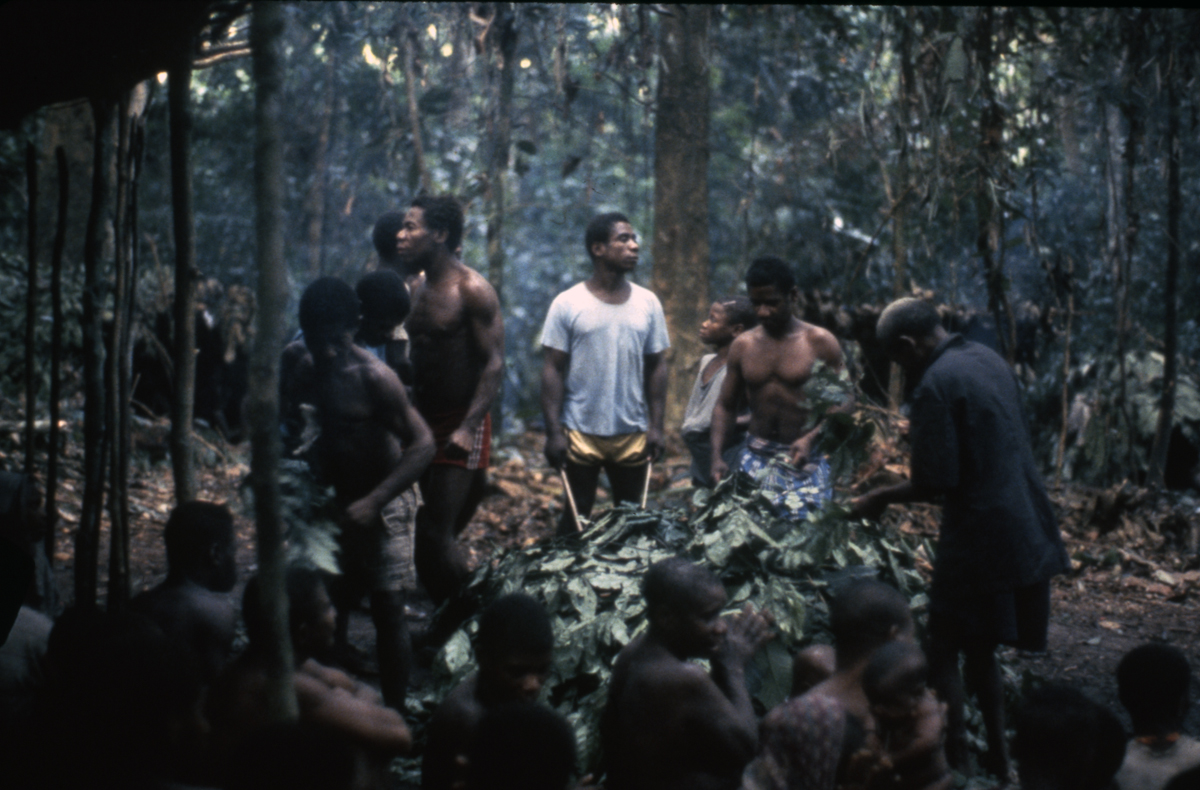 Bayaka men, women and children during a boyobi. Zalogwé (centre) is holding sticks to guide the bobé spirit (Momobongo, Central African Republic, 1989)[1997.21.3.760]Drawn to the rainforests of the Central African Republic by some of the most beautiful singing in the world, New Jersey native Louis Sarno travelled there in 1985 with a one-way ticket, a tape recorder and plenty of batteries. Nearly thirty years later he continues to live with a Bayaka community in and around Yandoumbé, a settlement that he helped found.
Ethnomusicologist Noel Lobley has been in contact with Louis for the last eight years, working through his unprecedented collection of over 1000 hours of recordings that document the full range of music­making and soundscapes of a single community of hunter gatherers for more than a generation. Louis continues to donate his recordings, images, and videos to the Pitt Rivers Museum in Oxford, with the long­term intention that his archive will benefit the Bayaka communities.
In April 2012 Louis came to Oxford for a month as a guest of the Pitt Rivers Museum, where he collaborated with Noel to enhance understanding of the content of his archive of recordings and images. On April 23rd 2012 the Museum hosted a reception tea for Louis to share stories of the Bayaka community he lives with. Louis spoke to a packed room, reflecting on Bayaka music, his conversations with Bayaka friends, and discussed some of the pressing social and political forces that are threatening the livelihood of such communities in around the rainforests of the Central African Republic.
The Recordings
The Louis Sarno collection of Bayaka music is the largest collection of its kind anywhere in the world. The result of permanent immersion within a community for almost thirty years, the collection is unprecedented in its scope, scale and ambition. Sarno has recorded every possible aspect of music making and soundscapes among the Bayaka, ranging from hundreds of hours of beautiful polyphony during extended boyobi, ejengi and other ceremonies, through to the full range of instrument playing that includes earth drums, tree drums (gooma), water drums, rasping earth bows, and pot bows (bulubu). Sarno has also accompanied men and women hunting and gathering out in the rainforests and recorded the distinctive music and communication that is central to these activities. Included in the collection are dozens of hours of rainforest soundscapes as Sarno has documented the relationship between music and the wider rainforest acoustic environment.
The Playlist
The playlist includes several examples of polyphonic singing from different ceremonies (ejengi, boyobi and mafoodya), and also the sounds of bobé forest spirits talking and singing to conduct the group Included are recordings of the stringed instruments the geedal (bow harp) and mondumé (harp zither), as well as the bassy rasp of the earth bow (ngbindi) and the unusual sounds of the pot bow (bulubu).