The Nicholas J. Allen Archive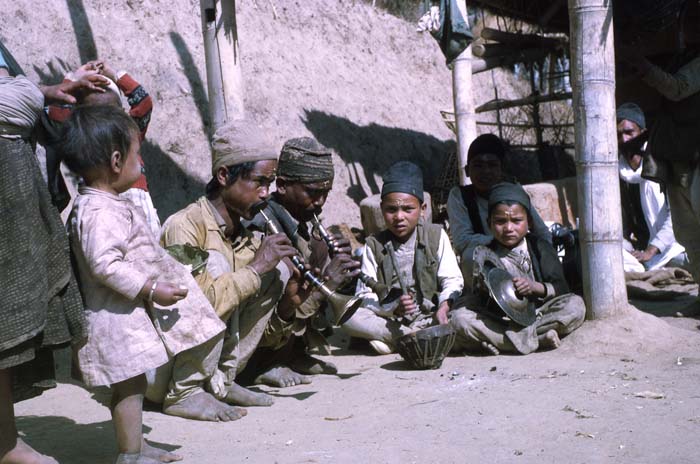 Damai musicians playing oboes, a small drum and cymbals, at a wedding in East Nepal. Photograph by N.J. Allen 1970 [2008.115.1224]. © Pitt Rivers MuseumAfter initial studies in medicine at Oxford and St. Mary's Hospital, London, Nick Allen re-trained in social anthropology, conducting fieldwork in Nepal in 1969-71. His thesis title was Studies in the myths and oral traditions of the Thulung Rai of East Nepal.
Between 1976 and 2001 he was Lecturer and then Reader in the Social Anthropology of South Asia at the Institute of Social and Cultural Anthropology, University of Oxford, and a Fellow of Wolfson College, Oxford.
On his personal website at Oxford, he writes:
"For about 15 years I concentrated on Himalayan topics. I conducted fieldwork for twenty months in the east of Nepal with one Tibeto-Burman speaking tribal group (Thulung Rai), and spent a shorter period later with another group north of Simla (Kinnaur). I wrote one book describing the Thulung language, but most of my writings concentrated on comparative studies of Himalayan social structure, kinship, ritual and mythology.
From the early or mid 1980s I diversified into three new areas. (a) I developed an interest in the history of the French tradition in anthropology, in particular in the work of Durkheim, Mauss and Dumont. (b) I tried to develop, at a certain level of abstraction, a world-historical theory of kinship, starting with systems such as occur in very small-scale societies where 'everyone is related to everyone else'. (c) Building on experience with Tibeto-Burman mythology, I have been developing the comparative approach to Indo-European cultures, along the lines pioneered by the French scholar Georges Dumézil. I believe that, with certain modifications (notably a 'fourth function' having positive and negative 'aspects'), Dumézil's approach can help us to identify certain enduring patterns in Hindu/Buddhist thought and culture, casting light both on their origins and on their subsequent transformations. However, the relevance of this line of work is not confined to the Indian subcontinent, for it relates to the history of the Indo-European-speaking world in general. For instance, if, as seems clear, the Homeric epics can be shown to be cognate with the Sanskrit Mahâbhârata, this has implications not only for the study of early Greece but also for the history of European literature."
Further information about Nick's career and publications can be found here.
The Recordings
Allen's audio collection consists of 9 reel to reel tapes, some of which were recorded between 1970 and 1971 (Thulung Rai) and some in 1981 (Kinnaur). The collection includes extended recordings of several different festivals and ceremonies, epic and myth recitals, and examples of several different instruments. In 2017 Dr Allen donated further extensive documentation relating to the Thulung recordings and their content to facilitate future scholarly use of the collection. This documentation in the Related Documents File for the Allen Collection and consists of:

PART 1. Abbreviations
PART 2a. Location on mp3s of myths told in Miyapma
PART 2b. Other genres represented on these mp3s
PART 3. Contents of each mp3
PART 4. Transcription of Thulung texts used in Miyapma
PART 5. Ritual vocabulary

The entire collection has been digitised and are available for research by appointment at the Pitt Rivers Museum, along with the extensive documentation.
The Playlist
The playlist below includes a selection of 10 edits from the original reels, examples of men and women singing, chant in ritual Thulung language, and recordings of a jew's harp, flute, oboes (sanāi), and thali (brass-plate) percussion.