Razors
Razors with horn handles, UK, c. 1800–1820
Razors made by Rodgers and Sons, Sheffield, UK, c. 1880–1920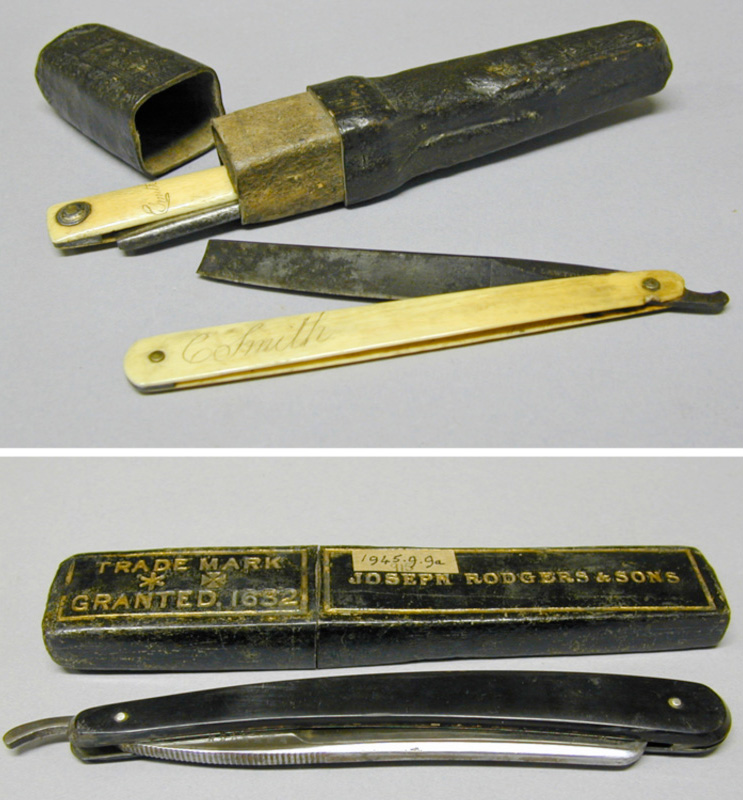 Possibly donated by Henry Balfour; 1945.9.2 and 1945.9.9After 200 years of amalgamation with the Surgeons in Britain, the Barbers became a separate trade guild again in 1745. Whilst hairdressing remains something often left to a professional barber, shaving was also done at home. By 1850, shaving mugs with separate compartments for soap and water, and shaving brushes introduced from France and made with expensive badger or cheaper hog hair, were widely available. However, until the 20th century, most men preferred to be shaved by a barber and would usually go once or twice a week.
The top set of razors here are typical of the early 19th century, with straight bone handles and large rivet washers. The best quality razors of the day featured ivory or mother-of-pearl handles. The tapering 'cast steel' blades are triangular in section and feature a shoulder to separate the sharp edge from the tang, although they lack the small cuts along the tang to stop the finger slipping that appear from around 1815 and which can be seen on the other example. The handles are inscribed with the name 'C. Smith'. This may be Charles Smith, an Englishman who settled in Wanganui, North Island, New Zealand in 1859, whose collection of over 300 Maori and Pacific artefacts are now cared for by the Pitt Rivers Museum.
The single razor is of a later date with a blackened bone handle although after 1868, celluloid handles were difficult to distinguished from polished horn, bone or wood. The 'Indian Steel' blade was made by the firm Rodgers and Sons. There had been cutlers and silversmiths by the name of Rodgers in Sheffield from at least the 17th century. The firm's famous trademark (embossed here in gold on the dark leather case) was a six-pointed star and Maltese cross. The mark was originally granted to one William Birks in 1682 but was then let to John Rodgers in 1724, and was finally confirmed by the Cutlers' Company of Sheffield in 1764. John's son Joseph secured the firm's first royal warrant from George IV in 1821 and other illustrious clients included Indian princes, Basuto chiefs, the Maharaja of Nepal, and the Katikiro of Uganda.
The next leaps forward in razor design were the L-framed safety razor, which was patented in the 1870s and monopolized by the American Safety Razor Company founded by King C. Gillette in 1901. Wilkinson Sword developed stainless steel razors in 1956.