Toilet sets
Silver toilet set, Yazd, Iran
Gold and pink ceramic toilet set, France, 18th century
Silver chatelaine, Lepcha people, Tibetan border region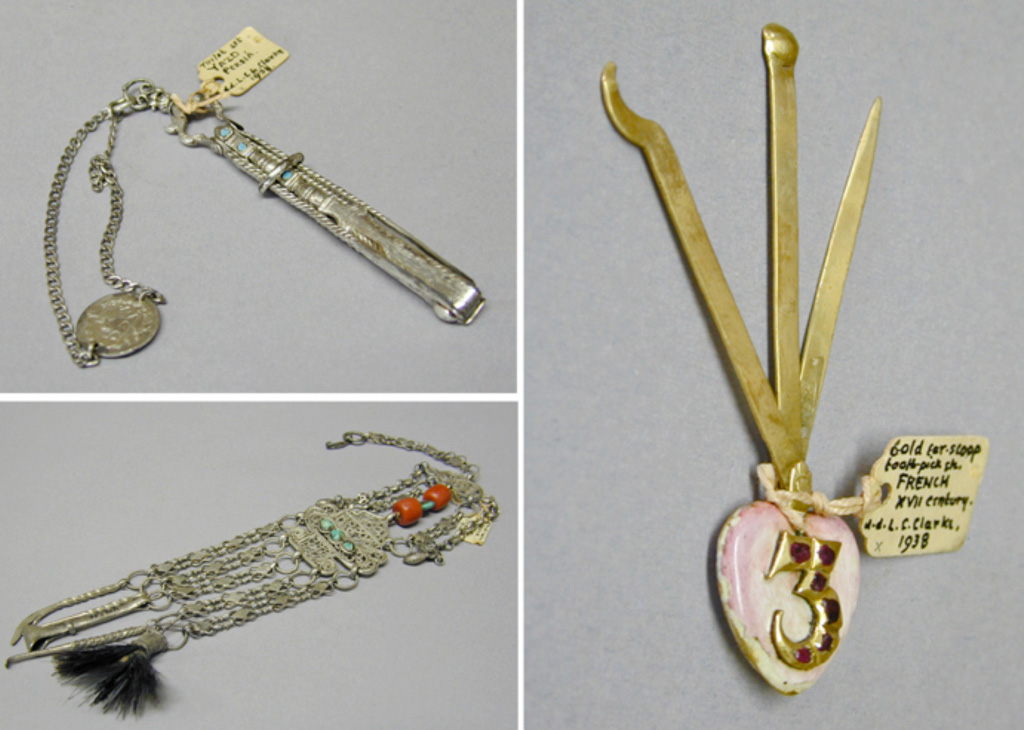 Above left: Collected by Professor T. J. Arne and donated by Louis C. G. Clarke in 1938; 1938.1.28
Right: Donated by Louis C. G. Clarke in 1938; 1938.1.35
Below left: Collected by Lord Carmichael and donated by Louis C. G. Clarke in 1938; 1938.1.26Toilet sets combine several grooming tools. Here are two folding examples: one is a gold trio of nail cleaner, ear scoop and toothpick, set in a pink enamel heart embedded with red stones. Such an item would have belonged to a wealthy lady in 17th-century France. The one from Iran is more modern, made from chased silver and set with blue stones. It is of the closing 'pen-knife' style, which is believed to have developed in Holland in the 18th century.
On the bottom left is a chatelaine, a type of toilet set worn on a belt, the various tools suspended from small chains. It is from the Tibetan border region and is made of filigree silver, turquoise and coral. It has tweezers, a toothpick, a nail cleaner, and also a small brush. The collector, art connoisseur and museum director, Louis Colville Gray Clarke, noted that it was of the type found in Russian graves of the 9th century. This is not unlikely; such multi-purpose accessories had been used in Ancient Mesopotamia and Rome, the Iron Age Hallstatt culture of central Europe and during Merovingian and Anglo-Saxon times. Some were designed to be hung around the neck. The most common combination comprised tweezers, an ear pick and a toothpick.
The name 'chatelaine' derives from châtelaine, the term for a medieval female castellan, who carried a bunch of keys at her waist. Later, mistresses of large houses and housekeepers took to wearing chatelaines with additional items such as thimbles, scissors or corkscrews that would allow them to sort out any issue they encountered within the household.
Among men of the warrior caste of Kodagu (Coorg) in southern India, a broad-bladed dagger known as a pichangatti is still worn on ceremonial occasions and from its silver-mounted sheath often hangs a chatelaine containing tweezers and picks.