Virtual Exhibition: Section Three 25 March 2000 - 8 September2002
Recycling, Symbolism, and Power

The main focus of this section is to explore the way in which the symbolic power of objects and the materials out of which they are made can be harnessed through recycling and reuse.
Charms and shrines often contain one or more reused objects with particular powers. The power and symbolism are specific to the culture in which they are used and so great care needs to be taken in interpreting these objects. This is the case with the shrine from Ghana incorporating a padlock.
This section also explores the moral value attributed to recycling because of its positive ecological connotations. This value-added dimension is primarily a First World phenomenon and is associated with a distinct 'recycled aesthetic'. The appeal of the 'Frietag' messenger bag, for example, is in part due to its contemporary design, but of equal importance is its visibly recycled nature, which is stressed in the manufacturer's brochures.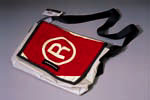 For many contemporary British artists and designers the moral-cum-ecological aspect is an important-but not the sole-dimension of their work. Madeleine Boulesteix makes chandeliers from discarded domestic materials such as pastry cutters and Pyrex cups. She talks of her concerns about waste and excessive consumerism, but also her desire to entertain, reinvent and tickle the imagination through her work.