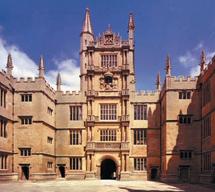 The Bodleian Library is a working library which forms part of the University of Oxford. It is housed in a remarkable group of buildings which forms the historic heart of the University. It also houses the University Archives.
Bodleian Library archive resources useful for the research of museum anthropology at Oxford:
Reference: MSS. Acland c. 1-3, d. 1-201, e. 1-6, Rolls 1
Title: Acland Family Papers
Dates of Creation: 1820-1926
... The Acland papers consist mainly of the correspondence of Sir Henry Wentworth Acland. There are also groups of papers of his daughter Sarah Angelina, of his wife Sarah, of two of his sons, Sir William A. Dyke Acland, and Henry Dyke Acland, and of his brother-in-law William C. Cotton.
Acland papers box d.92: Responses to Hatchett-Jackson and Acland's request for comments on their proposal that anthropology be added to the Honour School in May 1882.
2. Myres Papers - Memories of the Pitt Rivers Museum (MS Myres 93 (192-197)).
Reference: MSS. Myres 1-132
Title: Papers of Sir John Linton Myres (1860-1954)
Dates of Creation: 1890-1954
Extent: 132 shelfmarks