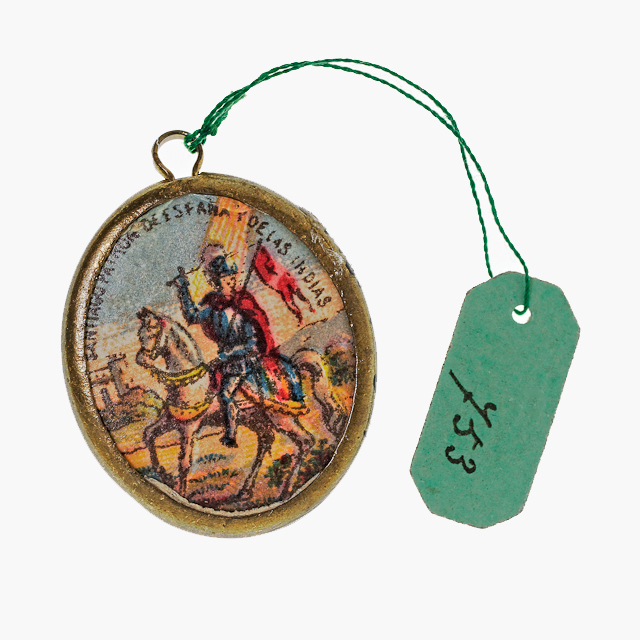 Transferred from the Wellcome Institute in 1985; 1985.52.367
Both sides of this enamel pendant are decorated with images of religious figures. One side depicts the Virgin Mary, and the other Saint James, one of the twelve apostles of Jesus and the Patron Saint of Spain, where he is known as Santiago. He is dressed in armour, seated on a horse, and carrying a banner, with a castle in the background. Around the figure is written 'SANTIAGO PATRON DE ESPANA Y DE LAS INDIAS' ('Saint James patron of Spain and the Indies').
According to legend, Saint James travelled across the Mediterranean to preach Christianity in Spain. He later returned to Jerusalem, and was martyred in AD 44. After his death his remains were returned to northwest Spain, where they lay undiscovered in a tomb until AD 819. In the 10th century pilgrims began to visit the shrine, and by the Middle Ages the town of Compostela had become Santiago de Compostela and a major place of pilgrimage.
Today, El Camino de Santiago (The Way of Saint James) is a world famous pilgrimage route. Every year thousands of pilgrims and travellers journey along the 650-mile Camino by foot, bicycle, horseback or donkey in search of spiritual fulfilment and adventure.