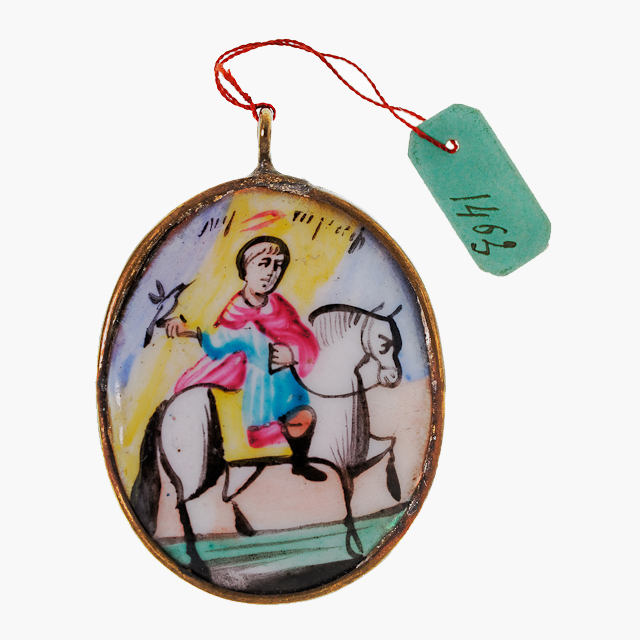 Transferred from the Wellcome Institute in 1985; 1985.52.762
Orthodox icon medallions were popular amongst travellers and soldiers in 19th and early 20th century Russia. They were often worn on a chain or leather cord around the neck together with a baptismal cross, or pinned to a shirt, and sometimes depicted the wearer's patron saint. The painting on this medallion depicts the Martyr Tryphon riding a white horse with a falcon resting on his hand.
Tryphon was born in Phrygia, a district in Asia Minor (modern Turkey). He was believed to have been blessed with holy powers which could cast out evil spirits and heal people. Like other early
Christians in the Roman Empire he was tortured and killed for his faith, and his death is recorded in the city of Nicea in AD 250. Saint Tryphon is venerated in the Russian Orthodox Church as the heavenly protector of Moscow. He is believed to have saved crops from a plague of locusts, and is invoked to protect gardens from insects and pests. Saint Tryphon is also the patron saint of birds and is often depicted holding a falcon, in reference to a story in which he saves the life of a falconer.
According to this story, Tsar Ivan the Terrible was out hunting one day when his favourite falcon flew away. His falconer, Tryphon Patrikeiev, was threatened with death and ordered to find the bird within three days. Tryphon searched the forest but he could not find the falcon. Exhausted, he lay down and prayed to his patron saint,Tryphon, for help. The falconer fell asleep and he dreamt of a man on a white horse, holding the Tsar's falcon on his hand. When he woke, Tryphon spotted the falcon in a pine tree nearby, and both man and bird returned home safely.