Glass scent bottles
Venice, Italy, 19th century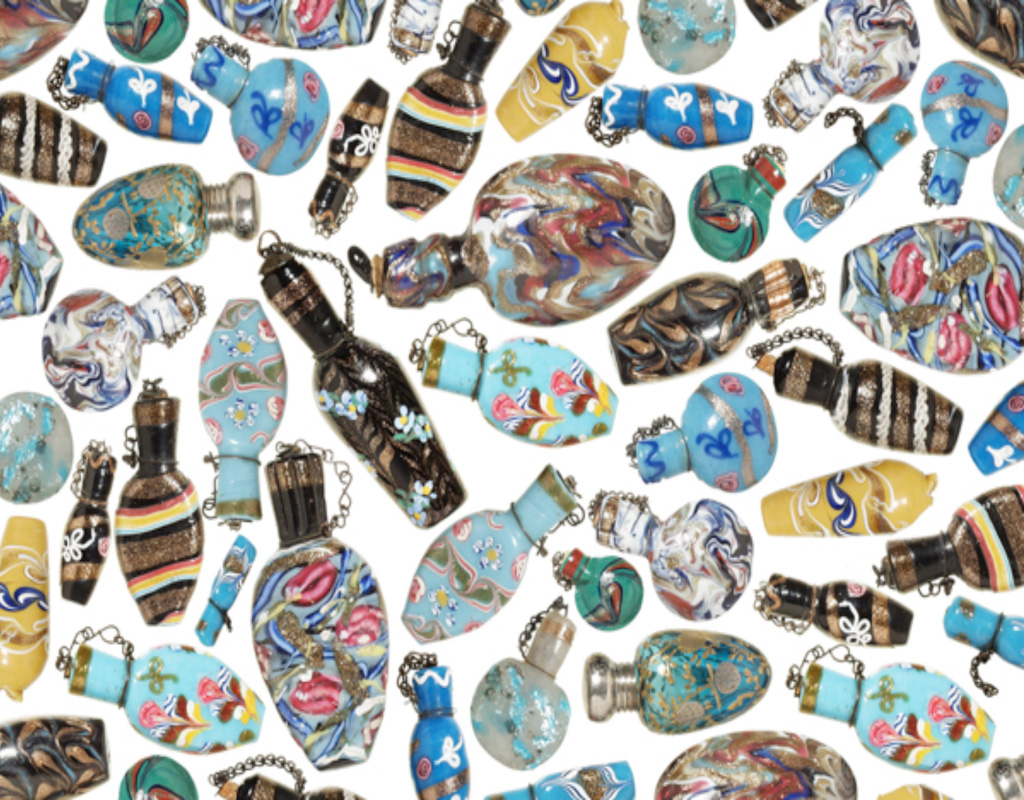 Donated by Estella Louisa Michaela Canziani in 1964; 1941.8.071–.082Prior to the age of synthetics and laboratories, perfume was expensive to produce because of the small amount of essence yielded by a comparatively huge amount of raw ingredient. Subsequently, its status as a luxury has long been reflected in the beauty of the containers designed to hold it.
Until the early 20th century it was customary for scent to sold in large, utilitarian bottles, which could be decanted into the customer's own decorative bottle. Today, the shape of the container and the packaging are just as important as the scent itself for creating the image the manufacturers seek to promote, be it sophisticated, feminine, mysterious, and so forth.
These miniature bottles are made out of a type of glass known as aventurine (also known as goldstone), which is flecked with glittering metallic particles. Aventurine is believed to have been created by the Italian Miotti glassmaking family when they accidentally added copper to molten glass in the mid-17th century (a ventura means 'by chance'). Venice had been famous for its glass-makers for centuries but it was the growth of tourism in the 19th century which really increased their celebrity.
Perfume bottles were the perfect inexpensive souvenir; French opaline glass bottles featured scenic views on the lid, and German porcelain bottles had the names of resorts painted among the flower decoration. In Venice aventurine was the popular choice for mementoes and these examples were probably made for the tourist market. Whilst some of them are fitted with a simple stopper, others have a chain. A small ring could be attached to the chain, for use at balls or other public occasions. Suspended by the ring from the finger, the bottle was clasped and warmed in the hand. This ensured a strong fragrance when the bottle was opened.