G. N. Morhig postcard series:
Charles Gabriel Seligman slide collection
Ronald Godfrey Lienhardt (1921-1993)
View photographs by Ronald Godfrey Lienhardt.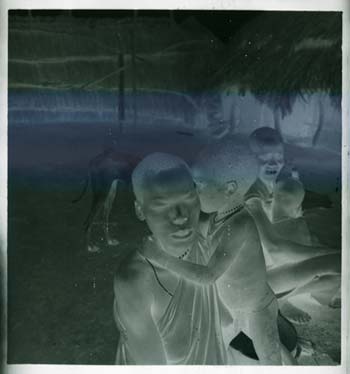 2005.51.205.1
Lienhardt was born in Bradford, Yorkshire to a Swiss father and British mother, and was educated at Downing College, Cambridge (1939-1941) where he read English Literature. In 1941 he joined the Royal Army Ordinance Corps and in 1943 was commissioned as a Lieutenant in the Royal Army Service Corps and posted to East Africa.
He returned to Cambridge in 1945, and in 1947 finally graduated in Archaeology and Anthropology. On graduation the government of the Sudan awarded him a grant to study the Dinka, with Downing College also contributing, and he embarked on several years of fieldwork among the Rek Dinka of Gogrial as well as other groups until 1951. He had transferred as a post-graduate student to Exeter College, Oxford in 1948, and in 1952 completed his doctoral thesis entitled 'The Dinka of the Southern Sudan: Religion and Social Structure'. He had already been appointed Research Lecturer in African Sociology at Oxford in 1949, but from 1950-1952 he held a Research Fellowship from the International African Institute to study the Anuak. In 1955-1956 he started a department in Sociology and Social Anthropology at the College of Arts and Sciences in Baghdad.
From the late 1950s until the mid 60s he was a member and resident of Queen Elizabeth House, and in 1964 a Visiting Professor at the Institute of African Studies in Accra, Ghana. In 1961 his widely influential book Divinity and Experience: The Religion of the Dinka was published by Oxford University Press. In 1967 he was appointed a Governing Body Fellow of Wolfson College, Oxford, and from 1973-1975 he was Vicegerent of that college. In 1983 he received an honorary D.Litt. from Northwestern University, Illinois.
Lienhardt's important contributions to the published literature on Southern Sudanese ethnography as well as the anthropology of religion and other subjects, is matched only by the huge influence he wielded for a generation of students and colleagues at Oxford and elsewhere, as well as by the deep and long-standing personal friendships he established with members of the Dinka community, for whom he was known as Thienydeng, 'The Rod of the Spirit' or 'The Stake of Rain'. The esteem in which Lienhardt was held by both students of the Sudan as well as by the communities there, has been marked by a number of dedicated books and journal issues, notably Vernacular Christianity: Essays in the Social Anthropology of Religion Presented to Godfrey Lienhardt (JASO Occasional Papers No.7: Oxford, JASO 1988) as well as the special issue of JASO in his memory, Vol. XXVIII, No. 1, 1997.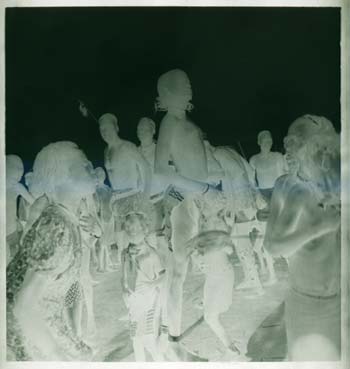 2005.51.221.1
Scope of the Collection:
432 (120 film, 6x6 cm format) negatives, probably taken with a Rolleiflex camera, scans of which form the resource made available as part of this project. There are a large number of loose prints in the collection that will be catalogued and researched in due course. The collection was accepted by the Museum from Lienhardt's estate towards the end of the project in 2005, and although only very limited research has been possible, the Museum is delighted to have this opportunity to make this important photographic material available. A number of images from the collection were taken by a research student at the University of Oxford to Southern Sudan during 2005 and some information gained from this limited research has been incorporated into the catalogue.