An Example of the Unexpected Benefits of putting Research Materials on the Internet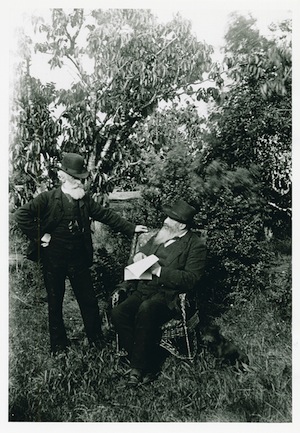 Howitt and Fison with Midge. Courtesy: Centre for Gippsland Studies Pictures Collection, Monash University Research Repository http://arrow.monash.edu.au/hdl/1959.1/71455
A personal account
I am a bit of an evangelasist about the benefits of putting raw research data onto the web, but recently I was party to a prime example of why this might give you unexpected, but important, benefits.
I was transcribing most, but not all, of Fison's correspondence with Tylor for this website; the letters were written in the late nineteeth century. They are now held within the Tylor papers in the Pitt Rivers Museum manuscript collections. One of the later letters, Fison 39, written on 23 November 1887 reads:
'… We were wishing you [that is, Tylor] could have been with us during my late visit. You would enjoy a day or two with Howitt, & his delightful family at their pleasant residence. He & I were sitting outside the house--(at least I was sitting there, &, I grieve to say, smoking a short pipe). I had the Dieri MS in my hand, & we were discussing some point in it, when his three daughters--fine, sousy [sic], merry girls they are--came out with their landscape camera. "Here's the instrument of torture", said May, the eldest. "Now keep still, & be good." And they executed us before we well knew what was the matter. Next day they presented us with the result, neatly mounted, with "Kamilaroi & Kurnai" written under it in May's handwriting. I told her it was a lasting memento of man's long-suffering & woman's independence. She said she had had a great mind to call it the complete Trio, because her little dog Midge was sitting at my feet when we were taken, & completed the trio, "Kamilaroi, Kurnai, & Curr". It was made all the funnier by the fact that Midge, who was a slim sharp nosed little dog, was moved by fleas, or flies, or something [insert] to shake his head [end insert] just at the fatal moment, & consequently came out as the shadowy ghost of a particularly truculent looking bulldog. He is only to be discovered by the aid of a lens, & the girls declare he is Curr present in the spirit with an expression of savage disgust on his ghostly visage, as he listens to the Dieri paper. They are going to print off a copy for your special benefit. I told them you would be glad to have one. ...'
I then searched the web to see what images of Howitt and Fison and I could find, and I found the above image--clearly the image that Fison was referring to. However the current image owners, the Research Repository of Monash University Library Centre for Gippsland Studies, obviously did not know the history behind the image, and this I gladly gave to them. To find out more about this particular version of the image please go to http://arrow.monash.edu.au/hdl/1959.1/71455.
In the letter Fison refers to the fact that Tylor would be sent a copy of the photograph. It is not known if this actually happened, and to date no trace of the copy has been found in Tylor's papers or related photographic collections in the Pitt Rivers Museum.
So if Monash University had not digitized its collections I would not have been able to be so positive that the image was the same (the dog is the clincher), and both our archives would have been the poorer.
AP January 2013