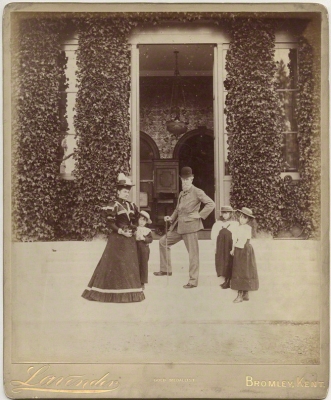 Alice A.L. Fox Pitt was born around 1862 in London, as Pitt-Rivers' second eldest daughter and she died on 11 March 1947.
She married John Lubbock (1834-1913), the first Baron Avebury and fourth baronet, the banker, politician and antiquarian on 17 May 1884 when she was twenty-two. He was considerably older than her, being fifty years of age, and she was his second wife. He had been a colleague of her father's for many years. His first wife, Ellen Frances Hordern, known as Nelly, had died in 1879, they in turn had had six children.
According to Patten, Alice:
... did not necessarily make the best of impressions with her husband's scientific friends ... Shiela [sic] Grant-Duff later recorded that Alice '... had no interest whatsoever in anthropology or any other branch of science ...'
See here for a letter regarding Alice's unpaid trousseau from John Lubbock.
They lived at High Elms, near Farnborough, and Kingsgate Castle in Kent and in London. This was her husband's family home, which was close to Downe, Charles Darwin's house, and the two families were close.
They had five children:
Ursula Lubbock (1885-1959), she became Ursula Grant-Duff.
Irene Lubbock (1886-1961), she became Lady Pelham.
Harold Fox Pitt Lubbock (1888-1918) (he died, it seems, as a result of service in the First World War)
Eric Fox Pitt Lubbock (1893-1917) He died at Ypres on the battlefield
Maurice Fox Pitt Lubbock (1900-1957). His son Eric (1928-?) became the fourth Baron Avebury.
It is interesting that Alice's first child shared a name with one of her sisters, and that all her mail children were named using her own birth surnames. John Lubbock fathered eleven children in all, even more than Pitt-Rivers.
The S&SWM Pitt-Rivers papers letters which relate to Alice suggest that the relationship between father and daughter (and son-in-law) after marriage were not close.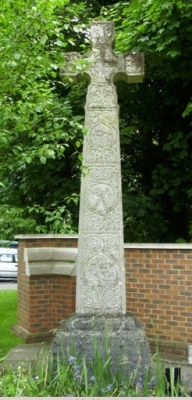 She was buried in St Giles the Abbot churchyard at Farnborough, which is now included as part of Greater London, the same graveyard as her husband. Her gravestone, copied from here, resembles one of the Celtic crosses that interested Pitt-Rivers so much and of which he made many models.
AP June 2012