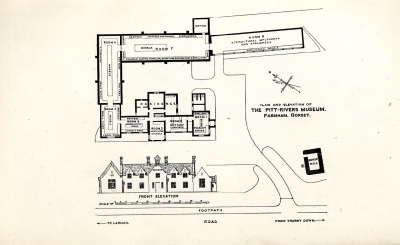 I have formed another museum, which, although it is a provincial one, is in some respects better than the first [at Oxford] because such series as it contains are more fully represented. [Pitt-Rivers 1891 :115]
In 1880, Augustus Henry Lane Fox inherited a large estate and fortune from his great uncle. It was a pivotal year for him, not only did his fortunes and surname change but his formal army career had by now more or less ended, and his arrangement with South Kensington Museum had started to unravel.
On his new private estates in Dorset Pitt-Rivers decided to devote his leisure time to building up a second collection which he would display in a private museum at Farnham on his estate. This Museum would house the archaeological objects he had dug up on his property together with the models he had had made of the excavations. More importantly it would show some of the thousands of artefacts he bought between 1880 and 1900. There were nine separate display rooms in the Museum. The audience mostly consisted of the local agricultural workers and other local residents. [Gray, 1905] but it did attract many visitors from further afield who were interested in Pitt-Rivers' latest venture, or had heard about the museum and were interested to see it. Find out more about Pitt-Rivers' own views on the museum at Farnham in 1891 here and the Museum here. To find out about objects placed at Farnham Museum go here.
According to St George Gray, one of his assistants, after 1880 Pitt-Rivers amassed a collection of agricultural implements and related material for the education of the 'country folk'. This is a colossal understatement for a collection as large and important as his first collection which had founded the Pitt Rivers Museum at the University of Oxford. For his published guide to the collection, see here. For an overview of the contents of the Museum during Pitt-Rivers' time, see here. Gray described the second collection as containing peasant costume and ornamentation, household utensils from around the world, pottery, stone and bronze implements, glass-making and enamelling, a series on the development of the Christian cross in Celtic times, lighting apparatus, and a collection of objects from Benin.
Pitt-Rivers, in his published guide, explains how Farnham was laid out, room by room, and then its general principles:
Every object in the Museum has a large ticket attached to it, and descriptive accounts are added in various places, so that no catalogue is needed. The divisions of subjects are marked by thin red satin tapes hanging across the shelves from the top, and the larger divisions are marked by broader red satin bands with the word "Division" embroidered on it. The three 4to. volumes of Excavations by General Rivers, with copious illustrations, are placed on desks in the galleries for the convenience of those who wish to study these several subjects in greater detail than is afforded by the printed headings on the models.
We know much more about this second collection as it was between 1880 and 1900 (when Pitt-Rivers died) than we do about his founding collection which is now housed in the Pitt Rivers Museum, Oxford because he caused a series of volumes to be produced cataloguing every item he acquired, its source, description and price and eventual destination. This catalogue is one of the foci of the project and is a very rich resource for detailed research. Find out more here. Pitt-Rivers employed a series of assistants to help him with managing his collections and carrying out his excavations. Find out more about them here. An eyewitness account of visiting Farnham Museum and Rushmore in 1898 is given here.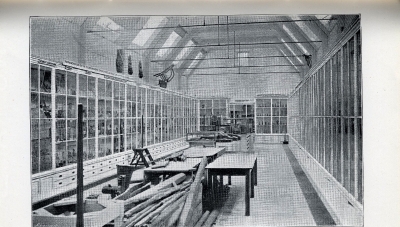 Pitt-Rivers also opened an art gallery at King John's House, another house on his private estate where he showed part of his fine art collection. At Larmer Tree Gardens he opened a formal garden with many specially constructed houses from India and elsewhere, a stage where local bands and drama groups could perform. He also owned a zoological collection, on his estate, where he experimented with cross-breeding.
Find out more about King John's House here. Find out more about Larmer Gardens here.
In addition to his museum collections, he had kept many thousands of artefacts to decorate his homes in Grosvenor Gardens, London and at Rushmore (his country estate). These included not only decorative pottery ornaments and oil paintings, but weapons and tools from all parts of the world and a rich diversity of other artefacts.
The research project's interest in Farnham ceases in 1900, when the General died at his home in Rushmore. An account of the museum in 1929 is given here. The museum itself continued until the 1960s when some of its collections began to be dispersed. Today there is no longer a Museum at Farnham and the only remnants of this collection that can still be seen together are to be found at Salisbury and South Wiltshire Museum in Salisbury. There is a whole gallery devoted to his collection at this museum, open to the public.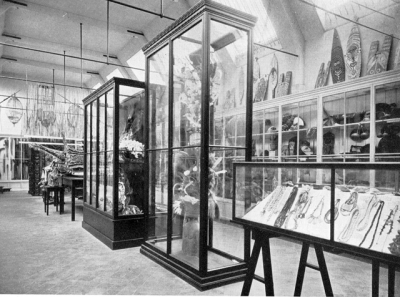 Bibliography for this article
Bowden, Mark. 1991. Pitt-Rivers - The life and archaeological work of Lt. General Augustus Henry Lane Fox Pitt-RiversDCL FRS FSA. Cambridge University Press, Cambridge, UK.
Dudley-Buxton, L.H. 1929.  The Pitt Rivers Museum, Farnham: General Handbook, Farnham: Farnham Museum.
Chapman, W.R. 1981. Ethnology in the Museum. Unpublished D. Phil thesis, vols I and II, Pitt-Rivers Museum, University of Oxford
Drower, Margaret. 1994 'A visit to General Pitt-Rivers' Antiquity 68 (1994): 627-30
Gray, H. St.G. 1905. 'A Memoir of Lt-General Pitt-Rivers' in Excavations in Cranborne Chase vol V. Somerset [privately published]
Pitt-Rivers, A. 'Typological Museums, as exemplified by the Pitt-Rivers Museum at Oxford, and his provincial museum at Farnham, Dorset', Journal of the Society of Arts, Dec 18, 1891
Thompson, M.W. 1977. General Pitt-Rivers: Evolution and Archaeology in the Nineteenth Century. Moonraker Press, Bradford-on-Avon UK
Thompson, Michael and Colin Renfrew. 1999. 'The catalogues of the Pitt-Rivers Museum, Farnham, Dorset' Antiquityvol. 73 (no. 280) pp. 377-392
See here for more about the Farnham Museum collection
AP, November 2009, checked September 2010, updated March and April 2011.