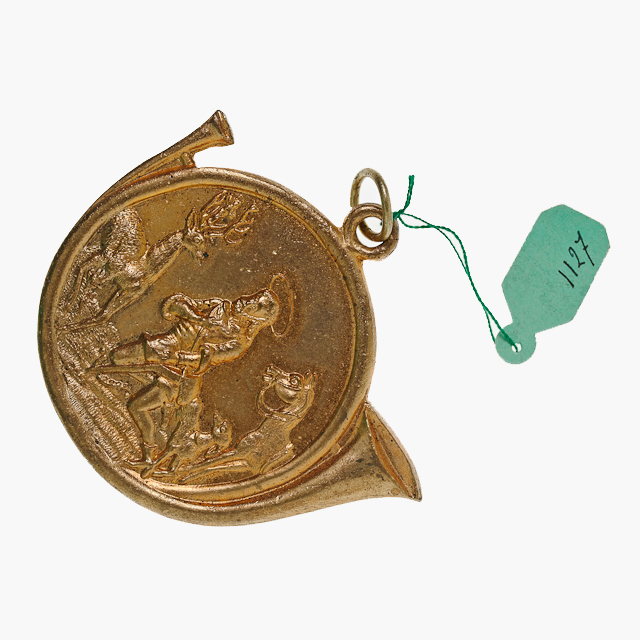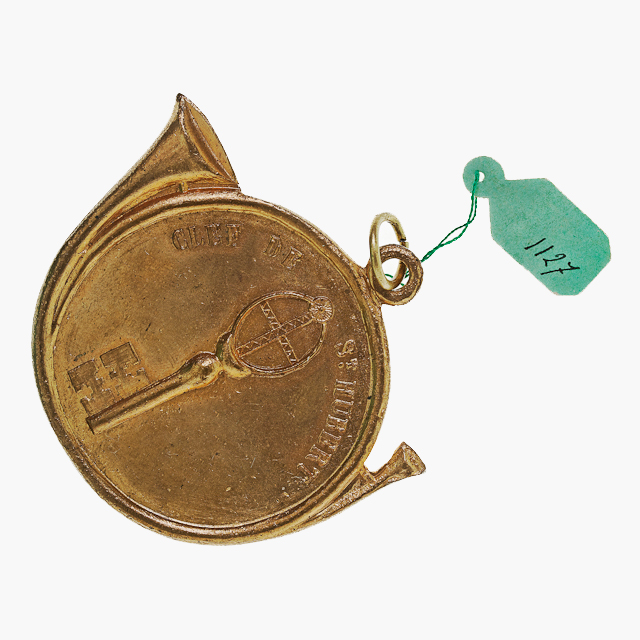 Transferred from the Wellcome Institute in 1985; 1985.52.599
This metal pendant in the shape of a bugle horn is decorated on both sides. One side depicts a key in relief with the inscription 'CLEF DE ST. HUBERT' ('key of Saint Hubert') above it, while the other side depicts Saint Hubert kneeling in front of a deer,
accompanied by a dog and a horse.
Hubert was born in AD 656 and died in AD 727 or 728. As the grandson of the King of Toulouse he spent his youth in the court of Neustria, a region that once covered most of northern France. According to legend, Hubert was out hunting in the Ardennes forest on a Good Friday morning when a magnificent stag with a crucifix between its antlers appeared. At the same moment Hubert heard a voice telling him that if he did not begin to lead a holy life he would quickly go to hell.
Heeding the vision, Hubert renounced his noble title and all his wealth and travelled to Maastricht to study for the priesthood under the guidance of Saint Lambert. He was ordained, and later became the bishop of Liège in Belgium. Hubert devoted his life to preaching, helping the poor, and converting pagans still living in the forest. He was widely venerated in the Middle Ages, and because of his association with hunting he became a popular patron saint of hunters. His feast day, which is celebrated on 3 November, coincides with the opening of the hunting season in many parts of Europe.