We invited people to send in snapshots of their own amulets along with a sentence or two telling us what the objects are and what they mean to them. Here is a selection of some of the best entries, with congratulations to Gudrun Dröfn Whitehead, whose runic reindeer (and very Pitt Rivers-esque!) amulet was picked out by the Museum Director as a worthy winner. Thank you to everyone who entered for sharing these special objects with us.
Winner Gudrun Dröfn Whitehead, Iceland
PRM: This necklace is a true amulet, worn close to the body. It tells a wonderful story of how an organic object has been transformed into an amulet by various human processes. Firstly, by carving the segments of antler with cultural motifs - the runes - and secondly through its creation by a friend for a friend, the runes chosen specifically. These elements endow the necklace with a powerful blend of the natural, the cultural and the personal, all of which embody the wearer's homeland - Iceland - and which amount to something greater than its material value.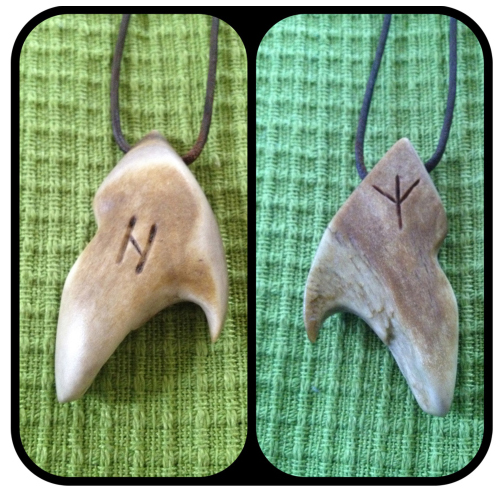 "I'm an Icelandic student currently doing a PhD in Museum Studies at the University of Leicester, England. This necklace was custom made for me by a girl I knew back in college in Iceland: it is made out of Icelandic reindeer horn and engraved with two favourite runes, 'Hagall' and 'Ýr'. At the time I was interested in fortune-telling, superstitions and such. In that context 'Hagall' means change and awakening, and 'Ýr' protection and making choices in life. It's a reminder of a certain period in my life and it's an object born within my cultural tradition and so a reminder of where my home is." Gudrun Dröfn Whitehead, Iceland.
Special Mention Lorraine McLean, Poole, Dorset
PRM: This is a clever, thoughtful and practical amulet. Lorraine has created something new out of something old, its power contained firstly within the material itself (gold), and within the heart shape, representing various personal associations and memories.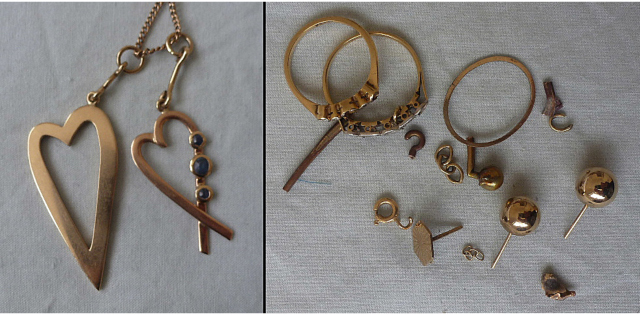 "I had a local jeweller melt down oddments of gold jewellery and make two hearts from the gold. The gold came from things I'd been given from people who were special in my life but which I didn't wear or which were broken - my grandmother's engagement ring, grandfather's collar stud, great-aunt's earring (the other long lost) and so on. I wear the plain heart every day and feel it encapsulates the love they felt for me (and I them) and gives me strength in all I do. The jeweller has since started offering this as a design service and also as a taught workshop, and people love the idea of a combined talisman." Lorraine McLean, Poole, Dorset.