Lane Fox to Tylor 6 June 1879 & 29 May 1879?
The two letters shown on this page are the result of correspondence between Tylor (president of the Anthropological Institute from 1879) and Lane Fox (the vice president of the AI in that year) discussing the business of the Anthropological Institute and particularly its internal politics and the on-going saga of the journal of the Institute.
Box 13 Tylor papers PRM ms collections
Lane Fox to Tylor L1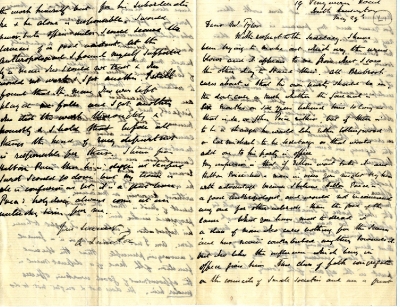 19 Penywern Road
South Kensington
May 29th [1]
Dear Mr Tylor
With respect to the Secretary, I have been trying to make out which way the wind blows and it appears to me from what I saw the other day to stand thus. All Brabrook [2] cares about is that his own party should be in, He don't care a rush whether the journal is six months or six years behind time so long as that is so, or John Price neither, but if there is to be a change he would like either Collingwood or Carmichael to be secretary [3] so that would add one to his party in office.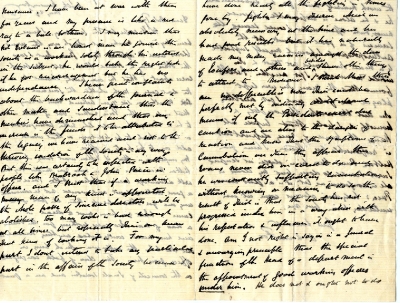 My impression is that if Dillon wont take it on Hilton Price has a man in view you might try him with advantage because I believe Hilton Price [4] is a good Anthropologist and would not recommend any one for other interests than the good of the cause. What you have most to dread is a class of man who cares nothing for the Science and has never contributed anything towards it but who likes the influence which being in office gives him. This class of folk congregate on the councils of small societies and are a great [Page 2] nuisance. I have been at war with them for years and my presence is like a red rag to a bull to them. I may mention that Mr [name illegible but looks like Distant?] is an honest man he formed the society in a worker [?] solely through his interest in the subject. He would back the right side if he got encouragement but he has no independance [sic]. I hear great complaints about the backwardness of the journal & other matters and I understand that the members have diminished and that every increase in the funds is to be attributed to the legacy we have received and not to the [word illegible ?...ing] condition of the Society in any way. But this is certainly to be expected with people like Brabrook and John Price [5] in office and I trust that if a working man of any kind is appointed the whole posse [sic] of sinecure directors will be abolished. too many cooks is bad enough at all times but especially when one knows what kind of cooking it is. For my part I dont intend to take any particular part in the affairs of the Society because I [page 3] have done nearly all the fighting in times gone by. fight I may observe which was absolutely necessary at the time and has had good results but it has naturally made me many enemies amongst the class of loafers and others and [insert] besides [end insert] I have other things to attend to Moreover I think that there are no difficulties now which cant be perfectly met by ordinary [2 words illegible] means if only the Presidents exert due caution and are alive to the danger of reaction and know what the symptoms of Cannibalism are when they appear. this Evans [6] never did or cared to do and he was constantly supporting cannibalism without knowing or meaning to do so the result of which is that the Society has not progressed under him in a way which with his reputation & influence it ought to have done. Am I not right in saying in a general & unvarying principle that the special function of the Head of a department is the appointment of good working officers under him. He does not & ought not to do [Page 4] the work himself but for his subordinates he & he alone is responsible. I would never take office unless I could secure the services of a good assistant. At the Anthropological I found myself supported by a man who I could not trust & also would not work & I got another. I still found that the man who was left played the fool and I got another who did the work thoroughly & honestly & I hold that before all things the head of any department is responsible for this. I hear from Hilton Price that he is digging at Seaford I wish I could go down but my leave is all in confusion as yet, it is a great loss Price's holy days always come at an unlucky time for me
Yours sincerely
A Lane Fox
Notes
[1] Lane Fox is known to have lived at 19 Penywern Road from some point in 1879. Given that he signs the letter Lane Fox the letter must therefore date from the period between his first residence in Penywern Road at some point in 1879 until 31 March 1880 (or slightly later), when Pitt-Rivers as he would become knew he had inherited a new surname, by the end of June 1880 Pitt-Rivers had definitely changed his surname so that dates the letter to beginning January 1879 to end June 1880 as the widest possible dates. It could therefore very slightly predate the letter from Box 11a given at the top of this page, the contents suggest it might very well be 29 May 1879.
[2] Edward William Brabrook (1839-1930) see wikipedia
[3] J. Frederick Collingwood, who had been secretary of the Anthropological Society of London (before the Anthropological Institute had been established); Carmichael is probably Charles Henry Edward Carmichael (1842-1895) member of the Inner Temple, editor of several journals including the Law Magazine and sub-editor of Notes and Queries who contributed to the Journal of the Anthropological Institute.
[4] Frederick George Hilton Price (1842-1909) see People link on right hand menu.
[5] John Edward Price, published articles in the Journal of the Anthropological Institute, I cannot find out any more information about him
[6] John Evans, president of the Anthropological Institute from 1877 to 1879. Tylor was the president of the Anthropological Institute from 1879, following Evans. It is presumably this that prompted the two letters shown on this page. Lane Fox was vice-President.
------------------
Box 11a Tylor papers PRM ms collections
Fison 1 [For some reason this letter has been placed with the Lorimer Fison correspondence with E.B. Tylor, as the first letter (presumably because of the reference in the first sentence)]
6.6.1879 from Lane Fox to Tylor
19 Penywern Road
Jun 6th 79
Dear Mr Tylor
I sent you a letter from Mr Fison [1] on Monday sent to me by Sir Arthur Gordon [2] he wants it back so I thought you would like to see it first. as to the last part to which Sir A draws attention I feel sure there must have been some miscarriage & I have told him so as the Anthrop would never intentionally snub a man who could be so useful & it would be a good thing to get his paper instead of letting him send it to the United States as he proposes to do.
I [illegible] agree with you that good papers are the primary thing but you cant get a good class of papers out of a bad class of men and you must if you please bear in mind that neither Evans, Dillon or yourself [3] have any thing to do with the Anthrop in the time of its difficulties and you do not see as I do that [2 words illegible] of Charnock Carter Blake & Ramis [?][4] looming in the distance & [illegible] to return as soon as Brabrook [5] has prepared the way for them. I have a letter from Hilton Price [6] two days ago in which he says quite spontaneously that Brabrook is sure to bring them all back as soon as he gets a majority of one on the council. Carter Blake is a good comparative anatomist. I offered him [2 words illegible] as President to read his papers if he would put aside past feuds but he would have nothing to do with us upon that [illegible] it is evident they will only come back in pro... [illegible] as they went out. that means the ultimate exclusion of such gentlemen from the council & the [illegible] as to a collection of things [illegible] is only kept alive by personalities and indecencies
Yours very truly
A. Lane Fox
Notes [by transcriber]
[1] Lorimer Fison, clergyman and anthropologist, see wikipedia
[2] Sir Arthur Hamilton-Gorden, see wikipedia
[3] Presumably Tylor, John Evans and Harold Arthur Lee-Dillon, 17th Viscount Dillon (1844-1932).
[4] Richard Stephen Charnock (1820-1904 or 1905), Charles Carter Blake (?1840-?), the final name cannot be verified.
[5] Edward William Brabrook (1839-1930) see wikipedia
[6] Frederick George Hilton Price (1842-1909) see People link on right hand menu.
------------------------
Transcribed by AP January 2013 and April 2013 [during Scoping Museum Anthropology project]
James Urry subsequently commented: The context of the letters from P-R to Tylor dated 1879 that you have posted relate directly to this attempt by members of the ASL [Anthropological Society of London] to take over the AI [Anthropological Institute], the formation of the LAS [London Anthropological Society, a breakaway society from the AI] and its collapse. The letters reveal continuing concerns into the late 1870s. Brabrook had been the Director of the ASL during the failed negotiations of 1868. However, he did not join the 1873 group who formed the LAS. Charnock briefly got himself elected through stacking the meeting as president to the AI in 1873 but was removed by Lubbock, Huxley and Lane Fox who put forward the Darwinian Busk as President. This lead Charnock to leave and form the LAS. Carter Blake was a close associate of Hunt, the founder, President and funder of the ASL and like Hunt a racist of the first order. The third name you cannot read in the second letter but indicate as Ramis is probably Charles Robert des Ruffieres (c. 1809-1883), a core member of Hunt's ASL and linked with LAS. The cryptic references to cannibals in the first letter is undoubtedly code for the core of Hunt's old ASL as this consisted of a dining group, the Cannibal Club, whose members included Hunt, Richard Burton and the poet Swinburne. The members had some infamy in London circles for their extreme views including extreme racist opinions. This was all very unscientific from P-R's point of view.
We are very grateful for his comments.