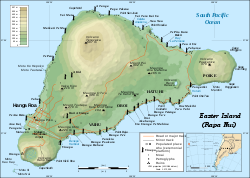 Easter IslandUa from Easter Island, Oceania. Collected by William Scoresby Routledge and Katherine Routledge in 1914 or 1915. Given to the Museum in 1915.
Long wooden clubs from Easter Island (also known as Rapa Nui) were known as Ua and were symbols of chiefly rank. Wood was extremely scarce on Rapa Nui, and what did grow was generally short and scrubby. Consequently, long straight timbers such as that used to make this weapon were in very short supply (probably imported) and so were afforded great prestige value. This club remains in good condition as it would have been stored in a bulrush sheath and carefully looked after.
The Easter Islanders were fortunate to have relatively large natural deposits of tool-grade obsidian available to them. This meant their carving tools were generally far superior to those of their Polynesian neighbours or even their Western relations, resulting in the high quality of their carving. Obsidian (a black, volcanic glass) was most famously used for the eyes of moai, the island's famous monolithic human figures. It has also been used here, combined with bone, to form the brilliant eyes of the two human heads that have been carved back to back at the top of the club.