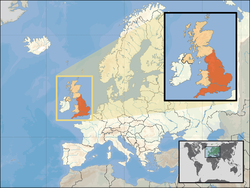 EnglandPolice riot shield from England, Europe. Made by Arnolds of Northampton in 1990. Given to the Museum by Sergeant Sudworth of Thames Valley Police HQ, Kidlington, Oxfordshire, in 1993.
This circular AM2 Riot Shield was used by Thames Valley Police in civil disturbances and violent arrest situations between 1990 and 1993. It is made of very tough plastic and would usually be carried by Sergeants or Inspectors to defend policemen against thrown missiles.
Riot shields were first issued to mainland police forces after the Lewisham riots (in London) in the summer of 1977 and have been used by British troops dealing with unrest in Northern Ireland.
Form and Function
The Museum was given this riot shield by the Thames Valley Police Public Order Unit. The Public Order Unit are responsible for the training of all officers in the use of handcuffs, batons and CS spray, and also intensively train Police Support Units. Known to most police officers as the 'National Shield', this shield was made by Arnold Engineering UK, a Northampton-based firm. Originally developed by Arnold in 1977 in collaboration with the Metropolitan Police, this type of shield is in use by every police force in the UK, and has been exported to 44 countries worldwide.
The shield itself is fabricated from 4mm thick transparent polycarbonate plastic - the kind of material spectacle lenses and bullet-proof glass are made from. Though this makes the shield capable of deflecting most blows and thrown objects, it is not bullet-proof. The materials used in its construction necessitate some weight but at 6.4 kg (one imperial stone), it is not too heavy to carry. The shield's transparency is important too as it allows the officer to see how events are unfolding in front of him. The shoulder pad is made from another tough material, High Impact ABS, the same plastic that is used in making cycling helmets, car bodywork and golf club heads. This pad is designed with a hook to fit over the elbow, and two handles, so that the shield can be held securely with one hand or two, and both pulled and pushed.
Large polycarbonate shields are mainly used by the police to contain rioting crowds, while smaller, more manoeuvrable shields are used for hand-to-hand combat. Like several of the shields displayed in the museum, the British police lock their shields together into 'shield walls', much as European forces have done since the Roman period.