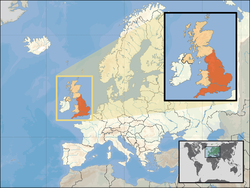 EnglandPush knife from England, Europe. Owned by M. Salomon. Given to the Museum in 1928.
This unusual-looking weapon is part-knife, part-knuckleduster. Though often referred to as 'push knives' due to the thrusting way they were used, they are also called 'trench knives'. This is because they were used by most of the participating armies in the First World War of 1914-1918, although they were not standard military issue.
This example is made of aluminium and is stamped on the bottom of the hilt 'ROBBINS DUDLEY'. Robbins of Dudley were originally Worcestershire baths and ironworks manufacturers but they made a good business during the War making weapons like this for private purchase. In fact they produced at least ten different models of these trench knives. Many period imitations were made at the time but what marks it out as a genuine Robbins model (aside from the stamp), is the brass 'Sam Brown' button fastener on the leather sheath. Most others used more modern-style popper stud.
Form and Function
Weapons such as this are known as push-knives, and are a functionally related to the Indian katar, a bladed punch weapon. Push knives were popular during the War but many were made out of steel or brass. That this example is made of aluminium is something of an innovation as this 'new' metal was expensive at the time but it was very light, ideal for a small weapon that could be carried easily.
While the conventional image of World War One trench warfare is of massed numbers of rifle-armed men going 'over the top' into a No-Man's-Land of barbed wire, machine-gun fire, artillery barrage, and almost certain death, this was a high-cost tactic of the earlier part of the War, and had been largely abandoned by its later years. The widespread tactic was to dig advance trenches called Salients out from one's own front trench, into No-Man's-Land, and then bombard the enemy's front trench, so that they would fall back to their auxiliary trenches behind. Units of men could then be sent across a short stretch of No-Man's-Land from the Salients, to occupy the trench and hold it. These larger drives required much preparation and reconnaissance if they were to work, however, and so Trench Raiding became increasingly common as the War went on.
In Trench Raiding, small numbers of hand-picked volunteers crept across No-Man's-Land at night, unseen by the artillery 'spotters', lightly armed with firearms, grenades, bayonets, knives, steel piping and other improvised clubs, knuckledusters, and weapons such as this. Whether intended for undertaking or repelling a Trench Raid, the size of the push-knife combined with its ease of use in unskilled hands, was exactly what the average soldier needed. The intention was a quiet, quick surprise attack, to kill small numbers of men, destroy or seize larger weapons - such as heavy machine guns - map out the location and contents of the enemy trenches, seize communications and documents. This would generally keep the enemy in a sleepless, terrorised state therefore sapping their alertness and morale.