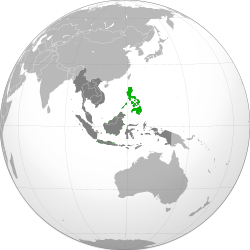 The PhilippinesHead axe from the Phillippines, Asia. Owned by Harry Geoffrey Beasley. Given to the Museum by his wife Irene Marguerite Beasley in 1954.
This distinctive weapon is used by the Igorot people of northern Luzon in the Philippines. The blade has a long curve to the cutting edge and the haft is decorated with brass bands with punched design.
It was known as a 'head axe' due to its association with headhunting. Headhunting was suppressed in the Philippines by the US authorities in the 1930s but historically, the Igorot had considered it essential for group welfare. It was a form of sacrifice that would call upon absent members of the community, both living and dead, to bring the people protection, fertility and the power to take vengeance. Heads were required for these rites, which were usually performed three times a year to coincide with sowing, harvesting and sugar milling. Since the area where the Igorot live is not that fertile, the timings of these rites were vital to ensure the best possible agricultural yield that year.