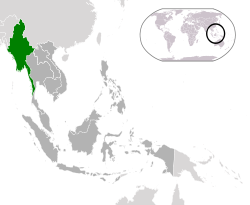 burmaLacquered club from Myanmar (Burma), Asia. Collected by Selwyn Gervais Eyre between 1850 and 1900. Given to the Museum by Lucy Margaret Eyre in 1950.
This tapering wooden club is lacquered from end to end and covered in a swirling, scrolling incised pattern, similar to that found in north-western India.
There is little to suggest that staff weapons played a part in the traditional Burmese arsenal, which consisted mainly of swords and spears. Therefore it is possible that this is a ceremonial weapon or status symbol. Certainly the information gleaned from the donor (presumably via her father, the collector) implies that functional versions of this form of weapon had ends weighted with lead and were concealed up a sleeve. This example is neither weighted nor short enough to conceal effectively.