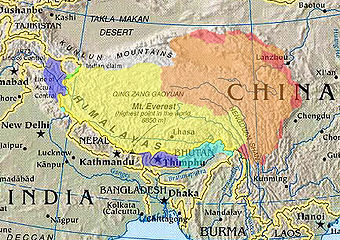 TibetStraight sword from Tibet, Asia. Owned by Harry Geoffrey Beasley. Given to the Museum by his wife Irene Marguerite Beasley in 1941.
This heavy, double-edged sword is from Tibet but it is of a 'Bhutan' type. The hilt is bound in wire and the wooden scabbard is clad in metal and gilt repoussé panels. It is richly embellished with Buddhist symbolism on both the pommel and scabbard.
Sacred Weapons
This sword exhibits extensive Buddhist iconography, Buddhism being the principal religion in Tibet. This iconography is a hard to distinguish from this photograph however, and can be more easily seen when viewing the object on display.
Firstly, the pierced gilt pommel shows the Jewel (or Precious Gem), one of the key symbols representing the power of the Buddha and spiritual truth in Tibetan Buddhism. The backdrop of vine-scrolls alludes to the bodhi tree beneath which the Buddha himself attained Nirvana.
There are a number of animals depicted in the gilt frieze on the scabbard. Four deer and a peacock are shown surrounded by foliage, which represent the Deer Park at Sarnath near Varanasi in India. This was the site of the Buddha's first sermon after attaining Nirvana, at which he explained the Four Noble Truths, encapsulating the core of Buddhist teachings. In this way, we can see the sword as both invoking powerful spiritual protection for the warrior, and serving as a memory aid for the core of Buddhist teaching - that attachments and desires breed suffering upon suffering.