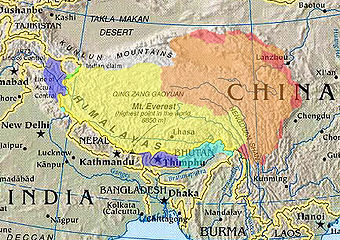 TibetSuit of armour from Tibet, Asia. Collected by William Beynon on the Younghusband British Expedition to Tibet between 1903 and 1904. Given to the Museum by Irene Marguerite Beasley in 1941.
Lamellar armour - small plates pf leather or metal laced together in horizontal rows - is an ancient concept, famously used by Romans amongst others. Here it is employed in a Tibetan iron tunic worn by a mounted archer. It dates from the 16th or 17th century. The coat is lined with leather and hangs in three sections, two to protect the legs, the back section lying over the horse's rump.
This armour was collected during the British Expedition to Tibet in 1903-4, probably from Phari Jong shrine, which they visited, since it was usual to store armours in shrines. Because Tibetan armour is carefully looked after in this way, many very old pieces survive in good condition and are brought out on special occasions such as the Great Prayer Festival, which has been held in the capital, Lhasa, since the 17th century as part of the New Year celebrations.