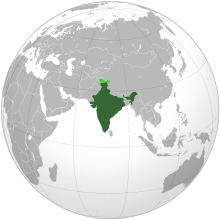 IndiaRed dhal from India (or Pakistan), Asia. Collector not known. Transferred to the Museum from the Indian Institute in 1935.
The quintessential Indian round shield was known as a dhal. Made of steel or lacquered hide (as this one is), they have a convex shape and were held by passing an arm through two handles on the back. The handles are fastened by ring bolts, which are riveted to four bosses on the shield's face. The large, smooth surface of the dhal gave Indian craftsmen an opportunity to indulge their passion for decoration. This example shows animal figures and floral designs painted in gold, white and black on a red ground.
Warrior Elites
The elaborately painted outer surface of this dhal places it in a style associated with the palace armouries of Rajasthan, and the Rajput dynasties. The Rajput rajahs were great patrons of the arts, and many of their fortified palaces contained the workshops and studios of painters, brassworkers, jewellers, and leatherworkers, each of whom contributed to the creation of a grand shield like this one. The Rajputs are a sub-caste of the Kshatriya (Warrior) caste, and historically developed a code of martial chivalry, which set them apart. Traditionally, only warriorhood and agriculture were considered honourable professions for a Rajput man. Even today, many of India's soldiers are Rajputs. Rajput princes traditionally kept extensive armouries (silahkana) in their palaces, filled with rows and arrangements of elaborately decorated shields like this one. Many Rajput princes spent hours in their silahkana, viewing, arranging and tending their arms, much the same as many contemporary British aristocrats.
Within this context of princely display, the imagery of tigers hunting antelopes is striking. Tiger hunting was the pre-eminent sport of Indian kings, whether they were Rajput, Mogul or Sikhs, and so its depiction was a major theme in their state art. In this metaphorical scene, we can interpret the tiger as symbolising the princely warrior, and the opponent who faces the image is merely game to the slaughter.