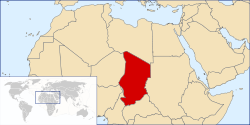 chadPair of throwing knives from Chad, Africa. Collected by Charles Kingsley Meek. Given to the Museum in 1922.
This hide sheath holds a pair of throwing knives back-to-back. The blade projecting at right angles from the shaft is covered with hide and the flap curving back at the top would cover the upper blade.
These throwing knives are of the 'northern' or 'F-shaped' type, and probably originate with the Sara people, although they were also used by several different ethnic groups living to the east and north of the Logone River in Chad. The distinctive quiver is so the warrior can carry the weapon safely over his shoulder. Although the Sara were mercenaries who worked for the Islamic Caliphates, who disregarded thrown missile weapons as barbaric and pagan, they continued to be made by pagan Sara blacksmiths and used in warfare.