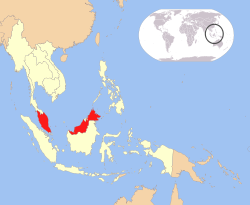 MalaysiaCane shield from Sarawak, Malaysia, Asia. Thought to have been collected by Charles Anthony Johnson Brooke, Second Rajah of Sarawak. Given to the Museum by Charles' son, Charles Vyner de Windt Brooke, Third Rajah of Sarawak in 1923.
The front of this wooden shield is covered with rattan (cane) matting. A long, strengthening bar runs from top to bottom and has been decorated with red, white and black and inlaid with pieces of mirror. The edges are fringed with human hair in places. The Iban of Sarawak in Borneo used this shield although it is of the style more commonly used by the Bidayuh people in southern Sarawak.
The collector of this shield was probably Charles of Sarawak (ruled 1868-1917). He was the second of the three White Rajahs of the Brooke Dynasty that founded and ruled Sarawak for over a hundred years. Charles changed much in Sarawak during his tenure - he built the first railway, dockyard and museum, discovered oil, expanded Sarawak's borders and trade, and continued his predecessor's policies of suppressing piracy, slavery and head-hunting.