A Tibetan Libation Vessel is used to date a photograph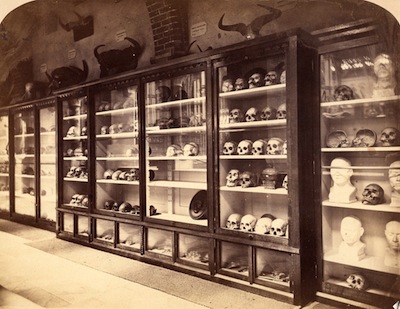 Cranial displays at the University Museum prior to 1887. [Photo courtesy of the Zoological Collections, OUMNH]In 1886 and 1887 University of Oxford museum collections were 'rationalised' and a series of objects were transferred between the institutions. A large number of what we would consider to be 'ethnographic objects' were transferred from the Oxford University Museum, where they had been previously held, to the Pitt Rivers Museum. You can find a full list of them by searching the online database for the PRM collections for all objects with the accessions numbers which begin 1887.1.
One of these objects was 1887.1.589, a libation vessel made of a human skull with copper lining, a brassed lid and triangular stand with heads at each corner. This vessel was probably made in Tibet and sent to Beijing in China. The vessel was obtained before 15 March 1862 when it was sent by Gibbes Rigaud to John Phillips, the Keeper of the Oxford University Museum. It is clear from the letter Rigaud wrote at the time that he expected George Rolleston, Linacre Professor of Anatomy and Physiology, to take care of the object and it is clear that Rolleston, or his successor, at some time after March 1862 but before 1887, decided to put it on display with other crania which had not been made into artefacts.
This object has had the following documentation attached to it at the Pitt Rivers Museum since 1887:
Collectors Miscellaneous XI accession book entry - Genl. G. Rigaud ?Univ Mus 589 Human calvaria with copper, with guilt [sic] brass lid and triangular openwork stand 7 Buddha like heads at corners of stand, lid repoussé with thunderbolt sign as handle: used as a libation bowl. Pekin, China
Pitt Rivers Museum label / early record card - Specimen: Skull-bowl on stand, with cover, mounted in copper heavily gilt. Locality: Buddhist temple Pekin. Obtained by: General Rigaud. Presented by: Rev. J. Rigaud. General data: Tibetan and Mongolian Buddhism. Drinking-vessel kapala (ska = bowl - skull) from which the goddess Lhamo drank the blood of her son. Used as offering vessels in religious ceremonies. References: Schlangintweit, Buddhism in Tibet. p112, 216 & Pallas Sambungen Hut, Hachr. u[illeg.] die Mongolische Voelkerschafen. part 2 p 162, in Plate VI (see p. 98) a skull bowl is held in the hand of the Burchan [unclear].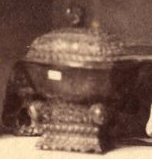 Close up of 1887.1.589 in the image taken prior to 1887 of cranial displays in the OUMNHPitt Rivers Museum? label - Drinking vessel made out of the crown of a human skull lined with copper with gilt copper cover and stand from a Temple at Pekin. Presented by General G. Rigaud 60 Rifles.
In addition there are the following research notes and correspondence:
Note - 758 The polished top of a cranium formerly part of a drinking cup mounted with pure gold - taken from the Summer Palace at Pekin - by one of Fane's Cavalry [Fane's Horse were raised in 1860 to fight in China during the Second Opium War of 1856-1860. The regiment was later re-named the 19th (King George's Own) Lancers in the Indian Army.] - and plaster casts (coloured of figures in relief placed respectively on the frontal and parietal bones. cf. Journal of Ethnological Society. vol ii. p.82. Pl. xi 1869. Dr Millar through J. R. Mummery Esq.
Letter from Gibbes Rigaud, Magdalen College to Professor Philips, Museum House, dated 15 March 1862 - "My dear Professor Philipps, The accompanying cup made out of a human skull which I hope you may think worthy of a place in the University collection was brought by me from China to give to the Museum. It was taken out of a temple or joss [?] house within the precincts of a great Llama [sic] Monastery a long range of which buildings under Imperial protection, run for some 3 miles parallel to the Northern wall of the City of Pekin and some two miles from it. These cups out of which the Priests of Buddha drink confusion to their enemies. (this one was half full of [illegible] and probably a toast had shortly before been given 'to the fat faced barbarian the Earl of Elgin and Kincardine!!' are made as far as I could learn either out of the skulls of rebels of the highest order or those of Priests of such holy character as to obtain after death the title of 'living Saints'. Whether this be the skull of a saint or a sinner I must ask Dr Rolleston to determine to whose care I suppose it may go. There are three characters in the Thibetian language at the back of the skull which I could not get read to me - a day may come when you may be lucky enough to meet some intelligent Mongolian who may explain them. I am my dear Professor faithfully yours Gibbes Rigaud."
Letter from Thomas Herbert Lewin to Edward Burnett Tylor dated 13 October 1887 - "Dear Mr Tylor, I enclose a note upon your inscriptions but would ask you to remember that I am but a poor Tibetan scholar and if as is probably you desire 'more light' I would refer you to Dr R. Rost with whom you are most likely acquainted at the India Office. The great Tibetan authority Herr Jaschke (Moravian Missionary) is I fear dead. I feel pretty sure that the [inscription] is not intended for the sacred 'Om'. Yours very truly Thomas H. Lewin." [note at the top of the letter -] "[inscription} = might be [inscription] 'gra-hted' an open dish (?) as a grim joke on the workd gra, a dish or a foe." Note with letter [previously attached with a metal pin] - "I take it then that the inscription consists of two words and should be read [inscription] gra-htad an open foe. pronounced 'da-hted' with the final d silent." Additional note with writing by Lewin on one side and Tylor ? on the other - [Lewin] "the letter [inscription] a - is the sound produced by the opening of the glottis like the Hebrew aleph and the Arabic Alif - and it is used in Tibetan as a symbol of the Deity probably because all speaking depends on and is rendered possible by a previous opening of the glottis." "(Colonel Lewin, letter)" [this written by Tylor]. [Tylor] "Dr Wenzel (letter Nov 11 1887) says the [inscription] by itself sometimes occurs as just such a mystic syllable as [inscription] (om) likewise [inscription] (ah) &c."
Letter - London, Nov. 11, [18]87. ... "Dear Sir, The the questions you ask me I am sorry to say I can only give a tentative answer. First, as to the letters on the ... of skull, they seem pretty clear [inscription] (gra thad) - they must, of course, be two words, and I would suggest to read [inscription] (gra thod - the sign [symbol] might be effaced). and this could mean 'vessel (bowl) - skull', but this meaning of [inscription] (gra) is not sure, so that the whole still must be a guess only. As to the second skull, the [inscription] for itself sometimes occurs as just such a mystic syllable as [inscription], likewise [inscription] (ah) &c. The figure [drawing] reminds one of a vajra ([inscription] rdo-rje), a sort of small staff or sceptor, usually in bronce held in the hand by the lamas during 'divine service', but I suppose you have seen one of them f.i. at the British Museum. This is about all I can tell you now, and I only hope it will serve till I or somebody else can give you some further information. Yours sincerely N. Wenzel."
In addition the museum holds a copy of an article from the Journal of the American Oriental Society Vol 14 (1890). vv. 1-cxvi 'On the use of skulls in Lamaist ceremonies' by W. W. Rockhill and [in German] Pages from 'Tibet - monasteries open their treasuries' by Hirmer Veriag published by Hirmer, 2006.
This object is obviously a very important cultural and historical artefact, with an extremely interesting history to it. However, it is also a very important object because it allows a previous undated photograph to be at least roughly 'aged' and because that photograph therefore gives us a unique (for now) image of an ethnographic object on display in the Oxford University Museum. To date no other photograph has been identified of ethnographic objects appearing in displays at the Oxford University Museum although it is known that many of the displays there between 1860 and 1887 did contain such objects.
If you look at the photograph at the top of this page you will see that this object is displayed on one of the shelves (second cabinet in, fourth shelf down, third object from left). This albumen photograph was taken of cranial displays on the north wall of the Oxford University Museum. It is not yet possible to exactly pinpoint the date of the photograph but it must pre-date the 1887 transfer of this object from the Oxford University Museum to the Pitt Rivers Museum and must therefore show the displays prior to 1887. You will see that another artefact is visible in the third cabinet, fifth shelf, this object has not yet been identified. However, it is thought to be a 3D illustration of an ?Asian face, rather than an artefact per se. It is certainly not in the Pitt Rivers Museum or Ashmolean Museum.
This is the first known photograph that has been found to show ethnographic objects in the Oxford University Museum. We know that the Museum had sizeable ethnographic and archaeological collections acquired (or transferred in from other University colleges and departments) between 1860 and 1887 but the way in which these were used and displayed has previously been very difficult to document. This photograph shows how one identifiable object was displayed and the context within which it was viewed in the early 1880s. It is clear from the above documentation that Tylor became very interested in the object during or shortly after its transfer (though he must have been aware of its existence before as he was also Keeper of the OUMNH as well as Reader in Anthropology).
The photograph is an albumen print. It is glued to a mount board. On the left hand side at the bottom is a cut-out piece of card paper saying 'Anatomical Department, Museum, Oxford']. Such addresses were used for the heading on letterpaper used by museum staff like George Rolleston and also Walter Baldwin Spencer when he worked in the museum. On the back are two pencil notes one of which reads '30/- per doz including [illegible]' and '1927 [illegible] 24-26 April 8 Collections of crania from the exhibition cases in the corridor of the Museum transferred to the Dept of Human Anatomy 1 blueish book "specimens transferred on loan to the Dept of Human Anatomy & other departments'. It is not known what relevance these captions have to the photograph itself, but the second note is obviously much later and refers to the crania visible in the image.
The photograph itself has had a chequered history. It is now in the care of the Zoological collections, Oxford University Museum and if you want to see it you should contact Malgosia Nowak-Kemp, the Collections Manager. Prior to being in the OUMNH it was held in the Ashmolean Museum though it is not known when it was acquired by them, or why they acquired it. It is possible that it originally formed part of the Rolleston papers which are now held by the Ashmolean Museum. It is likely that George Rolleston commissioned the photograph, or at least was aware that it had been taken, as it shows one of the displays that he was responsible for (unless, of course, the photograph was not taken until after his death in 1881 and before 1887 when the Tibetan artefact had been transferred to the PRM).
This page will be amended if additional information is found about it or about 1887.1.589 and its time in the Oxford University Museum.
I am very grateful to Malgosia Nowak-Kemp from the Zoological Collections, OUMNH who first pointed out the image to me, and allowed us to use the image on this page, to Chris Morton who commented on the age of the photograph, to Clare Harris who identified the object 1887.1.589 and commented on the photograph's importance and to Alison Roberts who suggested that the photograph might have formed part of the Ashmolean Museum's Rolleston papers at one time.
AP November 2012.