S&SWM PR papers L1490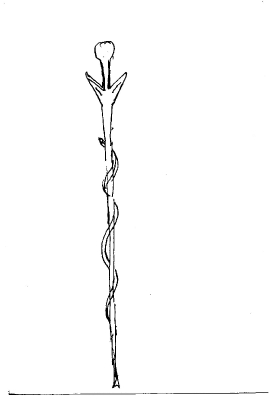 Jan 29th 1896 | Travellers' Club | Pall Mall | S.W.
Dear Father
Uncle George told me the other day that he thought you would be interested to hear that he had seen in the house of Dr W. Bezly Thorne 53 Upper Brook St., a staff of which he made the enclosed sketch. It comes from South Africa & is carried in front of the "Medicine Man" He said he thought it very like some Greek symbol, but I quite forget which If you think it it [sic] of sufficient interest you might perhaps like to [insert] write to [end insert] Dr Thorne about it. I hope feeling better & stronger
Yr affec son
St G Fox Pitt
By the way did you see in the "Times" of the 28th Sir George Birdwood's letter about the Birthplace of Buddha
This is William Bezly Thorne, a medical doctor, a specialist in cardiology. It is not clear who Uncle George is. George Birdwood's letter concerns the recent discovery by Dr Fuhrer of the 'actual birthplace of Prince Gautama Siddartha, the Buddha Saky... [illegible]. The article is to be found on page 14, column F of The Times, January 28 1896.
Transcribed for Rethinking Pitt-Rivers project by AP June 2011