S&SWM PR papers L1085
L1085
14 Brechin Place | South Kensington | Oct 27th
Dearest Papa.
I have seen about the saddle bags for the sofa the smallest size in imitation ones are 18 inches square and are 3/6 each and the larger ones 5/6 each the real ones are different sizes and are 15/0 a pair Harrod stores would redo the whole sofa with 6 bags at top and six at the bottom  (not real ones) with velvet in between & restuffed for £8-5-6. I give you this as some idea. Willy wrote & I am going to dine and go to the play with the Seymours they came here to tea yesterday. I have bought some works for the show next year. But it was very expensive £2.17.6 I wanted to get a bit for Kate too but could not afford it as [illegible] it was a 1£. They sent to their dancing yesterday the mistress was so pleased to see them and pushed them to the front at once, she found Patience had got rather stiff in the holidays, but was pleased with Ruth. We all enjoyed ourselves so much at Bushmore and I [2 words illegible] with you. I hope your party is a lively one now, but we have rain all day today yesterday was lovely. All the children send their love, will you thank Mama for her letter.
Your affec daughter
Ursula Scott
Thompson suggests that this might have been dated 1894, there seems no evidence within it to suggest any particular year
----
L1338
Hotel Belle Vue | Villars S/ Ollon | Alpes Vaudoises | July 21st [?Thompson suggests 1895 but see on]
Dearest Papa
I have bought you an iron anvil from a peasant here he does not use it now as they have plainer ones now, this one belonged to his father I send you back your little drawing to show where the ornament is. I did not get you a hamper. There is nothing here particular except a wooden bowl and spoon that they eat cream out of in the mountains they wear no ornaments, they say Berne is the place to get those sort of things we are going to this peasants house tomorrow to see if he has any thing he brought us a glass this morning with 1774 on it which he said belonged to his grandfather but as it was not Swiss I told him I did not want it. The landlord of the Hotel thinks I am rather mad I am afraid I have very little room in our boxes for putting things, they are very heavy as it is. We leave here next Thursday the 26th and go to Chamonix. The air here is lovely and I feel  much better and Marcia is quite rosy. The view is beautiful today Willy hears from Thorpe his corn is dreadfully beaten down and some of his hay spoilt. I hope you have got yours all in.
your affec. daughter
Ursula Scott
This anvil does not appear to be listed in the catalogue of the second collection.
----
L1344
Hotel Mont Cervin | Zermatt | Canton Valois | Switzerland | July 27th [?Thompson adds ?1895 but see on]
Dearest Papa
If I can find another anvil I  will get one, I saw some more after I had got the one  I wrote to about [sic] exactly the same only much larger, and we made the man show us how he used it, that was at Villars. I could not find any thing else there. We are not going to Berne now as we go to Lucerne by the Turka Pass driving but I will get the stools at Lucerne do you mind sending me some money by a registered letter as we are only have [sic] a certain sum with us and when it comes to an end we must go home. so if you want two musical stools at about 2£ each with other things you see it would come to nearly 5£ which would mean two or three days more away and of course if I do not find the things or they dont come to as much I can give it you back, I wish you were here I am sure it would do you so much good the air is lovely 5400 ft. high and we went up on mules today to the Gorner glacier the children were so excited especially Marcia she notices every thing I think more than the others. The mountain railrode [sic] from [illegible] here winds up by the river [illegible] which is a torrent in some places and the whole way it is quite lovely, it looks very dangerous in places right on precipices. We are going to [illegible] tomorrow on mules for the day 7305 ft high. We had a long journey, yesterday from 9 to 6. I was tired but today able to do this long expedition and now writing, when I first came every thing tired me. I think I shall be as strong as a horse when I get back. Who did Blossie say was rude to her and why did she say it what made her write about it. I hope you are pretty well. Douglas would like this place such a curious village and old tumble down places all dark brown wood and then the mountains behind and the guides about with their ponies & mules. We leave on Thursday Aug 2nd
Your affec. daughter
Ursula Scott
----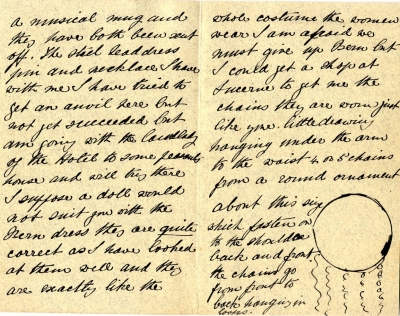 L1355
Hotel Belvédère | Zeggio [?] | August 10th
Dearest Papa
I have just got into letter of the 7th I am so very sorry to hear you have not been well those sort of attacks are most unpleasant, and I was hoping you would have no more as you have not had them lately I hope you will not have another. I bought you the musical chair it was 65 frs also a musical mug and they have both been sent off. The steel headdress pin and necklace I have with me I have tried to get an anvil here but not yet succeeded but am going with the landlady of the Hotel to some peasants house and will try there I suppose a doll would not suit you with the Bern dress they are quite correct as I have looked at them and they are exactly like the whole costume the women wear I am afraid we must give up Bern but I could get a shop at Lucerne to get me the chains they are worn just like your little drawing hanging under the arm to the waist 4 or 5 chains from a round ornament about this size which fasten on to the shoulder back and front the chains go from front to back hanging in loops. [Drawing] I hope the chain will arrive safely it ought to come next week I have 4£ left I am very sorry about [illegible] and Blossie, but hope all will go well in time. I send this note to Alice to give you as she is going to Oxford too and by sending my letter to her in London it will be forwarded quickly. What a dreadful accident with the engine what child was it?
Your affec. daughter
Ursula Scott
---
L1364
Hotel Belvédère | Zeggio [?] | August 18th
Dearest Papa
I have bought you a Bern costume and it is sent off by post today or tomorrow - all except the chains which I have got with me. The costume cost 100 frs and the chain 26 frs. so I have spent so far over the ten pounds you sent me I can not find another anvil here they only use the same as in England stone thing you rub up and down on the scythe Willy saw your paper in the Times when he went into Lucerne I have only seen the Daily News which mentioned it but did not say much. I hope you will have fine weather for the sports we have had rain every day.
Your affec. daughter
Ursula Scott
It seems most likely that these last four letters actually date to 1894, as the musical stools from Lucerne must refer to Add.9455vol3_p1014 /2, which are dated in the catalogue as August 1894.
However, there is no costume, chain, anvil or headdress pin and necklace from Ursula listed in the catalogue of the second collection, the musical chair or stool and musical mug or pot are listed see Add.9455vol3_p1014 /2-3
Transcribed by AP May/ June 2011