PRM ms collections PRM papers Box 1 27-30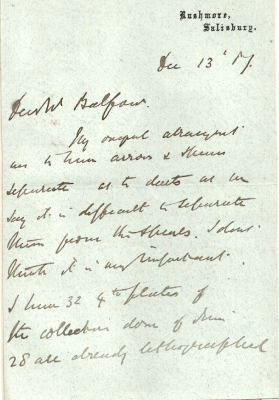 Letter from Augustus Henry Lane Fox Pitt-Rivers to Henry Balfour [1]
Rushmore, Salisbury | Dec 13 '87
Dear Mr Balfour
My original arrangement was to have arrows & spears separate as to darts as you say it is difficult to separate them from the spears. I dont think it is very important. I have 32 4to [sic, quarto] plates of the collection done of which 28 are already lithographed I had proposed to bring them out when the arrangement was completed but I think it must be done sooner Sir Henry Acland has written to me about it I have been so busy in "bringing out" my excavation series here thus I have had no time to attend to the Museum things.
If you could manage to come over here on a visit at some time soon we should be very glad & we could arrange about it.
Yours very truly
A. Pitt Rivers
----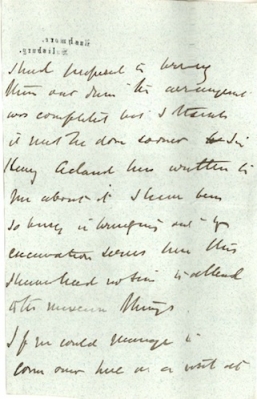 Rushmore, Salisbury
Jan 21. 88.
Dear Mr Balfour
I have received your letter about the Collection and will write to you in a day or two full particulars about the drawings I fear I did not show you a tenth part of the drawings I have my clerks are away & I could not find them. Nearly everything is in fact drawn more than can be published in 2 or 3 years. I am so busy now with my Rotherley book that I havent time to attend to it but about March I will bring the whole down to Oxford & go with the thing thoroughly. If any one was to be put on to draw now they would be drawing things that are already done. I think the great thing now is to get on with the arrangement as fast as possible that will show whether there is anything to be added to the several series here & there a few links will have to be put in but as a rule I think my series of drawings seem very complete.
However I will look over this whole [word illegible] in a day or two & write to you again. It seems a pity to lose the services of your draughtsman but I dont see how he could be put on unless I were to come to Oxford at once which I cannot do.
Yrs very truly
A Pitt Rivers
Notes
[1] Henry Balfour (1863-1939) was the first curator of the Pitt Rivers Museum. He was first employed to instal the transferred displays of the founding collection when it arrived at Oxford. See here for his biography in the Dictionary of National Biography
Transcribed by AP, March 2011, for the Rethinking Pitt-Rivers project, with help in deciphering from Jeremy Coote and Philip Grover.