PRM ms collections PRM papers Box 1 23-26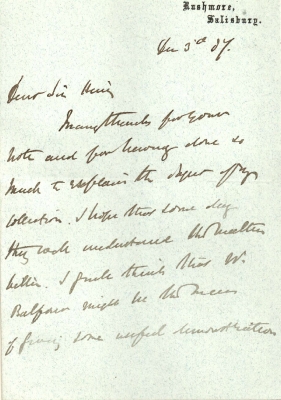 Letters from Augustus Henry Lane Fox Pitt-Rivers to Sir Henry Acland [1]
Rushmore, Salisbury. | Dec 3rd 87
Dear Sir Henry
Many thanks for your note and for having done so much to explain the object of my collection. I hope that some day they will understand the matter better. I quite think that Mr. Balfour might be the means of giving some useful demonstration in aid of Mr Tylor's lectures, he seems to be thoroughly imbued with the spirit of it.
Yours very truly
A. Pitt Rivers
---------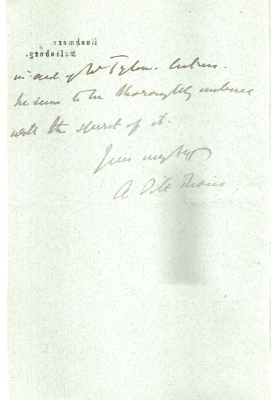 Rushmore, Salisbury | Dec 13 '87
Dear Sir Henry
Excuse the delay in answering your letter I had to write to London to ascertain what plates I had already done of my collection. I dare say you do not know that I have already 32 Plat 4to [sic - quarto] plates of the series in my collection done of which 28 are already printed & also lots of drawings made from the plates can be made up at short notice this of course is quite independent of the catalogue printed by the South Kensington Museum. I had intended keeping this for when the collection was finally arranged, but I agree with him that it would not do to delay and must be done soon I will endeavour to come over to Oxford again and arrange with Mr Balfour to whom I am writing today as to what is to be done or if he would come here for a day or two we could arrange the matter much better. I am so dreadfully busy in getting out my 2nd vol of excavations thus I have very little time for the Museum things but I see it must be done soon. I should like to confer with him [sic, last three words illegible could also be 'employ ... ar...'!] if I could in addition but dont see how I could get over to Oxford just at present [sic, note last sentence is particularly difficult to read]
Yours very truly
A Pitt Rivers
Notes
[1] Sir Henry Wentworth Dyke Acland, first baronet (1815-1900) physician, academic and prime mover in the establishment of the University Museum at Oxford (and contributor to getting the Pitt Rivers collection donated to Oxford). See here for his Dictionary of National Biography entry.
See here for a web artlcle on the relationship between Acland and Pitt-Rivers
Transcribed by AP, March 2011, for the Rethinking Pitt-Rivers project, with help in deciphering from Jeremy Coote and Philip Grover.