Students Handbook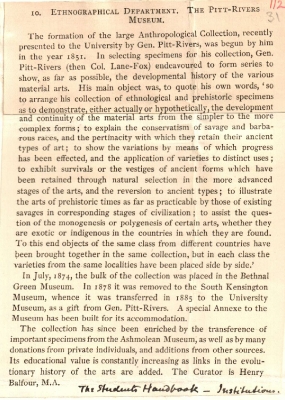 Please note that these have been transcribed and not edited, all misspellings or mis-punctations are in the original and are not sic'd.
PRM ms collections PRM papers Box 1, 1-33: 31
10. Ethnographical Department. The Pitt-Rivers Museum
The formation of the large Anthropological Collection, recently presented to the University by Gen. Pitt-Rivers, was begun by him in the year 1851. In selecting specimens for his collection, Gen. Pitt-Rivers (then Col. Lane-Fox) endeavoured to form series to show, as far as possible, the developmental history of the various material arts. His main object was, to quote his own words, 'so to arrange his collection of ethnological and prehistoric specimens as to demonstrate, either actually or hypothetically, the development and continuity of the material arts from the simpler to the more complex forms; to explain the conservation of savage and barbarous races, and the pertinacity with which they retain their ancient types of art; to show the variations by means of which progress has been effected, and the application of varieties to distinct uses; to exhibit survivals or the vestiges of ancient forms which have been retained through natural selection in the more advanced stages of the arts, and the reversion to ancient types; to illustrate the arts of prehistoric times as far as practicable by those of existing savages in corresponding stages of civilization; to assist the question of the monogenesis or polygenesis of certain arts, whether they are exotic or indigenous in the countries in which they are found. To this end objects of the same class from different countries have been brought together in the same collection, but in each class the varieties from the same localities have been placed side by side.'
In July, 1874, the bulk of the collection was placed in the Bethnal Green Museum. In 1878 it was removed to the South Kensington Museum, whence it was transferred in 1885 to the University Museum, as a gift from Gen. Pitt-Rivers. A special Annexe to the Museum has been built for its accommodation.
The collection has since been enriched by the transference of important specimens from the Ashmolean Museum, as well as by many donations from private individuals, and additions from other sources. Its educational value is constantly increasing as links in the evolutionary history of the arts are added. The Curator is Henry Balfour, M.A.
[Note added: The Students Handbook - Institutions']
Transcribed by AP for the Rethinking Pitt-Rivers project July 2010