Biography of General Pitt-Rivers
A biography of Augustus Henry Lane Fox Pitt-Rivers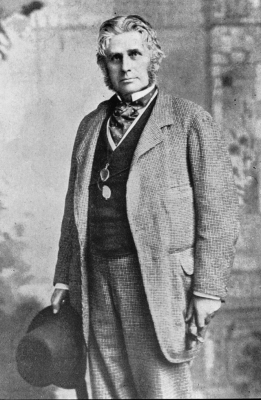 The following account borrows heavily from the two published biographies of Pitt-Rivers by Mark Bowden (1991) and Michael Thompson (1977) as well as the unpublished thesis by William Chapman (1981). I am grateful to Mark and Bill in particular for all the information and support they have willingly provided over the twenty years that I have been researching the Pitt Rivers collections. As this is an account of his life, the various surnames he was known by are rendered chronologically. References are also taken from the Pitt-Rivers papers in Salisbury and South Wiltshire Museum [S&SWM].

Early life
Augustus Henry Lane Fox was born in early April 1827 at Hope Hall, near Wetherby, Yorkshire. The exact date is uncertain as the various sources (biographies, contemporary newspapers and memorials) all disagree. It could have been the 12th, 14th or 15th of April 1827.
At that time Hope Hall was occupied by the younger brothers or older relatives of the head of the Lane Fox family, whose seat was the nearby Bramham Park. [Thompson, 1977: 11] His father was William Augustus Lane Fox (1796-1832), who had served in the British Army, and his mother was Lady Caroline Douglas (1797-1873), sister of the Earl of Morton. Augustus's elder brother (William Edward) was born in 1818, educated at Balliol College, University of Oxford, and then entered the Diplomatic Corps in which service he became an attaché at Berlin and Naples. He died in Naples at the age of thirty-four in 1852. According to Thompson his father and brother both died of tuberculosis. [1977: 12-13] The exact class definitions are always subject to argument in English society, but Thompson describes Fox's family background as 'landed aristocracy'. Fox himself was the younger son of a younger son with slight expectations at birth. [1977: 12] When his elder brother died, his expectations increased. It is safe to conclude that Fox, by birth, was a member of the upper classes (either landed gentry or aristocracy, depending on the criteria chosen).
Until his father's death in 1832 Fox lived at Bramham Biggin in Yorkshire (still on the family estate) with his family. Soon after 1832 his mother moved the family to 3 St James's Square, London. Effectively, from this point on, he was a resident of London for the next 50 years. [Thompson, 1977: 13]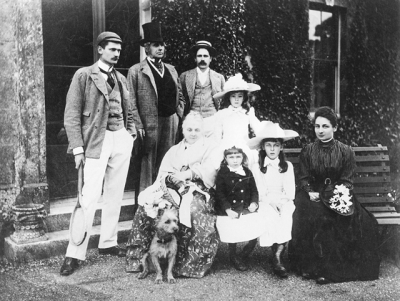 It seems that he was mostly educated by private tutors at home as was quite common for male children of his class at this period. Little is known of his childhood but in 1884 he did comment about education at the time, perhaps describing his own, as well as other people's:
In my young days the education of boys consisted in learning Latin and Greek, and although I believe that very few gentlemen, except those who afterwards went to a university, retain even a moderate knowledge of these languages in after life, all would have considered it a disgrace not to have been properly whipped over them in their youth. So little was eye-training practised that even geography was often taught without a map, and men almost lost the use of their eyes for any other purpose than reading. [Pitt-Rivers, 1884, 'Opening of Dorset County Museum, Inaugural Address' [page 9]
More unusually, for somewhat less than a year he attended the Royal Military College at Sandhurst, but, for some reason that has not been identified in any of the sources, this military education was curtailed. Several contemporary sources refer to this period as being his 'education' but in reality it can have had little effect on him as it was so short.
Professional life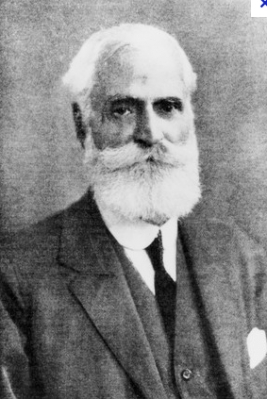 Fox served in the British Army from 1845 until his retirement, with the honorary rank of Lieutenant-General, in 1882.[1] He was commissioned into the Grenadier Guards, on 16 May 1845, as a Lieutenant. Like most other Army officers of the time, who were largely drawn from the upper classes, Fox purchased (or had bought for him, by his mother) most of his ranks up to the maximum purchasable, Lieutenant-Colonel. [2]
Sometime during 1850-1851 Fox became involved in the testing of rifled weapons. In 1852 he was asked to instruct the 2nd Battalion of the Grenadier Guards on drill with the rifle and in the same year he was sent to France, Belgium and Piedmont (Italy) to study their methods of musketry instruction. [Thompson, 1977: 16] In 1853 the new School of Musketry was established at Hythe in Kent and in the summer Fox moved there with his new wife. He wrote the first edition of the Instruction of Musketry, though this was contested with his senior officer, Colonel Hay. [Thompson, 1977: 17-18]
On 5 March 1854 Fox arrived at Malta with the 3rd Battalion, Grenadier Guards. Malta was a staging post for soldiers on their way to Crimea. He sailed to Scutari on 22 April 1854 and was stationed in Bulgaria with the post of Deputy Assistant Quartermaster General. A quartermaster was a 'regimental officer with the duties of administering barracks, laying out camps, and looking after rations, ammunition, and other supplies'. [OED Third edition, December 2007; online version December 2011. <http://www.oed.com/view/Entry/156055>; accessed 27 January 2012]
He took part in the battle of Alma, the only major military action he saw. In December he was promoted to Brevet Major for distinguished service in the field [Thompson, 1977: 22-25] On 15 October 1854 a medical examination pronounced him unfit for service. He therefore saw only a month of active service in the Crimea.  By 9 November 1854 Fox had returned to London. In May 1855 he returned to Malta and was apparently involved in training and testing, though he was criticised by Hay for his training.  Promoted to Captain and with the purchased rank of Lieutenant-Colonel in May 1857, he returned to the UK in early August 1957. In 1860 Fox attempted to defend himself against Hay's criticism and an inquiry was held. He was cleared by the end of 1861. [Thompson, 1977: 26-27]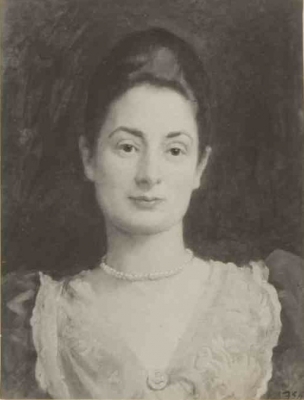 In 1861 Fox was sent to Canada on 'special service'. In August 1862 he was appointed Assistant Quartermaster General for the southern district of Ireland at Cork. He was there until 1866. In July 1867 (at the age of 40) he went on half-pay and was free of military duties for the next 6 years, still holding the rank of Colonel. [Thompson, 1977: 29-30] In 1873 he resumed full-time soldiering, taking command of the West Surrey Brigade Depot in Guildford [Thompson, 1977: 37] Promotion to Major-General was gazetted on October 1877 [Thompson 1977: 52]  In 1878 he returned to London. Although, as I earlier mentioned, Fox did continue a half-life as an Army man, really his active career ended in 1877 or just shortly before he inherited his estate. He formally retired in 1882, at the age of fifty-five.
Private Life
Fox married Alice Margaret Stanley on 2 or 3 February 1853 at St George's Church, Hanover Square, London. She was the eldest daughter of Edward John Stanley, 2nd Baron Stanley of Alderley, 1st Baron Eddisbury (1802-1869) and Henrietta Maria (1807-1895). Lord Stanley was a Whig politician and privy counsellor. Alice had 'come out' on 5 February 1846, and Pitt-Rivers probably met her first in about 1848.
Augustus was a year older than Alice and proposed marriage in 1849 when he was twenty-two (which was very young for someone of his class at that time), but was rejected by her parents on the grounds of lack of prospects. It is clear from the Stanley family letters, partially published by Nancy Mitford, that the Stanley family were not greatly impressed by Fox. The death of his brother in June 1852 transformed his prospects as he then moved closer to being heir to Lord Rivers.
After a great deal of discussion the marriage was eventually agreed and took place in 1853 when Fox was aged 25 [Thompson, 1977: 18] The mean age for males marrying in his class at this time was 32. [Gerard, 1994] Augustus and Alice remained married for 47 years until he died in 1900.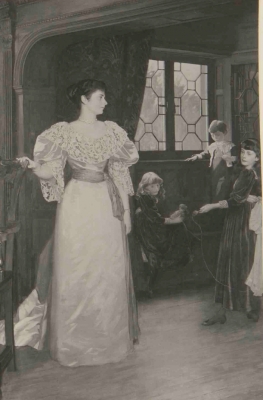 Alice must have become pregnant almost immediately after their marriage because, during the first year of her marriage, their first child was still-born. [Thompson, 1977: 17] Eventually Pitt-Rivers and Alice had 9 children who reached adulthood, they were born between 1855 and 1866. [Thompson, 1977: 18]:
Alexander Edward Lane Fox-Pitt-Rivers, born 2 November 1855, died 19 August 1927. According to Bowden, Alexander had artistic talents but was of weak character. He became a Fellow of the Society of Antiquaries. [Bowden, 1991: 33] As the eldest son he inherited Pitt-Rivers' estate in 1900 on his father's death. He in turn was the father of George Pitt-Rivers who later ran the Farnham Museum and eventually ensured its closure in the 1960s.
St. George William Lane Fox-Pitt, born 14 September 1856, died 6 April 1932. According to Bowden, he was independent, strong-willed, generous and rash. A businessman and inventor who held advanced political views detested by his father [Bowden, 1991: 33] See below for more information about his interests and see image of him in later life on this page.
William Augustus Lane Fox-Pitt, born 9 January 1858, ?died 1945. He joined his father's Regiment and saw active service in Zulu war of 1879 and in Sudan. He reached the rank of Lieutenant-Colonel and was, reportedly, his father's favourite child. A friend of Robert Baden-Powell, of Scouting fame. [Bowden, 1991: 33]
Ursula Katharine Lane Fox-Pitt, born in ?1859, died 1942. She married William Charles Scott in 1880. There are some letters from Ursula to her father in Salisbury and South Wiltshire Museum [S&SWM] PR papers. There are images of her on this page.
Lionel Charles Lane Fox-Pitt, born 5 November 1860, ?died 1937. Spent several years in Canada and returned in ill-health. He took part in archaeological digs in Cyprus and considered working for Pitt Rivers as unpaid assistant. [Bowden, 1991: 33, 35] There are some letters from Lionel to his father in S&SWM PR papers. Most of them concern his employment or are seeking additional financial support.
Alice Augusta Laurentia Lane Fox-Pitt, born circa 1862, died 11 March 1947. She married John Lubbock, the banker and antiquarian in 1884, he was considerably older than her and she was his second wife. The S&SWM PR papers letters which relate to Alice suggest that the relationship between father and daughter (and son-in-law) after marriage were not close. See image of her in later life on this page
Agnes Geraldine Fox-Pitt, born in 1863, died 7 December 1926. She was educated at Oxford High School and became an acclaimed writer with her own Dictionary of National Biography entry. [see also Bowden, 1991: 36] She married Walter John Grove. Letters in S&SWM PR papers suggest that the relationship between Pitt-Rivers and the Groves were never good. See two images of her on this page, one in 1891 and one in 1923
Douglas Henry Lane Fox-Pitt, born 17 December 1864, died 19 September 1922. Attended Royal Agricultural College at Cirencester but was not successful, settled as a farmer in South America but failed, returned to Britain and drew buildings for his father [Bowden, 1991: 35] In the 1901 census he is living with his mother in Sedgehill, Dorset and describes himself as an artist and sculptor. Information about his artistic career is recorded here. A photograph of him is shown on this page.
Arthur Algernon Lane Fox-Pitt born 12 April 1866, died 6 November 1895. Suffered ill-health all his life, including mental illness, later he was declared insane and went into an institution. [Bowden, 1991: 35] Thompson says that he died of tuberculosis like Pitt-Rivers' father and brother and was buried in Tollard Royal churchyard with a Celtic cross headstone [Thompson, 1977: 89]
The family photographic portrait at Rushmore, shown earlier on this page, apparently shows William Fox-Pitt. General Pitt-Rivers, Douglas Fox-Pitt, Ursula Scott (earlier Fox-Pitt) and her children with Alice Pitt-Rivers and one of the family terriers.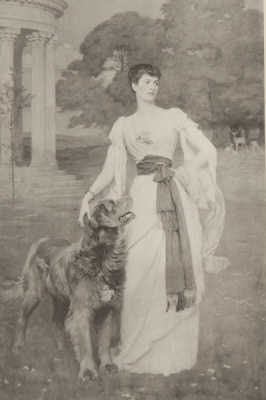 It would appear from the letters in S&SWM PR papers that most of Pitt-Rivers' children, particularly his sons, (with the possible exception of Alice who married John Lubbock who was independently wealthy) remained financially dependent upon him until his death. They were obviously each given allowances and other financial support both for general living expenses and particular expenses. Much of the surviving correspondence from them in the S&SWM papers come in the form of 'begging' letters. There are letters from Ursula which suggest some familial devotion, and she also purchased items for his collection whilst abroad in Switzerland (at his expense).
Some sources (notably Bowden, 1991) have intimated that Pitt-Rivers and his wife's relationship was strained in later life but the letters contained in the Salisbury and South Wiltshire Museum [S&SWM] do not necessarily confirm this. They appear to have continued to live and socialise together.
Bowden also suggests that he was a severe father to his children, in particular drawing attention to some of the harsh punishments he inflicted. [Bowden, 1991: Chapter 3] Again, this tyrannical attitude is not necessarily supported by the surviving correspondence in public hands, the S&SWM's Pitt-Rivers' papers contain several letters from the children to their father. A lot of them are requests for funding (even when the children are quite old, for example one of his sons requests money to buy two books - when almost middle-aged!) but the tone is not that of a subject to a tyrant (the requests were nearly always met it would appear).
Money
Fox was born the younger son of a younger son. Although a member of the landed gentry when this more or less guarenteed an income for life, he would probably never have expected to become very wealthy or socially prominent in the normal course of events.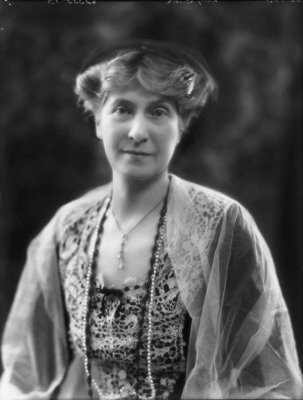 However, he was never poor--by his own account he spent up to £300 a year on purchases for his collection in the early years when this was not a small amount of money. [Pitt Rivers, 1884 Address delivered at the Opening of the Dorset County Museum, Dorchester January 7 1884: 8]
His great luck was to inherit a fortune and large estate from a distant relative in 1880. The will of George, 2nd Baron Rivers made in 1823 stipulated '... within the space of one year next after he or they shall respectively become entitled as aforesaid ... shall sign and upon all other occasions whatsoever the surname of Pitt-Rivers either alone or in addition to his or their surname ...'. The London Gazette of 4 June 1880 announced the Royal license authorizing [Fox] to 'take and use the surnames of Pitt-Rivers in addition to and after that of Fox and bear the arms of Pitt quartering ... and that his issue may take and use the surname of Pitt in addition to and after that of Fox'. [Thompson, 1977: 75] This inheritance brought him the Rivers' country seat, Rushmore, and enabled Pitt Rivers to upgrade his London home from Earl's Court to the Rivers' town house at 4, Grosvenor Gardens.
Rushmore, his country estate, is described by Thompson as lying southwest of Salisbury on the north side of the Salisbury to Blandford road and estimated to extend over 24,942 acres in Dorset and 2,762 acres in Wiltshire. The country estate was '... one of the largest held by an untitled man in the whole of Britain' according to Bowden. [1991, 37] The gross annual income of the estate was reckoned to be £27,477 (estimated for succession duty) and the net annual income £22,898. At Pitt Rivers' death the aggregated gross value of the property for estate duty purposes was £414,586 7s 6d [17 July 1900 CGPLA Eng. & Wales from Oxford DNB] and of personal property £112,226. [1977: 75] The estate and annual income was more than respectable for the time, the net annual income of £22,898 can be seen as the equivalent of the following amounts in the year 2010, depending upon the measure used: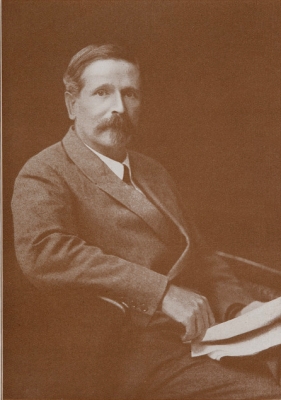 Calculated by the measuring worth website:
| | |
| --- | --- |
| £1,780,000.00 | using the retail price index |
| £2,390,000.00 | using the GDP deflator |
| £9,630,000.00 | using the average earnings |
| £15,300,000.00 | using the per capita GDP |
| £27,400,000.00 | using the share of GDP |
Whichever measure is used it is clear that the sums involved certainly made him one of the most wealthy landowners in the country.
Landowning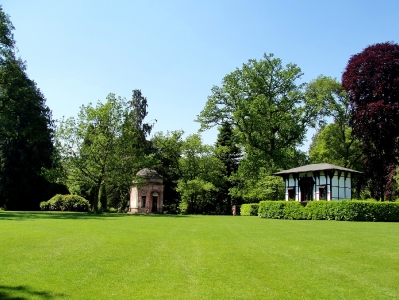 Bowden remarks that, 'although he had been brought up in the landowning class of society [Fox] had no expectation of becoming a major landowner himself'. When he became a landowner, therefore, he had to quickly learn how to manage large sums of money and amounts of land. He kept a tight overall control of his affairs, employing a Mr Creech as his agent to carry out the day-to-day management of the estates. There are a large number of letters from Creech to Pitt-Rivers in S&SWM PR papers. According to Bowden, 'the worst side of the General's character is demonstrated in [these] business letters. We see him hectoring, bullying and bluffing his way through disputes with tenants, tradesman and even the unfortunate Mr Creech himself'. [1991: 36-37] Despite this he was apparently thought of as a good landlord among his tenants on Cranborne Chase [Bowden, 1991: 39]. The mark of a good landowner at the time was to provide facilities as well as living quarters for their staff and dependents as well as their tenantry, Pitt-Rivers seems to have taken his responsibilities seriously.
When he took over at Rushmore Pitt-Rivers instituted several improvements to the house and estate including panelling parts of Rushmore, opening a museum at Farnham, an art gallery at King John's House, Tollard Royal and some pleasure gardens at Larmer (Tree) Grounds. You can gain further information about them from the biographies and from the large number of articles about them available via the Articles link in the menu to the right of this webpage. [Pitt Rivers own Guide to Larmer Gardens; Thompson, 177: 79; Chapman, 1981: 506 and Bowden, 1991: 141 [Chapter 8]]
Archaeology
His archaeological work in Ireland, London and on his own estates is outlined and discussed at some length here.
Travel
Pitt-Rivers did not travel a great deal during his lifetime but he did travel as part of his professional career as a soldier and in later life took some longer holiday trips in Europe. While he was serving as an officer Chapman suggests he had twice-yearly holidays, in the spring and autumn, and spent several weeks at a time with relatives. [Chapman, 1981: 244-5] He only travelled outside Europe twice, once to Canada (on military service) and once to Egypt, as part of a Cook's tour, both of these visits were short.
For further information see Chronology and here.
Collecting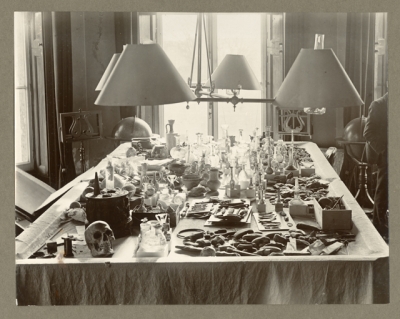 The beginnings of Pitt-Rivers' collections in the 1850s are obscure. To find out more about what is known, see here. There is as little hard data about how Pitt-Rivers' collection developed and expanded as there is about how it started. The best sources of information are probably the primary sources and accession books for the founding collection which are not very clear on this point. Very few objects have dates by which they were received by Pitt Rivers although those obtained via various auctioneers often give the date of the auction. Only one piece of evidence of how his collections accumulated as been found since the Rethinking Pitt-Rivers project started, a list of the weapons owned by Fox in 1862 has been identified by Anthony Pitt-Rivers.
One thing is certain and that is that Pitt Rivers always collected every-day items as well as fine art specimens. Archaeological artefacts were always important, both as parts of the collection and as parts of the later displays. However, it can be argued that it was his ethnographic collections which most seized the public and his colleagues' attention, both during his lifetime and afterwards. To find out more about how his collections develop follow the Articles link to the right.
In addition to artefacts, Pitt-Rivers collected photographs to illustrate particular sections of the collection, especially physical anthropology (where he may have felt his collection was lacking in actual artefacts). This collection has just started to be rediscovered by Chris Morton at the Pitt Rivers Museum, find out more about it here.
During his lifetime Pitt-Rivers gave several explanations of what he thought he had collected for, and the purposes to which his collection could be put. The role his museum displays and collections could play in public education is a theme that he kept returning to:
'The collection ... has been collected during upwards of twenty years, not for the purpose of surprising any one, ... but solely with a view to instruction. For this purpose ordinary and typical specimens, rather than rare objects, have been selected and arranged in sequence, ... The classification of natural history specimens has long been a recognized necessity in the arrangement of every museum which professes to impart useful information, but ethnological specimens have not generally been thought capable of anything more than a geographical arrangement. This arises mainly from sociology not having until recently been recognized as a science, if indeed it can be said to be so regarded by the public generally at the present time. Travellers, as a rule, have not yet embraced the idea, and consequently the specimens in our museums, not having been systematically collected, cannot be scientifically arranged. ... Unlike natural history specimens, which have for years past been selected with a view to variety, affinity, and sequence, these ethnological curiosities, ... have been chosen without any regard to their history or psychology, and, although they would be none the less valuable for having been collected without influence from the bias of preconceived theories, yet, not being supposed capable of any scientific interpretation, they have not been obtained in sufficient number or variety to render classification possible. This does not apply with the same force to collections of prehistoric objects, which during the last ten or fifteen years have received better treatment. It is to the arts and implements of modern savages that my remarks chiefly relate. Since the year 1852 I have endeavoured to supply this want by selecting from amongst the commoner class of objects which have been brought to this country those which appeared to show connection of form. Whenever missing links have been found they have been added to the collection, and the result has been to establish, however imperfectly, sequence in several series.' [Pitt Rivers, 'On the principles of classification adopted in the arrangement of his anthropological collection, now exhibited in the Bethnal Green Museum' Journal of Anthropological Institute 4 (1875) 293-308 [read at the special meeting of the Institute ... on 1st July 1874 on the occasion of the opening of the collection to the public]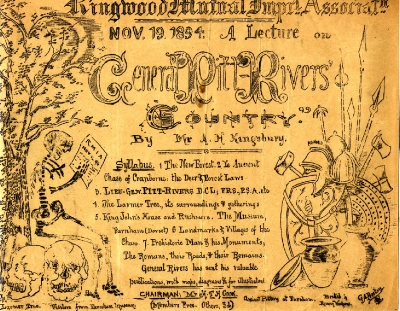 To find out more about his collecting and his collections and what he meant to achieve through their acquisition see the Articles on this website and here.
Personality
The only real, contemporary, first-hand sources that survives that give a measure of Pitt-Rivers' inner thoughts and feelings are the letters in the Salisbury and South Wiltshire Museum's Pitt-Rivers papers; except for private correspondence with family members (retained by his family), there do not appear to be any surviving diaries or more personal accounts. Unfortunately, most correspondence that survives relates to the period after 1880 so there is even less evidence about the details of his earlier life. The only way to gauge Pitt-Rivers' personality at this remove, therefore, is to read the surviving correspondence from (and to) him and his other writings. Then the assessment of his personality will depend upon the prejudices and personality of the assessor.
No attempt is made here to give a detailed account of Pitt-Rivers' personality, which was certainly a complex one, with many contradictory elements. For the most part he seems to have been rather serious, but many of his lectures and letters include small 'jokes' which might at least have raised a smile and brought some warmth to his character.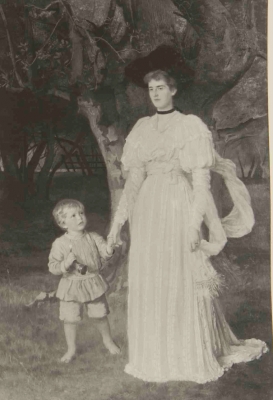 By many accounts he did not seem to have had a wide circle of close friends, but he definitely carried on prolonged correspondence with a great number of people. With some people, like his neighbour John Mansel-Pleydell (with whom he shared an interest in archaeology), and the Curator of Dorchester Museum this correspondence stretches over many years and is personal. Mansel-Pleydell was clearly fond of him, for example, addresses him as 'My dear and kind ...' suggesting an intimacy between them. He also seems to have had long correspondence with some other collectors, for example Henry Howorth, which was also very friendly; Howorth often stayed with him at Rushmore.
The public correspondence that survives in S&SWM PR papers contains so many begging letters (either literally or seeking to obtain a free copy of his private publications) that it would not be surprising if his relationships with others was strained. However, he was most generous to almost everyone who approached him--with his time, his advice, and free copies of his publications. He also seems to have been very hospitable, see here. He would often invite complete strangers for lunch who have written asking for admittance to his private museum at Farnham.
He also liked to talk about things that interested him. Harold St G. Gray (his secretary) remarked in his Memoir for Pitt-Rivers that
General Pitt-Rivers was at intervals a semi-invalid at Rushmore, but his abstemiousness of living prolonged his life for many years. Until his health finally began to fail the General was the most able conversationalist, and would pour forth from his abundant treasure house of knowledge the most varied information, provided that he was in scientific company or with those who were genuinely anxious to learn. The extraordinary variety of his knowledge and the rapid way in which he could turn from one subject to another, reminded us on several occasions of Mr Gladstone. We can call to mind one occasion ... when, well within the hour, he discoursed most learnedly and clearly on forestry, on Mexican pottery, on Egyptian painting, on modern brass bands, on the forms of the Christian cross and on simony in the Church.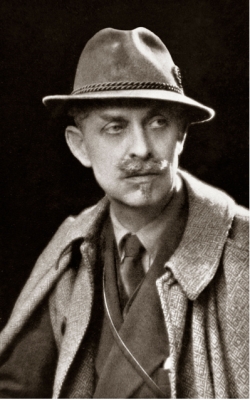 A local clergyman Reverend Waterfall, who donated some objects to his museum at another time, remarks of one visit, to Pitt-Rivers' wife, 'I have been to see the General this afternoon--found him in bed and had what he called a lecture on Christianity and Buddhism lasting 20 minutes!! However the Dr told Gray that he was better--I had lunch off your splendid [illegible] (solitary) afterwards'. [L2012 S&SWM PR papers, emphasis Waterfall's] It is clear from both accounts that 'he liked the sound of his own voice' but also that his listeners often wanted to hear what he said; it is also clear that Christianity appears to have been one of his favourite topics, perhaps because of his ill-health at the time.
On the minus side, he does seem to have taken his status seriously, almost always being addressed in letters as 'General', and as Richard Bradley remarked to Bill Chapman, very proud (as he should have been) of his Fellowship of the Royal Society, probably then as now the highest scientific award in the UK. He also naturally wished for the respect from his archaeological and anthropological peers and inferiors; it is clear he did not like it when this was not afforded him (as, for example, when Henry Balfour attempts to intrude onto what he considered his own territory, publishing accounts of the development of the composite bow). If he felt slighted (for example when his contribution to anthropology or archaeology or the arrangement of Museums was not mentioned by other authors) his tone usually became peevish (though, to be fair, at least on some occasions he censored the peevish tone by removing those sections of his lectures' text before they were delivered).
Pitt-Rivers does appear to have sometimes taken against individual people and he held what appears to have been a running feud with the Post Office who he quite regularly accused of losing mail and parcels and also of not providing an adequate local service. He reacted very badly and harshly against fairly petty thefts from his household and did not appear to have suffered fools gladly. In other words, he shared the small defects that most humans suffer from.
In summary, Mark Bowden, his most recent biographer, was perhaps sometimes a little harsh on the General (by this author's lights at least); Pitt-Rivers, like all humans, was blessed with both good and bad characteristics.
Death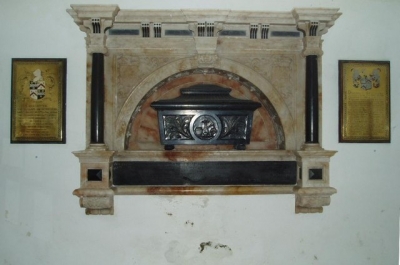 Pitt-Rivers appears to have suffered from ill-health from the 1870s and quite early on this was diagnosed with diabetes. Diabetes was then effectively untreatable and it is clear that Pitt-Rivers suffered from many complications associated with it, including general ill-health and susceptibility to complications from minor illnesses. He treated it with the help of his physicians, by diet and exercise, and with regular trips abroad to spas whose waters were supposed to help the symptoms. It is clear that towards the end of his life his symptoms became more serious. Salisbury and South Wiltshire Museum's collections include the wheelchair which he used to visit the excavations on his estate and he was often confined to bed (untreated diabetes can lead to problems of circulation and ultimately amputation, though Pitt-Rivers avoided this fate).
Pitt-Rivers died on 4 May 1900 at his home in Rushmore at the age of 73. He chose to be cremated in London. Cremation had only just become legal in the United Kingdom and was still an extremely rare procedure. This was not, according to some sources, the end of his unusual attitude to death and treatment of his remains; according to Caverhill, 'with typical eccentricity, [Pitt-Rivers] had given instructions that his remains be cremated at Woking and that a post mortem be made so that any items of particular scientific interest concerning his constitution or peculiarities in his "cerebral convolutions" could be noted. His actual brain was left to posterity but unfortunately its repository in London was bombed during World War II and the skull with its contents was destroyed'. [no date: 33] The General was certainly cremated, and the stories about his post-mortem, skull and brain have some possible confirmation. To find out more about this death please see here. To find out about his will see here.
To find a short introduction to a (never-written) autobiographical account by Pitt-Rivers, see here.
Short Bibliography
Bowden, Mark 1991. Pitt Rivers: The Life and Archaeological Work of Lieutenant-General Augustus Henry Lane Fox Pitt Rivers, Cambridge: Cambridge University Press.
Caverhill, Austen (no date) Rushmore Then and Now: A short history of Rushmore House and Park, at one time residence of Lieut-General A.H. Pitt-Rivers and now the home of Sandroyd School No publisher [published on the occasion of Sandroyd's Hundredth anniversary]
Chapman, William Ryan 1981. 'Ethnology in the Museum: A.H.L.F. Pitt-Rivers (1827–1900) and the Institutional Foundations of British Anthropology', University of Oxford: D.Phil. thesis.
Gerrard, Jessica. 1994 Country House Life: Family and Servants 1815-1914 Oxford: Blackwell
Gray, H. St.G. 1905. 'A Memoir of Lt-General Pitt-Rivers' in Excavations in Cranborne Chase vol V. Somerset [privately published]Petch, Alison. 1998. ''Man as he was and Man as he is': General Pitt-Rivers' collections' Journal of the History of Collections 10 no. 1 (1998) pp. 75-85 Oxford University Press. [See here for part of this memoir transcribed]
Hawkins, D. 1982. 'Concerning Agnes: Thomas Hardy's 'Good Little Pupil"" Alan Sutton, Gloucester.
Petch, Alison. 2002. 'Assembling and Arranging: Pitt-Rivers' collections from 1850 to now' in 'Collectors: Expressions of Self and Other Occasional Papers Series: Horniman Museum and Museu Antropologico of the University of Coimbra
Petch, Alison. 2006 'Chance and Certitude: Pitt-Rivers and his first collection' Journal of the History of Collecting 18 no. 2 pp. 57-266 Oxford University Press
Thompson, M.W. 1977. General Pitt-Rivers: Evolution and Archaeology in the Nineteenth Century. Moonraker Press, Bradford-on-Avon UK
Notes
[1] Although he remained on the active list until 1896 and was Honorary Colonel of the South Lancashire Regiment from 1893 until his death. [Bowden, 1991: 21-2]
[2] The information about Army purchaseable ranks etc taken from'The Social Origins of British Army Officers' by C.B. Otley in 'The British Army 1815-1914 Harold E. Raugh, jr [ed.] International Library of Essays on Military History Ashgate: Aldershot Hampshire 2006
AP, created September 2009, updated frequently, last update January 2012.