1862 Catalogue of Arms
This is a transcription of one of the notebooks previously owned by Anthony Pitt-Rivers and donated to the PRM in 2012.

After transcription, the catalogue entries were matched to entries from the Pitt Rivers Museum founding collection accession books (accession numbers added in red, other notes by the transcriber are italicised). Note that some of the accession book entries have notes saying '(old coll [number])' or '(old label [number])' which match the numbers given in the 1862 catalogue. It is not known for definite where these notes came from, but it seems that these numbers were given on small round bone tags as noted in entry 1884.20.9  1884.24.230, 1884.24.62 and 1884.28.20. It is possible that this was Lane Fox's documentation method in 1862?
In most cases the catalogue descriptions cannot be matched to items in the founding collection because the entries are too unspecific, rather than there definitely not being any object that matches. In fact it seems likely that most if not all the objects listed in the 1862 catalogue are now part of the founding collection. 1884.27.29 actually has exactly the same wording as the 1862 catalogue given as the wording on a label. Often the black book entry is not dissimilar to the entries in the 1862 catalogue.

Catalogue of Arms of Col. A. Lane Fox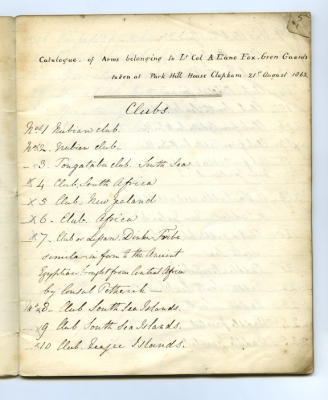 Page 1
Catalogue of Arms belonging to Lt Col A. Lane Fox. Gren Guards taken at Park Hill House Clapham 21st August 1862
Clubs
No. 1 Nubian club [1884.12.11, says "Nubian Club No. 1 on it" according to Accession book entry by 1874 this was said to be Australian]
No. 2. Nubian club [1884.12.12, says "Nubian Club No. 2 on it" according to Accession book entry]
3. Tongatabu club South Sea [1884.12.104 or 105]
4. Club South Africa [Can't match]
5. Club, New Zealand [Can't match]
6. Club Africa [Can't match]
7. Club or Lissan Dinka Tribe similar in form to the Ancient Egyptian brought from Central Africa by Consul Petherick [1884.12.14]
No. 8. Club South Sea Islands [Can't match]
9 Club South Sea Islands [Can't match]
10. Club Feejee Islands [Can't match]
[9 objects in total]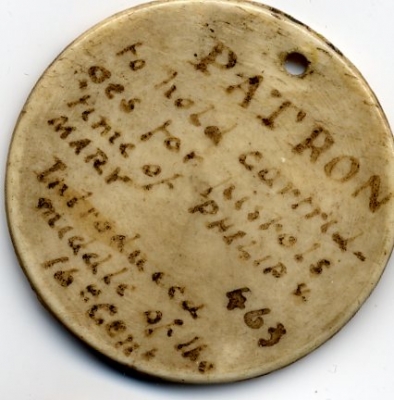 Page 2
No. 11. War Club New Guinea [Can't match]
12. Club Ocohyhee [?][1884.12.240?]
13. Club North America [Can't match]
14. Club British Guiana [Can't match]
15. Club South Sea Islands [Can't match]
16. Club from Paddle, South Sea Iles [sic] [Can't match]
17. Club from Paddle, South Sea Iles [sic] [Can't match]
18. Club from Paddle used for Steering New Zealand [Can't match]
19. A War Paddle used as a Club & rudder New Zealand [Can't match]
20. Club & paddle believed to be South Sea [Can't match]
21. Paddle British Guiana [Possibly 1884.63.25]
22. Paddle South Sea Islands [Can't match]
23. Paddle South Sea [Can't match]
24. Paddle painted [Can't match]
25. Paddle painted [Can't match]
[15 objects in total]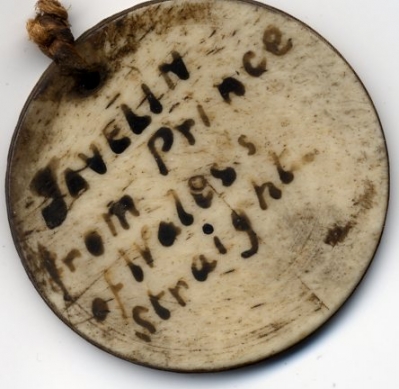 Page 3
No. 26. War paddle from the Friendly Isles [Can't match]
27. War Paddle from the Friendly Isles[1884.55.13]
28. Spear & steering paddle South Sea [Can't match]
29. Spear & paddle South Sea [1884.19.89]
30. Spear and steering paddle South Sea [1884.19.93]
31. Spear South Sea [1884.19.97]
32. Spear & paddle South Sea [1884.19.95]
33. Spear South Sea [1884.19.96]
34. Spear South Sea [1884.19.77]
35. Spear South Sea [1884.19.94]
36. Spear South Sea [1884.19.86]
37. Spear South Sea [1884.19.287]
38. Spear South Sea [1884.19.79]
39. Spear South Sea [1884.19.80]
40. Spear South Sea [1884.19.83]
41. Spear South Sea [1884.19.82]
42. Spear South Sea [1884.19.87]
43. Spear South Sea [1884.19.75]
[18 objects in total]
Page 4
44. Spear South Sea [Possibly 1884.19.45]
45. Spear South Sea [1884.19.76]
46. Spear South Sea [1884.19.74]
47. Spear South Sea [Possibly 1884.19.45]
48. Spear South Sea [1884.19.101]
49. Spear South Sea [1884.19.100]
50. Spear South Sea [1884.19.99]
51. Spear South Sea [Can't match]
52. Spear South Sea [Can't match]
53. Spear South Sea [Can't match]
54. Lance Australia [1884.19.7]
55. Lance Australia [1884.13.32]
56. Two pronged fork South Sea [?1884.19.296]
57. Two pronged fork South Sea [1884.19.286]
58. Two pronged fork South Sea [1884.19.285]
59. Four pronged fork South Sea [Can't match]
60. Four pronged fork South Sea [1884.19.280]
61. Caffre Lance [Cant match]
[18 objects in total]
Page 5
No. 62. Esquimaux spear called Nuguit [1884.19.293]
63. Esquimaux Kateleek with Siatko & thong [Can't match]
64. English Whaling harpoon for comparison with Esquimaux Siatko[1884.20.56]
65. Esquimaux Kataleek in the shape of a fish[1884.20.9][sic bone label says Javelin from Prince of Wales Straight [sic]]
66. Esquimaux Kataleek[1884.20.10]
67. Persian Balam made of the male Bamboo & used by the Mahrattas of India [1884.19.219 or 1884.19.220]
68. Persian Balam [1884.19.219 or 1884.19.220]
69. Lance Zanzibar [1884.19.171 or 172 or 173]
70. Lance Zanzibar[1884.19.170]
71. Lance Africa [Can't match]
72. Lance India [Can't match]
[11 objects in total]
Page 6
No. 73. Lance Africa [Can't match]
74. Neamnam lance deeply barbed & iron pointed brought from Central Africa by Consul Petherick[1884.19.157]
75. Lance Africa [Can't match]
76. Lance Africa [Can't match]
77. Lance West Coast Africa [Can't match]
78. Lance Madagascar [Can't match]
79. Lance Madagascar [Can't match]
80. Lance Madagascar [Can't match]
81. Lance Madagascar [Can't match]
82. Lance Malay [Can't match NB above 5 from Madgascar and Malay might be Black book Screen 31 733-744?]
83. Lance India [Can't match]
84. Lance Borneo [Can't match]
85. Sergeant's Spear [1884.26.11 or 12]
86. Sergeant's Spear [1884.26.11 or 12]
87. Lance British Guiana [Can't match]
[15 objects in total]
Page 7
No. 88. Javelin Obsidian point from New Caledonia also [Can't match]
89. from Port Essington North Australia [Can't match]
89. Javelin or long Arrow from British Guiana [Can't match]
90. Do [ditto] Do. Javelin or long Arrow from British Guiana [Can't match]
91. Do [ditto] Do. Javelin or long Arrow from British Guiana [Can't match]
92. Do [ditto] Do. Javelin or long Arrow from British Guiana [Can't match]
93. Do [ditto] Do. Javelin or long Arrow from British Guiana [Can't match]
94. Do [ditto] Do. Javelin or long Arrow from British Guiana [Can't match]
95. Do [ditto] Do. Javelin or long Arrow from British Guiana [Can't match]
96. Do [ditto] Do. Javelin or long Arrow from British Guiana [Can't match]
97. Do [ditto] Do. Javelin or long Arrow from British Guiana [Can't match]
98. Do [ditto] Do. Javelin or long Arrow from British Guiana [Can't match]
99. Do [ditto] Do. Javelin or long Arrow from British Guiana [Can't match]
100. Do [ditto] Do. Javelin or long Arrow from British Guiana [Can't match]
101. Do [ditto] Do. Javelin or long Arrow from British Guiana [Can't match]
102. Do [ditto] Do. Javelin or long Arrow from British Guiana [Can't match]
103. Lance with Iron shaft Djibba Tribe of Negroes brought from Central Africa by Consul Petherick. [Can't match]
[17 objects in total]
Page 8
[insert] 103A A lance head Neam Nam brought from Central Africa by Consul Petherick in 1858 [Either 1884.99.2 or 1884.120.63]
103B Do [ditto] do [end insert] [Either 1884.99.2 or 1884.120.63]
104. Iron javelin taken during the Indian Mutiny 1857[Can't match]
105. Assagai [sic] South Africa[Can't match]
106. Assagai South Africa[Can't match]
107. Assagai South Africa[Can't match]
108. Assagai South Africa[Can't match]
109. Assagai South Africa[Can't match]
110. Assagai South Africa[Can't match]
?111. Assagai Africa[Can't match]
112. Assagai Africa[Can't match]
113. Assagai Africa[Can't match]
114. Assagai Africa[Can't match]
115. Club or Battle Axe South Sea [Can't match]
116. Club or Battle Axe bound with grass Solomon's Is South Sea [Can't match]
117. Club or Battle Axe bound with grass Sol. Isd South Sea [Can't match]
118. Pointed club New Zealand [Can't match]
[17 objects in total]
Page 9
No 119 Pointed battle axe wood similar to the Ancient Egyptians Djibbber tribe of Negroes brought from Central Africa by Consul Petherick [?1884.12.8]
120. Waddy Australia [Can't match]
121. Battle Axe called Pagee New Zealand [Possibly one of 1884.12.286, 287, 288 or 289]
122. Battle Axe (Pagee) New Zealand [Possibly one of 1884.12.286, 287, 288 or 289]
123. PatapatooNew Zealand [Can't match]
124. Battle Axe made of deers horn & cane [Can't match]
125. Sword New Zealand [Possibly 1884.12.273 which is only weapon to be described as sword in primary sources]
126. Club with an iron spike point North America [Possibly 1884.21.3]
127. Adze with obsidian [insert] stone [end insert] head bound with grass & carved shaft, South Sea [Can't match]
[9 objects in total]
Page 10
No 128. Adze with obsidian [insert] stone [end insert] head bound with grass & carved shaft, South Sea or New Zealand [Can't match]
129. Adze with obsidian head bound with grass Tahiti [Can't match]
[NB see on to pages 11-12 for extra items to be inserted here]
130. Battle Axe Natal S. Africa [Can't match]
131. Caffre Battle Axe S. Africa [Can't match]
132. N. American Tomahawk made for the Indians by the British Government [Either 1884.21.4 or 1884.101.75]
133. Battle Axe Dôr tribe of Negroes brought by Consul Petherick from Central Africa 1858 [1884.25.5]
134. Circur Battle Axe India [1884.21.38]
135. Dutch Battle Axe 1675 [This must be 1884.26.1, though it is described as German]
136. Afghan Battle Axe [1884.21.42, later ascribed to India, but see 139]
137. Halbert Time of Elizabeth [1884.21.46 or 1884.21.55?]
137a. Halbert head Time of Elizabeth [1884.21.46 or 1884.21.55?]
138. Halbert Time of Charles I [Can't match, no documentation refers to Charles I]
[12 objects in total]
Page 11
No 139. Afghan Battle Axe [1884.21.42, later ascribed to India, but see 136>]
140. Goomsur Battle Axe India [1884.21.41]
141. Pole Axe Time of Henry VI [1884.21.53]
142. Bill Time of Henry VI [1884.21.60]
143. German Halberd 16th Cent'ry [1884.21.45]
144. Two handed Sword [insert] commencing by [end insert] 16th Centy [1884.24.269]
145. Chinese Partisan [1884.19.298]
* 129a. Stone Adze head said to have been found on the bed of the Clyde with the accompanying shell [1884.123.354]
129f. Fossil shell said to have been found with the Stone Adze head (129a) [1884.123.354]
129b. Stone Adze-head [missing word 'said'?] to have been found on tertiary beds on the Coast of Peru S. America [1884.126.145]
129c. Do [ditto] Do. [ie Stone Adze-head [missing word 'said'?] to have been found on tertiary beds on the Coast of Peru S. America] [1884.126.]
129D. Do [ditto] Do. [ie Stone Adze-head [missing word 'said'?] to have been found on tertiary beds on the Coast of Peru S. America] [1884.126.147]
129E. Flint implement probably a forgery but shewing the character of those found in drift beds [Can't match]
[13 objects in total]
Page 12
No 129g. Ancient British Battle Axe of the earliest form called by the British Bwy allt. Aru [Can't match]
129h. Bwyallhter [Can't match]
129i. Ancient British Celt found on Worsted Common [1884.119.105 NB now spelt Worstead]
129k. Ancient British Battle Axe on the improved principle [Can't match]
129l. Celt [Can't match]
129m. Ancient iron Adze [Can't match]
129n. Ancient iron Adze [Can't match]
129o. Ancient iron Celt [Can't match]
146. Two-handed sword from Borneo [Can't match]
147. Glaive edged with sharks teeth [Either 1884.23.1, 2, 3, 4]
148. Glaive edged with sharks teeth South Sea Islands [1884.23.9]
[11 objects in total]
Page 13
No. 149 Do [ditto] Do. [ie Glaive edged with sharks teeth South Sea Islands] [Either 1884.23.1, 2, 3, 4]
150. Do [ditto] Do. [ie Glaive edged with sharks teeth South Sea Islands] [Either 1884.23.1, 2, 3, 4]
151. Chinese Glaive [1884.22.5 or 1884.24.199]
152. Chinese Glaive with Guard [1884.22.4]
153. Glaive with iron bladed knob at the base (not known) [Can't match]
154. Malay blade [Can't match]
155. Chinese Glaive [1884.22.5 or 1884.24.199]
156. Burmese Sword [Can't match]
157. Burmese Sword with silver handle & scabbard [1884.24.57]
158. Probably a beheading sword [Can't match, possibly Black 966, not yet found]
159. Sword probably from Malay Archipelago [Can't match]
160. Boomerang Australia [Possibly 1884.12.59]
161. Do. [ditto] Do. [ie Boomerang Australia] [Can't match]
162. Collence [possibly Collenee] throwing stick Madras [Can't match]
[15 objects in total]
Page 14
No 163. throwing knife brought from Central Africa by Consul Petherick [1884.25.1 or 2 or 3]
164. Neamnam Boomerang brought from Central Africa by Consul Petherick [1884.25.1 or 2 or 3]
165. Spanish throwing knife [1884.24.222]
166. An iron projectile used by the Mondah tribe of Negroes by Consul Petherick [1884.25.6]
167. Goorka Cookaree India[1884.24.136]
168. Sword brought from Central Africa by Consul Petherick 1858 from Professor Quicketh [1884.24.113, Quecket or Queckett in other sources]
169. Goorka Cookaree [Can't match]
170. Goorka Cookaree[1884.24.138]
171. A Polygar's knife [1884.24.8]
172. A Polygar's knife[Can't match]
[10 objects in total]
Page 15
No 173. Goorka's sword [1884.24.6]
174. Goorka's sword [1884.24.4]
175. Goorka's sword & sheath [Can't match]
176. Goorka's sword [Can't match]
177. Albanian Yatagan [1884.24.118]
178. Albanian Yatagan & sheath [?1884.24.119]
179. Albanian Yatagan & sheath [?1884.24.119]
180. English sabre [Can't match]
181. Turkish sabre [?1884.24.79]
182. Turkish sabre bought from Smyrna Major L. Fox [1884.24.78]
183. 185 [sic] Sabre formerly belonging to William Lane Fox Esq. [Can't match, this is presumably his father, William Augustus Lane Fox?]
184. Sabre formerly belonging to William Lane Fox Esq[Can't match]
185. Indian sabre[Can't match]
186. Portuguese sabre bought by William Lane Fox Esq from the Peninsular War[Can't match]
[17 objects in total]
Page 16
No 187. French Officer's sword brought by William Lane Fox Esq from the Peninsular War [Can't match]
188. Sword of a Bambara Chief Africa [1884.24.110]
189. Mandingo Sword [1884.24.111]
190. Sword Burmah [1884.24.60]
191. Russian Infantry Sword from the Crimea [Can't match]
192. Japanese or Chinese sword [1884.24.62]
193. French Republican sword [Can't match, just possible it could be 1884.24.73]
194. English Cavalry sword [Can't match]
195. English Naval sword [Can't match]
196. Sword with a Damascus blade brought home by Capt. Hon'ble A. Douglas & given to Captain Fox [Can't match]
197. Sword the blade dated 1820 & a bayonet handle of older date [1884.24.80]
[11 objects in total]
Page 17
No 198 Officer's sword Gren Guards belonging to Col A. Lane Fox when a subaltern … continued immediately before the Crimea War [Can't match, but there are some 18th century swords which may match if this isn't our Lane Fox being referred to]
199. Guards scabbard time of Peninsular War belonging to W.A. Lane Fox Esq [There is no sword scabbard that matches]
200. Sword used with the diplomatic uniform belonging to W. Lane Fox Esq Attaché at Naples [There are four dress rapiers of 18th century that might match, no mention of owner, who is brother]
201. A German straight single edged sword [Possibly 1884.24.100, only German sword]
202. Short sword & guard edged with shark's teeth [Can't match]
203. Neamnam knife brought from Central Africa by Consul Petherick [Possibly 1884.34.1 or 1884.140.474 or 1884.140.911]
204. straight short sword double edged from the West Coast of Africa [1884.24.39]
205. Sword from Somali Country South East Africa presented to the U.S. Institution by Brigadier General Coghlan
[8 objects in total]
Page 18
[205 continues] commanding at Aden 2 exchanged for another with Col. Fox [1884.121.28 but doesn't mention Coghlan]
No 206. Short straight double edged sword Chinese [1884.24.63]
207. Short straight Chinese sword & sheath [1884.24.64]
208. Short straight Roman double edged sword [Can't match]
209. Short straight Moorish double edged sword brass sheath [1884.24.104]
210. Short straight sword [Can't match]
211. Malay creese & sheath [Can't match]
212. Malay creese with silver handle & sheath [1884.24.230]
213. Chinese double short sword & sheath [1884.24.67]
214. Chinese double short sword & sheath [1884.24.69]
215. Chinese short sword & sheath with brass bands [Possibly 1884.24.65 or 1884.24.176]
[17 objects in total]
[Insert, see end starting 26 Bound …]
Page 19
No 216. Indian short sword with Elephant handle & red velvet sheath with a fish at point taken at Lucknow during the mutiny by Col. North 60th Rifles & given by him to Col. Fox. [1884.24.165]
217. Indian short sword & velvet sheath [Could be 1884.24.50, 51, 52, or 141]
218. Indian short sword [Can't match]
219. Cavalry gauntlet sword India [1884.24.123]
[insert] 219a. Sword very much moth eaten probably Danish[Can't match]
[insert] 219b. sword very much moth eaten probably Danish [Can't match]
220. Straight double edged sword 15th century[Can't match]
221. Straight double edged sword 15th century[Can't match]
222. Straight double edged sword 15th century[Can't match]
223. Straight double edged sword XVIth century [1884.24.93]
224. Straight double edged sword XVIth century[Can't match]
[13 objects in total]
Page 20
No 225 Sword belonging to a Maltese knight XVI th century [1884.140.938]
226. Straight sword XVIIth century [Can't match]
227. Sword with a waived [sic] blade XVIIth century[1884.24.96]
228. Straight double edged sword XVIIth century [Can't match]
229. Straight double edged sword XVIIth century [Can't match]
230. Sword used in the Maltese Galley [1884.24.87]
231. Sword times of Cromwell [1884.24.90]
232. Sword XVIIIth Century [Can't match]
233. Sword XVIIIth Century [Can't match]
234. Malay sword ornamented with the hair of an enemy [1 of 1884.24.31, 32, 33]
235. Malay sword same shape as preceding [1884.24.45]
236. Indian sword & scabbard [1884.24.44]
237. Indian sword & scabbard [1884.24.43]
[13 objects in total]
Page 21
No 238 Indian Sword [Can't match]
239. Fencing foil Modern [Can't match]
240. Do [ditto] Do [ie Fencing foil Modern][Can't match]
241. Do [ditto] Do [ie Fencing foil Modern][Can't match]
242. Do [ditto] Do [ie Fencing foil Modern][Can't match]
243. Dagger or knife edged with shark's teeth [Can't match]
244. Dagger of Horn India [1884.24.153]
245. North American Indian Knife [1884.24.183]
246. Arab dagger Africa [Can't match]
247. Dagger Indian [1884.24.239]
248. Small dagger unknown probably African [Can't match]
249. Dagger Soudan [Possibly 1884.140.912]
250. Neamnam knife with sheath brought from Central Africa by Consul Petherick [1884.140.911]
251. Malay Dagger [1884.24.189]
252. Indian Dagger [Can't match]
[16 objects in total]
Page 22
No 253 The Wag-nuk or Tiger Claw secret weapon invented by the Hindoo Sewaju in 1659 with which kind of instrument & a dagger he destroyed the Mahometan Abdoula cann the general of the Bejapoor Government [1884.140.917]
254. Taken during the Indian Mutiny at Lucknow brought home by Major North 60th Rifles said to be an instrument of treachery [1884.24.84]
255. Chinese double dagger in a sheath [1884.24.182]
256. Indian Dagger [1884.24.160]
257. Indian two pronged dagger [1884.24.162 or 163]
258. Moorish dagger with brass scabbard [1884.140.956]
259. Indian Dagger [Can't match]
260. Moorish Dagger [1884.24.267]
261. Chinese knife in sheath [1884.24.178]
262. Chinese knife in sheath [1884.24.177]
[14 objects in total]
Page 23
No 263 Burmese dagger in a wooden sheath [Can't match]
264. Turkish Dagger silver sheath & chain (not … [illegible, looks like parked] with other arms) [1884.24.266]
265. European Dagger misericord the blade with holes to receive the poison [1884.24.215]
266. Florentine poiniard [sic] time of Elizabeth [1884.24.216]
267. Modern European dagger belonging to W. Lane Fox [1884.24.218]
268. Plug bayonet introduced [?] at Bayonne 1671 The Musqueteers having no means of defence after they had discharged their match locks until they had unloaded a long … in those days such of them as had daggers used to insert them into the muzzles hence the origin of bayonets [Possibly 1884.28.31 or 34]
269. Plug bayonet in sheath [1884.28.33]
270. Bayonet with sword blade [?1884.28.43]
271. Shell of a tortoise used as a shield by the natives of [blank] [No object like this listed in the founding collection]
[12 objects in total]
Page 24
No 272. Wooden shield Australia [1884.30.18, NB this no. appears to have been written on object]
273. Wooden shield Australia [1884.30.16, NB this no. appears to have been written on object]
274. Do [ditto] Do [ie Wooden shield Australia] [Can't match]
275. Wooden shield Australia [1884.30.8, NB this no. appears to have been written on label on object]
276. Caffre shield made of hide [1884.30.35]
277. Round Chinese shield of Wicker work raised in the middle brought home by Albert Smith [1884.30.46]
278. Nubian shield of Rhinoceros hide with a loop in the centre from Dongola [?1884.30.57]
279. Round shield Buffalos hide India [1884.30.49]
280. Shield same size and shape as last [1884.30.48]
280a. Shield of the Dyaks of Borneo [1884.30.36 or 37]
[insert] 280b. buckle or target time of Edward IV [Can't match]
280c. Large over shield made of [?] reeds – Neam nam tribe of Negroes brought home by Consul Petherick in 1858 [end insert][1884.30.33]
281. Gorget South Sea coated with pieces of shell [?1884.140.127]
[insert] 281A. Helmet made of cylindrical white beads worn by the Nouar on both sides of the Nile from 8 to 10 degrees North latitude similar in form to the ancient Egyptian brought home by Consul Petherick [looks like different handwriting][1884.32.3]
282. Back & breast plate of cocoa nut fibre with sleeves of the same & skirt of grass [1884.31.37]
283. New Zealand War Cloak [1884.87.71]
284. Breast plate of Tassets Pike man's armour [1884.31.10]
284a. Arm guard used with the above [1884.31.11]
[20 objects in total]
Page 25
285. Helmet for Do [ditto] [1884.31.9]
286. Back & breast plate pikeman's armour [1884.31.8]
287. Helmet to Do [ditto] [1884.31.7]
288. Back plate Pikeman's armour [1884.31.6]
289. Morion time of Elizabeth [1884.32.6]
290. Breast plate Pikeman's armour [1884.31.5]
291. Greek helmet copper [1884.32.16]
292. Etruscan helmet [1884.32.15]
293. Etruscan copper girdle [1884.119.629]
294. Breast plate of ring mail made by the Aborigines of S. Africa & fastened upon skin [1884.31.26]
295. Coat of mail & plate united formerly used by the Body Guard of the Moguls [possibly 1945.11.117]
296. Plate Armour India [1884.31.19]
297. Back piece & Jazereen [?] Armour AD 1485 Plate Armour of Steel fastened upon canvas [1884.31.43]
[14 objects in total]
Page 26
No 298 Front piece Jazereen [?] Armour 1485 Memo these 2 last are fixed on boards [1884.31.44]
299. Back & Breast piece & shoulder piece of Saracenic Armour time of Crusades. having the mark of the Turkish Armoury upon them [drawing] affixed to a board with 2 shells showing how in all probability ribbed armour was first suggested [1884.31.15,16,17,18]
300. Ribbed helmet used with the above [1884.32.2]
301. A suit of chain armour including tunic trousers cape gloves & a breast plate of thicker mail [1884.31.20]
302. English officer's gorget time of George IV last remnant of body armour [1884.31.13 or item returned ie not in founding coll]
303. Do [ditto] Do [ie English officer's gorget time of George IV last remnant of body armour] [1884.31.13 or item returned ie not in founding coll]
304. Case of 3 Javelins from Caucasus [1884.140.81]
305. Bow with a cane string S. America [Can't match]
306. Bow with a spike & cane string Made of bamboo painted [1884.15.46 but no mention of spike]
307. Bow [?1884.15.81]
[19 objects in total]
Page 27
308. Bow [Can't match]
309. Bow [Can't match]
310. Bow [Can't match]
311. Bow [Can't match]
312. Bamboo bow Darnley Islands Torres Strait [1884.15.95]
313. Bow with string painted [?1884.15.17]
314. Bow N. America [Can't match]
315. Painted bow Ceylon [1884.15.52]
316. Do [ditto] ie Painted bow Ceylon [Not yet found, see PR Cat [1874] 261]
317. Bow [Can't match]
318. Bow Wa-Tribe Central Africa used with the multibarbed arrows having iron points similar in form to the ancient Egyptians brought home from Central Africa by Consul Petherick 1858 [1884.15.101]
319. Do [ditto] Do [ie Bow Dor-Tribe Central Africa used with the multibarbed arrows having iron points similar in form to the ancient Egyptians brought home from Central Africa by Consul Petherick 1858] [1884.15.103]
320. Do of another form [ie Bow Wa-Tribe Central Africa used with the multibarbed arrows having iron points similar in form to the ancient Egyptians brought home from Central Africa by Consul Petherick 1858][?1884.15.102, documentation says has bone label saying 620 but could be misreading?]
321. Bow West Africa similar in form to the Ancient Egyptian & 3 barbed arrows [Can't match]
[14 objects in total]
Page 28
No 322 Esquimaux bow made of bone in 4 pieces joined of the ordinary form [?1884.15.29]
323. Esquimaux bow of the Scythian form strengthened at the back with thongs [lot of possible options could be PR cat 1874 272 or 273?]
324. Do [ditto] of the Scythian form strengthened with thongs & spliced with bone [Esquimaux] [lot of possible options could be PR cat 1874 272 or 273?]]
325. Do [ditto] Do with string & a sealskin case [ie Esquimaux bow of the Scythian form strengthened at the back with thongs] [1884.15.20 and 1884.15.26]
326. Indian bow of the Scythian form [Possibly 1884.15.30 but not sure]
327. Do [ditto] of steel [ie Indian bow of the Scythian form][1884.15.19]
328. European bow of steel [Can't match, it is possible that this could be 1884.15.30?]
329. Chinese bow of the Scythian form [?1884.15.16]
330. Do [ditto] do [ie Chinese bow of the Scythian form] [Can't match]
331. Persian bow of the Scythian form & silken strings [?1884.15.17]
332. 12 cane arrows pointed with hard wood bound with cane some of these tipped with bone British Guiana [?1884.140.1056? but from New Guinea!]
333. 21 Long Do [ditto] [ie cane arrows pointed with hard wood bound with cane some of these tipped with bone] British Guiana [Can't match]
[44 objects in total]
Page 29
No 334 Bundle of long arrows British Guiana [Can't match, possibly unmatched black book entry 237]
[insert] 334a. 10 flint arrow heads and a round flint said to be Ancient British [end insert] [Can't match]
335. bundle of Esquimaux arrows various shapes tipped with bone [Can't match]
336. 2 short bushman [sic] arrows poisoned [Can't match, there are several sets but none of 2 arrows]
337. 15 iron pointed multi barbed arrows of various shapes brought from Central Africa by Consul Petherick in 1858 [possibly 1884.140.830 but says 13]
338. 5 barbed iron pointed arrows from Africa [Can't match]
339. 2 arrows with iron points fastened with sinews [Can't match]
340. 3 arrows one with large bladed barbed point [Can't match]
341. 5 Persian arrows [Can't match]
342. 7 Chinese arrows [Can't match]
343. 2 Chinese arrows with broad points [Can't match]
344. 4 Chinese arrows [Can't match]
345. 15 Indian arrows [Can't match]
[73 + objects in total]
Page 30
No 346 9 Indian arrows [Can't match]
347. 9 Indian arrows [Can't match]
348. 9 Chinese arrows [Can't match]
349. Esquimaux quiver [1884.17.16]
350. Quiver Dor tribe of Negroes brought home from Central Africa by Consul Petherick 1858 [1884.17.1]
351. Mandingo quiver [1884.17.5]
352. Chinese quiver [1884.17.13]
353. Indian quiver Red velvet from Lucknow brought by Major North 60th Rifles [1884.17.14]
354. trophy consisting of 4 bows & 69 arrows in the form of a star [this may consist of bows and arrows now separately identified by the relevant entry is given in PR catalogue 1874 225]
355. Malay blow pipe for poisoned arrows with bayonet & sheath [1884.18.4]
356. Sumpitan Malay quiver containing poisoned arrows for blowpipe with a gourd for the poison suspended by beads [1884.18.7]
[insert]356A. Murra-wan or throwing stick Australia [Can't match, spear thrower]
356B. Do [ditto] of another form [Murra-wan or throwing stick Australia][end insert] [Can't match]
357. Model Onager for slinging stones [unfound, see Black 1267 in prm poss]
358. model Matagunda 11th & 12th cent'ry for slinging stones [unfound, see Black 1264 in prm poss]
[111 + objects in total]
Page 31
No 359 Model Catapulta for throwing arrows [?>1945.10.212 or unfound, see Black 1265 in prm poss]
360. Model Catapulta for throwing arrows [?1945.10.212 or unfound, see Black 1265 in prm poss]
361. Genoese cross bow & windlass [1884.16.16 and 1884.16.17]
362. Latch time of Henry VI [1884.16.11 but note says Henry VII]
363. Do [ditto] Inlaid with ivory [latch] [1884.16.12 but note says Henry VII]
364. Windlass for cross bow time Henry VIII [1884.16.13 but note says Henry VII]
365. Chinese cross bow [1884.16.9]
366. Prodd – time of Charles II [1884.16.14]
368. Modern English cross bow [1884.16.19]
369. Earliest form of hand cannon top touch hole & fitting on to a club – invented at the end of the XIVth Century [1884.27.1]
370. Improved form of Hand Cannon with side touch hole & stock underneath [1884.27.2]
371. Match lock rampart gun India [1884.27.3]
[13 objects in total]
Page 32
No 372 Matchlock Rampart Gun European from Hampton Court [1884.27.4]
373. Chinese matchlock with pouch for match [1884.27.9]
374. Chinese matchlock with red painted stock [1884.27.8]
375. Indian matchlock [cant match]
376. Indian matchlock laminated barrel & ivory stock [Possibly 1884.27.11]
377. Turkish matchlock gun barrel inlaid with silver [1884.27.14, but now provenanced to India]
378. Matchlock Moultan [can't match]
379. Matchlock India stock inlaid with ivory [Possibly 1884.27.13 or 15]
380. Matchlock musket European introduced at the battle of Pavia superceded [can't match]
381. Spanish matchlock musket [Only possible match is 1884.27.31 but description completely different]
381a. A Musket Rest & Gunstock combined used with a heavy matchlock [Probably 1884.19.238]
382. Matchlock with spring lock from Borneo [1884.27.18]
383. Matchlock with spring lock from Japan [?1884.27.19]
384. Wheellock earliest form first introduced at the siege of Parma 1521 this specimen is a sporting rifle the bore & … spring of lock outside stock inlaid with ivory [1884.27.21]
[14 objects in total]
Page 33
No 385 A tricker wheellock time of James II the wheel being entirely concealed in the plate of the lock – this was amongst the arms used by the Hungarians in 1848 [1884.27.22 or 23]
386. Do [ditto] time of James II
387. Do [ditto] time of James II [wheellock] having a hole in the stock for the thumb & an eye hole sight in addition to the back sight on the barrel - …. Also used by the Hungarians [1884.27.22 or 23]
388. Matchlock [insert] Wheellock [end insert] latest form [can't match]
389. Turkish firelock early form the forelock was invented in France in 1630 It was derived from the Spanish platine à Miguelet which took its form from the snaphauce the latter being derived from the wheellock the furrowed piece over the pan in this specimen is a remnant of the furrows on the wheel of the wheellock they were subsequently discontinued [1884.27.29]
390. Spanish firelock in this specimen only the lower part of the piece over the pan is furrowed It may therefore be considered the last remnant of the wheellock. [?1884.27.31 or 1884.27.30]
[5 objects in total]
Page 34
No 391 Fire or flint lock swivel gun early form from Malta [1884.27.32 or 1884.27.33]
392. Musket land service regular pattern Footguards Time of George III & George IV [insert] & bayonet [end insert] [1884.27.36]
393. Musket India pattern for the line & general service time of George III & George IV [insert] & bayonet [end insert][1884.27.35]
394. Musket for Light Infantry Regt Time of George III & George IV [insert] & bayonet [end insert] [1884.27.38]
395. English regulation polygrooved rifle & sword bayonet [1884.27.39]
396. Sword bayonet for rifled scabbard [?1884.28.43]
397. Germans grooved & barrelled revolving flintlock rifle [Possibly 1884.27.61]
398. Indian flint lock Musketoon [possibly 1884.27.37]
399. Spanish firelock swivel Blunderbuss [1884.27.32 or 1884.27.33]
400. Brass barrelled flint Blunderbuss with Ed. Nicholson on the barrel [1884.27.41]
401. Flint Carbine for throwing grenade [1884.27.43]
402. Russian musket bayonet from the Crimea [1884.28.40 or 41]
403. Russian Infantry musket brought by Col Fox from the Alma 20 Sept 1854 [One of 1884.27.47, 48, 49, 50, 51]
[13 objects in total]
Page 35
No 404 Russian Infantry Musket & bayonet from the Crimea [One of 1884.27.47, 48, 49
405. Russian Infantry musket & bayonet from the Crimea [One of 1884.27.47, 48, 49
406. French Infantry percussion smooth bore musket & bayonet [1884.27.52 & 1884.28.42]
407. English Regulation Brown Bess musket and bayonet [1 of 1884.27.35, 38, 39, 56<]
408. Percussion gun for Percussion Dress used by the Hungarians in 1848 [Possibly 1884.27.67 or not listed]
409. Percussion gun barrel and stock to unscrew used by the Hungarians in 1848 [Possibly 1884.27.67 or not listed]
410. Self priming percussion gun barrel 1724 for Percussion discs used by the Hungarians in 1848 [1884.27.68]
411. Self priming percussion musket [1884.27.63
412. American Breechloading musket dated 1845 Percussion [1884.27.65<]
413. Breechloading musket hammer underneath [1884.27.74]
414. Breechloading Zundnadel le Mille brevété à Liege & bayonet [1884.27.72]
[11 objects in total]
Page 36
No 415 German double barrelled needle gun [1884.27.70]
416. German 3 barrelled needle gun 1 rifle [1884.27.69]
417. Double barrelled needle gun Pauly Paris [1884.27.71]
418. Air gun [1884.27.92]
419. Brass airgun used by the Hungarians 1848 [1884.27.89]
420. Air gun used by the Hungarians in 1848 [1884.27.90
Insert 420a. Pump for Air gun [1884.27.91]
421. French Artillery Carbine à tige with sword bayonet in steel scabbard [1884.27.54 or 55 and 1884.28.44]
422. Air gun used by the Hungarians in 1848 [There are no more airguns in founding collection so there is no match for this object, of course the match might be for this not 420]
423. The first Minié Musket made in England by Wilkinson for Col. Fox from a drawing given by the latter 1851 [1884.27.57]
424. Wilkinson's small bore musket & bayonet [1884.27.58]
425. Short Enfield Rifle [1884.27.60]
[12 objects in total]
Page 37
No 426 Percussion Rifle altered from flint to bored square the sides slightly round [?1884.27.61 also matched earlier to another entry]
427. Flint oval bore rifle [1884.27.34]
428. Lancaster oval small bore [1884.27.59]
429. Trigger flint lock Musquetoon rifle the bore a hexagon [1884.27.37]
430. Russian 2 grooved rifle barrel from the Crimea [can't match]
431. Part of a firelock with an extremely curious & simple percussion lock this was one of the arms used by the Hungarians in 1848 [?1884.27.68 already possibly matched to another entry]
432. An instrument for Rifle Experiments [can't match]
433. Match lock pistol or Carbine India [?1884.27.15 already possibly matched to another entry]
434. Snaphaunce Pistol introduced about 1603 in Germany [1884.27.76]
435. Turkish firelock pistol [can't match]
436. Spanish firelock pistol [can't match]
437. Early firelock pistol [?1884.27.77]
[12 objects in total]
Page 38
No 438. Flint lock pistol [can't match, these are likely to be one of 1884.27.78-81 and 83-84]
439. Flint lock pistol [can't match]
440. Flint lock pistol [can't match]
441. Flint lock pistol [1884.27.85]
442. Flint lock pistol [can't match]
443. Flint lock pistol [can't match]
444. Flint lock pistol from Waterloo [can't match]
445. Experiment to fire 4 charges consequetively out of the same barrel [1884.27.86 1-2]
446. Do [ditto] do [Experiment to fire 4 charges consequetively out of the same barrel] [1884.27.86 1-2]
447. Percussion Pistol [actually looks like Ritol] [can't match]
448. Do [ditto] do [ie Percussion Pistol] [can't match]
449. Percussion Revolver [1884.27.88]
450. Powder flask of the XVIth Century taken from the Armoury at Malta [1884.28.13 or 15]
451. Small priming flask & serpentine powder from the Armoury at Malta [1884.28.14]
452. Flask from the Armoury at Malta XVIth Century [1884.28.13 or 15]
453. North American Indian Flask [1884.28.6]
454. Indian Flask [1884.28.2]
[17 objects in total]
Page 39
No 455 Powder Horn used for Cannon [1884.28.10 or 11]
456. Powder horn [can't match]
457. Priming flask & spanner for Wheellock [1884.28.8]
458. Powder flask ivory [1884.68.143]
459. Flask to give out charge in one motion used by the Piedmontese Bersaglieri discontinued during the Crimean War [1884.28.16]
460. Flask to give out the charge in one motion [Can't match]
461. Flask to give out the charge in two motions [1884.28.17 or 1884.28.18]
462. Do [ditto] Do [ie Flask to give out the charge in two motions] [1884.28.17 or 1884.28.18]
463. Patron to hold Cartridges for pistols time of Philip & Mary – introduced the middle of the XVI th century [1884.28.20
464. Leathern pouch probably Mandingo [1884.28.29]
465. Moorish Cartridge belt [1884.28.22, 23 or 24]
466. Do [ditto] do [ie Moorish Cartridge belt] [1884.28.22, 23 or 24]
[13 objects in total]
Page 40
No 467 Double action wheellock [1884.27.26
468. Wheellock [can't match]
469. Early firelock with furrows on the piece above the pan [1884.27.30]
470. Lock adapted to either flint or percussion showing the transition period [1884.27.45]
471. Russian Infantry back action musket lock 1852 from the Crimea [1884.27.50]
472 Do [ditto] Do. [ie Russian Infantry back action musket lock 1852 from the Crimea] [1884.27.51]
473 Trophy of Liberty Weapons of the Hungarians 1848
No 473 Scythe transformed into a sword [These items have not been found and accessioned, see Black 1236 in prm possibles]
474. Air Gun [Not listed]
475. Sword [can't match]
476. Sword [can't match]
476a. Sword [end insert] [can't match]
477. Short percussion gun [can't match]
478. Musquetoon with a very simple percussion lock [can't match]
479. Spike of a standard with the date 1848 upon it [can't match]
[14 objects in total]
Page 41
No 480 Pistol with a Spanish firelock of early form very rudely made up for the occasion [can't match]
481. Pistol [can't match]
Trophy of Russian Arms from the Crimea 1854-5
482. Russian Pioneer Saw & Sword [1884.24.81]
483. Russian Infantry sword [1884.24.72]
484. Do [ditto] do [ie Russian Infantry sword] [1884.24.74]
485. Do [ditto] do [ie Russian Infantry sword] [1884.24.70]
486. Do [ditto] do [ie Russian Infantry sword][1884.24.71]
487. Do [ditto] with scabbard [ie Russian Infantry sword][1884.24.73 or 76]
488. Do [ditto] with scabbard [ie Russian Infantry sword] [1884.24.73 or 76]
489. Russian Pioneer sword with scabbard [1884.24.75]
490. Russian Infantry Helmet [1884.91.25]
491. Do [ditto] Do [ie Russian Infantry Helmet] [1884.32.19]
492. Officers Helmet [1884.32.18]
493. Russian Marine Chako [1884.32.17]
494. Ancient Spur [can't match]
[18 objects in total]
Page 42
No 495 Flint lock tinderbox [can't match]
496. Portable Chevaux de … [can't match]
497. Turkish knout [1884.14.5]
498. Chinese instrument probably of torture [not yet found, see Black 935 in prm possibles]
499. Percussion lock & staff for firing cannon [can't match]
500. Model of brass cannon & timber [can't match]
501. Russian Infernal Machine used in the Baltic [can't match]
502. Do [ditto] cut in half [ie Russian Infernal Machine used in the Baltic] [can't match]
503-15. Shells of various size & shape [can't match]
[insert in different hand] A Box containing bullets of various forms introduced into the series or fired in experiments since the abandonment of the smooth bore musket in 1851. [can't match]
[9+ objects in total]
Insert between pages 18 and 19:
26 Bound & 12 unbound vols including index of Archaeologia
1 Vol True Christian Religion
7 vols Smithsonian Anthropological papers
1 vol Smithsonian contributions to knowledge
1 vol Reliquae Acquitania
1 vol Dixons Geology of Sussex
1 vol Schweinfurths Artes Africanae
2 vols Cyclopidea of costume Planché
2 vols Transactions Kilkenny Archaeological Society
1 vol L'Antechrist
5 vols Journal of the Kilkenny Archaeological Society
3 vols Journal of the Hist. & Arch. Association of Ireland
6 Meuro [sic] books
6 vols Bulletin des Antiquites
1 vol Origin of Civilisation & Primitive condition of man
2 vols Julius Caesar (Napoleon III)

Some of the entries that note in the accession book entry that the objects are (old coll [number]) or (old label [number]) are:

1884.19.45 – old coll 4 [sic, probably 44, 47]
1884.19.74 – old coll 46
1884.19.75 – old coll 43
1884.19.76 – old coll 45
1884.19.77 – old coll 34
1884.19.78 – old coll ?
1884.19.79 – old coll 38
1884.19.80 – old coll 38 [sic, must have been 39 (only missing number from sequence)]
1884.19.82 – old coll 41
1884.19.83 – old coll 40
1884.19.86 – old coll 36
1884.19.87 – old coll 42
1884.19.89 – old coll 29
1884.19.93 – old coll 30
1884.19.94 – old coll 35
1884.19.95 – old coll 32
1884.19.96 – old coll 33
1884.19.97 – old coll 31
1884.19.99 – old coll 50
1884.19.100 – old coll 49
1884.19.101 – old coll 48
1884.19.170 – old coll 70
1884.19.280 – old coll 60
1884.19.285 – old coll 58
1884.19.286 – old coll 57
1884.19.287 – old coll 37
1884.19.293 – old coll 62
1884.19.296 – old coll 35 [sic, already a 35]
1884.21.45 – old coll 143
1884.23.9 – old label 148
1884.24.4 – old coll 174
1884.24.6 – old coll 173
1884.24.8 – old coll 171
1884.24.60 – old coll 190
1884.24.63 - old label 206
1884.24.64 – old coll 207
1884.24.67 - old label 213
1884.24.69 - old label 214
1884.24.70 - old label 485
1884.24.71 - old label 486
1884.24.78 – old label 182
1884.24.93 – old coll 223
1884.24.110 – old coll 188
1884.24.111 – old coll 189
1884.24.118 – old coll 177
1884.24.119 – old coll – [sic]
1884.24.136 – old coll 167
1884.24.138 – old coll 170
1884.24.153 – old coll 244
1884.24.160 – old coll 256
1884.24.177 – old coll 262
1884.24.178 – old coll 261
1884.24.182 – old coll 255
1884.24.183 – old coll 245
1884.24.189 – old coll 251
1884.24.230 – old coll 212
1884.24.239 – old label 247
1884.92.25 – old coll 460 [wrong number]

1884.25.5 just has the above catalogue number in rounded brackets.
1884.23.9 says it is (old label 148)
AP May 2012