Alexander Peacock
Artists who created the catalogues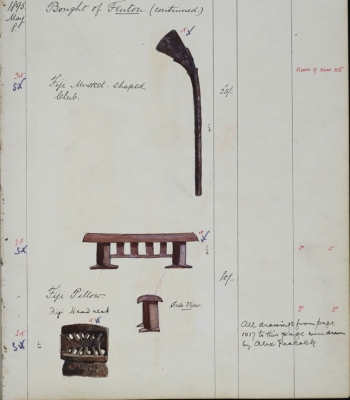 An added note at the foot of page 1017 of volume 3 of the catalogues states:
'Drawings by Alex. Peacock commenced on this page 13th Mar. 1895.'
Strangely there is a large time gap between the last entry drawn by Flower (dated August 1894) and the first by Peacock nearly seven months later in March 1895. Another entry on page 1117 records:
All drawings from page 1017 to this page were drawn by Alex Peacock
Which suggests he stopped illustrating around May 1895, only two months after he began, though this supposition is based on the understanding that the dates of the entries are not too far unrelated to the date when the illustration was prepared. If, in fact, the date on each page in the date column refers to the date of acquisition of the object and the drawing was prepared at some unspecified point post that date, then the date of his leaving is unknown. His tenure is known to have been short.
There is a letter in the Salisbury and South Wiltshire Museum Pitt-Rivers papers which makes it clear that Peacock had been in the Army and had commercial art experience:
L1187
... Having observed your advertisement in the "Engineer" of Mch 1st I beg to state that I shall be glad to submit for your inspection some specimens of my work.
I am a good artist & a skilful designer & draftsman and can prepare drawings in mono-tone, line, or colour as reqd. and have had considerable practice in all these mediums in preparing drawings for book illustration and for the weekly illustrated newspapers, including the Graphic, and Black & White.
I may also state that I have had the honour when a non-com officer in the Corps of Royal Engineers to prepare drawings for reproduction for Officers, and that I for some time acted as assistant instructor of drawing at the School of Military Engineering at Chatham. ...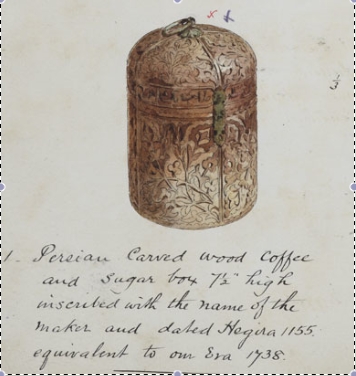 As Peacock only answered Pitt-Rivers advertisement on the 3 March 1895, and was interviewed some days later, he might have been appointed and started work very quickly, as the first object he drew as being acquired the same month. L1195 gives a reference for him from Hamilton Crawford of the Royal Scottish Water colour society and L1196 gives a further reference from George Jack who reminds Pitt-Rivers that he worked on the Rushmore Gates with Philip Webb, architect and says he has known Peacock for 15 or 16 years. L1208 is a letter from Peacock dated 19.3.1895 suggesting that he start work at Rushmore on Monday 25 March 1895.
As can be seen from the illustrations on this page his drawings seem peculiarly uneven with the bottom drawing seeming very detailed and precise whilst the drawings on the last page shown as the first illustration are very unskilled, particularly in their attempts to suggest 3D-ness and in their shading and highlighting. If you use the Database button on the right hand menu of this site you can go to the volume 3 page 1017-1117 and see the variety of styles and the discrepancy in skill shown for yourself.
There is a letter dated 31 May 1895 from an Alfred James Peacock, who was possibly his father:
L1187
Bottlesford | Pewsey Wilts May 31.95
Sir
Knowing you to have the reputation of being a most eminent and zealous archaeologist in the British islands, I take the liberty of submitting to your notice, a photograph of a model of the Parthenon, constructed by my son; it was intended for the Royal Academy, but they will find no place for models.
This perfectly original, gleanings from various histories having supplied the design
I also beg to enclose my own business card [he was a fireworks manufacturer] humbly craving your interest & patronage.
Respectfully yours
A.J. Peacock [Alfred James][L1295 S&SWM PR papers]
Genl Pitt Rivers
L1320 1.7.1895 is a further letter from A.J. Peacock negotiating the sale of the model. His son appears to be at Devizes School of Art. It is not known if they are one and the same or whether the surname is a coincidence.
Thompson and Renfrew [1999: 385] suggest that Peacock started working for Pitt-Rivers in 1895 according to the Pitt-Rivers' accounts. Thompson [1977: 95] suggests that Peacock only worked for Pitt-Rivers for three months. According to the same source he was paid £72 per annum (pro-rata).
Nothing further is known of this assistant.
Further Reading
Bowden, Mark 1991. Pitt Rivers: The Life and Archaeological Work of Lieutenant-General Augustus Henry Lane Fox Pitt Rivers, Cambridge: Cambridge University Press.
Thompson, Michael and Colin Renfrew. 1999. 'The catalogues of the Pitt-Rivers Museum, Farnham, Dorset' Antiquity vol. 73 (no. 280) pp. 377-392
Thompson, M.W. 1977 General Pitt-Rivers Moonraker Press
AP, 2010: updated July 2011, February 2012.
My thanks to Sue Johnson for her comments and advice on the contents of this page.