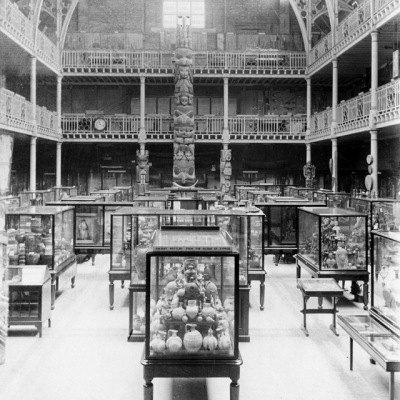 An extra from an introductory chapter in Vassos Karageorghis' Cypriote Art in the Pitt Rivers Museum University of Oxford 2009.
In the above book Pitt Rivers is used as his name anachronistically, to make it easier for the readers of this extract to understand, we have used Lane Fox instead and Pitt-Rivers when historically appropriate
A brief history of the ancient Cypriote collections
Marina de Alarcón and Jeremy Coote
[There were 270 archaeological pieces from Cyprus in the Pitt Rivers Museum in 2009, 200 from the founding collection donated by Pitt-Rivers in 1884]
... [Lane Fox] is known to have acquired a few Cypriote pieces from the London dealers Rollin and Feuardent, but the vast majority of ancient Cypriote material in the founding collection is thought to have been acquired by [Lane Fox] at the various sales of material excavated and otherwise acquired by the Cesnola brothers: General Luigi Palma di Cesnola (1832-1904) and Major Alessandro Palma di Cesnola (1837-1914). ... it seems clear that the Cesnolas were almost certainly the source of all but a few pieces of the ancient Cypriote material in Pitt-Rivers' collection. For example, [Lane Fox] purchased a number of pieces at a sale of 'Some Most Select Antiquities, Obtained from the Excavations Made in the Island of Cyprus, by General de Cesnola ...' at Sotheby, Wilkinson and Hodge on 1-2 May 1871 (Sotheby 1871). The material purchased by [Lane Fox] at this sale that we have been able to identify comprises: two votive offerings (lot 142, ... 1884.56.96 and 99), a large head of a youth (lot 131 ... 1884.39.17), a large bearded male head (lot 129 ... 1884.39.24) and two jugs (lot 50 and 48 ... 1884.38.73 and 1884.38.74).
Soon after the arrival of the founding collection in Oxford, the Museum's ancient Cypriote collection was extended through the addition of seventeen objects that formed part of a large mixed collection of some 1,500 pieces given by the widow of John Wickham Flower (1807-73) to the University Museum, Oxford ... in 1882, much of which--including the Cypriote pieces--was transferred to the Pitt Rivers [Museum] in 1892. This addition to the Museum's collection was particularly appropriate as, at a meeting of the Society of Antiquaries on 4 May 1871--at which the British Consul at Crete, Thomas Backhouse Sandwich, had given a paper on the different styles of pottery found in ancient tombs in Cyprus--Flower and [Lane Fox] had exhibited 'a number of Fictile Vessels, and other antiquities, from Cyprus, formerly in the Cesnola collection, recently dispersed by public auction' (Society of Antiquaries, 1871, 156). The Flower collection is undocumented, but it seems almost certain that he also acquired his Cypriote items from the Cesnola sales ...
Thanks to the impetus provided by the interest of Professor Karageorghis, the Cypriote collections at the Pitt Rivers Museum have received more attention in the last twelve years than in the previous hundred and twelve. For example, only a very few pieces had been published ... John Linton Myres had published ten pieces--all from the founding collection--in his 1927 essay 'Painted Vases from Cyprus in the Pitt Rivers Museum at Oxford' (Myres 1927) and Olivier Masson had published eight of the ex-votos from Golgoi in the founding collection in 1998 (Masson 1998), but otherwise the collection remained pretty much unpublished. While they had thus certainly not always received the attention they deserved, however, it is not to say that the collections have been hidden away and ignored, for a large number of pieces have been exhibited both privately and to the general public for long periods of time.
As mentioned above, [Lane Fox] and Flowers exhibited a number of Cypriote 'antiquities' at the Society of Antiquaries in 1871. Two years later, [Lane Fox] exhibited, from 16 January to (at least) 30 January 1873, twenty-five examples of Cypriote metalwork in 'an exhibition of Bronze Weapons and implements' at the same place. [1] ... According to the records that came to Oxford with the founding collection, ancient Cypriote pieces were classified and categorized in a number of ways by [Lane Fox] and his staff, some of which were presumably reflected in the ways in which the displays at Bethnal Green and South Kensington were organized. Among the categories used were 'Illustrations of Human and Animal Form', 'Rude Representations of Animals', 'Illustrations of Geometric Design', 'Ornamentation, Geometrical Patterns', 'Human Heads Showing Various Degrees of Art, mostly Rude', 'Cyprus Pottery Case', 'Idols and Objects Connected with Religion', 'Religious Emblems', 'Spindle Whorls from Various Countries', and 'Iron and Bronze.' Several pieces were apparently organized (and displayed?) in a series entitled 'Objects from Cyprus Illustrating the Gradual Development of Greek Art and its Derivation from Assyrian and Egyptian Types'. For example, ... 1884.39.24 was apparently captioned 'Head of a Helmeted Warrior Showing Influence of Assyrian Art', and ... 1884.39.17 'Head of a Helmeted Minerva Showing Influence of Egyptian Art', while ... 1884.39.6 was captioned 'Wreathed Head of Female Showing a Considerable Advance in Art'. Unfortunately we are not yet in a position to make authoritative statements about the extent to which these classifications and categorizations were used in the displays themselves.
However, what is undoubtedly the case is that most, if not all, the ancient Cypriote pieces in the founding collection had thus been publicly and prominently displayed in London for six years or so in the late nineteenth century. Moreover, when the court of the Pitt Rivers Museum in Oxford first opened to the public in February 1887, just about the first exhibit the visitors saw was a free-standing case crammed with some 120 examples from the founding collection of 'Ancient Pottery from the Island of Cyprus'. [2] ... it is known that this display was still in place in the 1920s (and it may well have remained in place until the mid 1960s when the area in which it stood was used to create a new temporary exhibition gallery). In addition, individual pieces of Cypriote art, archaeology and ethnography have been incorporated into the Museum's typological displays at different times ...
Notes
[1] These were listed in the Society's Proceedings as 'twenty-five implements from Cyprus, consisting of seven flat celts, two socket-celts or spear-ends, a dagger, five knives, one javelin head, seven spear-heads with tangs, and two spear-heads with sockets' and were presumably the twenty five pieces documented as having been acquired by [Lane Fox] at sales of material excavated by Luigi di Cesnola at Sotheby's London on 1-2 May and 3-4 July 1871 ...
[2] You can see this case in the foreground of the photograph shown on this webpage
Please refer to the book to see an object by object account of almost all the Cypriote objects in the Pitt Rivers Museum including the vast majority of the pieces from the founding collection
Transcribed by AP May 2012