Items field-collected by Lane Fox during his tour of ancient monuments in France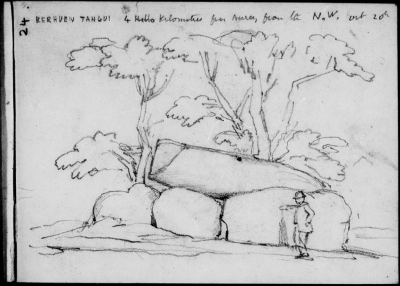 The illustrations show 3 objects apparently obtained during Pitt-Rivers' 1878-79  expeditions in Brittany, France, looking at ancient monuments. They were drawn into the second of Lane Fox's workbooks held in the National Archives. These notebooks were mostly compiled when he was Inspector of Ancient Monuments though the first two date from before this, when he was touring ancient monuments in France in late autumn 1878 and early spring 1879. From items dated in the founding collection it would appear he was in France earlier in 1878 as well.
The 1878-1879 trip is described by Bowden:
In the autumn he visited Brittany where he carried out surveys of megalithic and earthwork monuments. ... Fox's interest in Brittany seems more likely to have stemmed from the 1868 International Congress at Norwich where the Rev. W.C. Lukis had drawn attention to the destruction of the Brittany megaliths. A committee, on which both Fox and Lubbock served, had been set up to deal with this problem ... It is more than likely that Fox's travels to Brittany were a result of this commitment rather than a back door method of practising field survey techniques [as had been suggested by Thompson earlier]. Thomson was perhaps misled by the accident that the General's Brittany notebooks were at some time filed with his official Inspectorate notebooks and are now perpetually united with them.
Fox appears to have travelled to Brittany alone. He spent about a month there on either occasion in the course of which he surveyed about twenty-three megalithic monuments. Many of these surveys consisted of a perspective sketch and measured sketch plan. In addition he made notes and sketches of church architecture, Roman remains, and various objects of archaeological and ethno-archaeological interest. Most of the megaliths were recorded on the first visit. The second was dominated by these miscellaneous items. [Bowden, 1991: 86-87]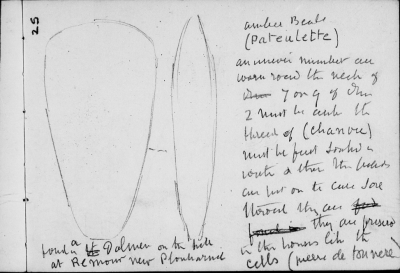 Note that if Pitt-Rivers did travel alone then the drawings on these illustrations were by him; some of them are quite good as can be seen from the first example. However, if he was travelling alone it is unclear who was the scale-model in the first illustration.
There are some items listed in the second collection catalogue from this visit, see Add.9455vol1_p162 /1-2, Add.9455vol3_p765 /3 but, as one might expect given the date there are more listed in the founding collection accession books.
These are other items listed in the founding collection accession books as being found in the Autumn 1878: 1884.42.11, 1884.58.36, 1884.99.27-28, 1884.104.12, 1884.105.25, 1884.111.28, 1884.123.647, 1884.125.254-255
These are 313 other items listed in the founding collection accession books as being found in the Spring 1879.
The entries that might match the illustrations of beads (the second illustration on this page). These are 1884.76.143-145 Accession Book IV entry - 1884.76.1 - 147 Personal Ornaments Bead-Work of Glass Shell and Beads - 3 stone & amber beads; one disc of amber ... Carnac Brittany 1878 [Drawing] Additional Accession Book IV entry - Similar beads found in local tumuli.
There are no entries in either the founding collection accession books or the second collection catalogue that match the gold objects in the third illustration.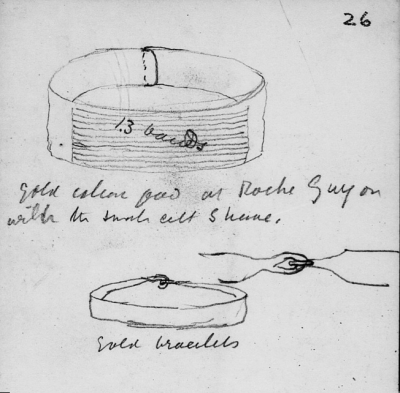 AP October 2011