'The collection ... has been collected during upwards of twenty years, not for the purpose of surprising any one, ... but solely with a view to instruction' [Lane Fox, 1875: 293]
According to Pitt-Rivers' own account, he began collecting in the 1850s, and it seems that 'it occurred to me what an interesting thing it would be to have a museum in which all these successive stages of improvement might be placed in the order of their occurrence'. [Pitt-Rivers, 1891: 118] Very little is known about this early period as he did not record the way his collection grew in any detail (or, at least, such documentation does not survive). In an account given in a lecture at the Blackmore Museum, Salisbury at some time around 1891, Pitt-Rivers described the early beginnings of his collection:
My first initiation into the subject of Arts Collections was brought about in a practical way. In the years 1851-1852, I was employed as a Military Officer on the Sub-Committee of Small Arms at Woolwich, and in 1853, as the first Chief Instructor of Musketry at Hythe, on the formation of that establishment by Lord Harding. My duties amongst others, consisted in making experiments with all the new inventions both British and Foreign, that were submitted to Government for the improvement, or rather I should say at that time, the first introduction of the Rifle Musket. In the course of these investigations, I was led to observe how very slow and gradual the steps of improvement were, and how very slightly the inventions of one person differed from those of another. In 1858 I read a Paper at the Royal United Service Institution, in which I gave an account of the development of ideas upon the subject, during the time that I had engaged in the manner I have mentioned. The Paper gave offence at the time to some of the Inventors, most of whom either supposed themselves, or wished it to be supposed by others, that their inventions sprang full-blown out of their inner consciousness, and were independent of anything that had gone before. The Collection of Rifles that I made at that time, ultimately expanded into a Museum of Savage and Barbarous Weapons, and later on, was made to include various other Arts, such as Ship-building, Textile Fabrics, Pottery and substitutes for Pottery, Dress, Tools, Personal Ornament, and several series illustrating the development of Ornamental Patterns. To which was added a series of Palaeolithic, Neolithic, Bronze Age and Iron Age implements, in all of which I endeavoured to collect only specimens which represented links in the development of the several Arts.
In the early 1870s Lane Fox decided that he wished to show part of his private collection in public. He loaned a small number of musical instruments to the South Kensington Museum for a special exhibition of ancient musical instruments. Loan exhibitions were a feature of South Kensington Museum, as Burton explains:
Cole's [Henry Cole] exhibition programme included Portrait Miniatures (1865), National Portraits ... [1866-1868], the Meyrick collection of armour (1868), Fans (1870), Ancient Musical Instruments (1872), Ancient and Modern Jewellery (1872) and Decorative Art Needlework before 1800 (1873). Arrangements were made with extraordinary promptitude: for the jewellery exhibition, the committee met for the first time in March 1872 and the exhibition, containing 1,485 items, opened in early June. [1999: 88]
The loan to the music exhibition led Lane Fox to agree to loan a large part of his entire collection to a separate branch of the museum at Bethnal Green for a five year period in Spring 1873.
The displays opened in the Spring of 1874 (probably early June 1874) though the majority of this loan seems to have been possibly received at the end of 1873 (this loan is not thought to have been fully documented). Smaller loans of further objects continued from 1 January 1874 until the collection left the South Kensington site. Two additional constables were employed to guard the collection. Pitt-Rivers was not alone in displaying parts of his private collection at Bethnal Green: the Wallace collection was first displayed there whilst Hertford House was being altered from 1872-75, and Augustus Wollaston Franks displayed his large collection of Japanese and Chinese ceramics there in 1876. [Macgregor, 1997: 33] The South Kensington Authorities in their Annual Report for 1875 said that Lane Fox's loan 'has proved an attractive division of the Museum'. So far as can be traced there are no extant photographs of the Lane Fox displays at Bethnal Green Museum.
The first record that does survive of Lane Fox's collections is the catalogue he wrote for the part of the collection that he loaned to Bethnal Green Museum from 1874. Unfortunately, the catalogue only covered the weaponry sections of his displays; he intended to produce further catalogues for the remainder, but these were never completed. The first and largest loan consignment was not recorded (or, if it was, has not survived) but it is thought that there must have been less than 10,000 objects in it. The first, smaller, additional set of objects is dated to 1 January 1874, and small additional loans to the Museum carried on being received throughout the decade. Each new loan was associated with a new number expressed as a fraction and, assuming that the second half of the fraction number represents the total number of objects then loaned by Lane Fox to South Kensington Museum, then it seems that before 16 January 1878 there were less than 7456 objects, the total climbed over the decade until it was over 12000 by the early 1880s (12099 in March 1881). The highest fraction numbers ever given were still in the 12000s which suggests that that is a fairly accurate idea of how many objects South Kensington Museum thought had been loaned to them. However, it is clear from records and from the actual objects transferred to Oxford that this was a serious undercounting with over 22,830 objects actually being transferred to Oxford in 1885.[1] What seems to be missing is the initial consignment. How many of these 22,830 were displayed at Bethnal Green Museum and South Kensington Museum, and whether some were sent straight from Pitt-Rivers (as he was by then) to Oxford will never be known for sure.
Find out more about Bethnal Green displays here. Find out more about the Lane Fox's collection that was shown at Bethnal Green Museum here.
In 1878, the Museum authorities decided that they wished to move the collections from Bethnal Green to the main museum site, at South Kensington. The objects were housed in galleries on the far side of Exhibition Road from the main museum (further north than the current site of the Science Museum). The exact location of the galleries is unclear but it seems that they must have been parallel to Exhibition Road but set on the other side of the Horticultural Gardens, next and parallel to Queens Gate. According to the frontispiece to the 1879 edition:
'The portion of the Catalogue treated of in the Catalogue already published (Parts I and  II) has been arranged, as far as the building will allow, in the same order as before. It begins with Case I (Typical Human Skulls, etc.,) which will be found by the Queen's Gate Entrance at the north end of Room L. The screens begin with No 2 on the EAST Wall of this room, and follow in consecutive order, bearing the same numbers as in the Catalogue to No. 39 in the adjoining room (K). Deviations from this order are indicated on the walls. The portions of the Collection shown in cases in the middle of the Galleries and on the WEST wall will, it is proposed, be treated of in Parts III and IV of the Catalogue, to be published hereafter (see note on page vii).
Page vii: Parts III and IV will be published hereafter, and will relate, the former to modes of navigation, representative arts of savage and early races, ornamentation, personal ornaments, pottery and substitutes for pottery, tools, deities, and religious emblems, clothing and weaving, fire-arms, and Illustrations of the modes of hafting stone implements. Part IV, will be devoted to the pre-historic series, and will include natural forms, simulating artificial forms, illustrations of forgeries and modern fabrications, palaeolithic implements, neolithic implements, bronze implements, and iron implements, with the stone implements of modern savages, adapted to the illustration of those of pre-historic times.
These galleries are part of those owned by the Commission for the Great Exhibition of 1851, and alongside those used for the International Exhibition of 1862. They are no longer part of the V&A. As Burton [1999] explains:
'...[the] Royal Horticultural Society's Gardens, opened in South Kensington in 1861. These solved the embarrasing problem of what to do with the main part of the Commissioner's site, the rectangle lying between the present-day Cromwell Road, Exhibition Road, Kensington Gore and Queen's Gate. At first it had been intended that the National Gallery should occupy part of this area, and the South Kensington Museum had been kept out of its way in the outlying part of the site to the east of Exhibition Road. When the National Gallery failed to move, the main rectangle remained empty until 1859, when the Horticultural Society, of which Prince Albert was President, agreed to open a formal garden there (leaving space at the southern end of the building that housed the International Exhibition of 1862. The garden was in the Italian style, with beds of flowers and coloured gravel, walks, statuary, a maze, waterworks--including ponds, canals, fountains and a cascade--and a grand conservatory. It was surrounded by arcades, behind which ran galleries, for the most part one room thick. [1999: 87]
The galleries were used by the Department of Science and Art (which oversaw the South Kensington Museum as well as other institutions in the South Kensington campus) for 'Educational' displays, mostly of loan collections.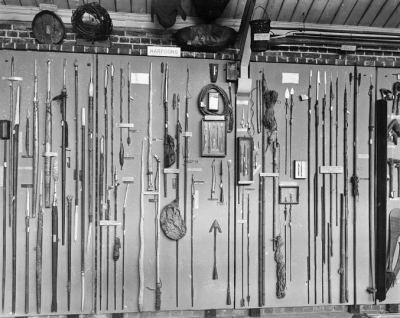 Again, no photographs of the Lane Fox displays at South Kensington Museum appear to have survived (if they were ever taken). The South Kensington Museum displays remained until 1884 when the slow process of transferring them to Oxford began. Eventually the authorities there had to close the displays before transfer began in order to clear the objects into one space so that an alternative use for Rooms L and K could begin. When the objects were actually transferred to London, the South Kensington Museum authorities agreed that their museum 'vans' could be used to transport the objects. They also agreed that the wall screens, which had been used to display the objects could be transferred as well. You can see an example here. [Précis of Board Minutes, Dept of Science and Art 1.1.1884 - 31.12.1887 page 29 July 24 1884 EM 6583] Find out more about the transfer here.
It has never been certain how many objects Pitt-Rivers also had in his home before 1884. A letter from H.N. Moseley to William Gamlen, Secretary to the University of Oxford, dated 8 February 1886 says:
... and I have also heard from General Pitt Rivers of numerous valuable sets of objects at his house in London and shortly to be received [at Oxford] ... Nothing is more difficult than to make absolute calculations as to the disposal of a collection of indefinite proportions which has never been arranged as a whole previously anywhere ...' [University Archives, UC/FF/60/2/3]
Moseley means the sense of 'arrangement' when he says 'disposal'. For a short but detailed description of the founding collection prior to its transfer to Oxford we have to rely on the account given in 1883 to the Hebdomadal Council by the 'Committee of Members of Convocation appointed to consider the offer by Major-General Pitt-Rivers ... of his Anthropological Collection to the University and advice them' dated January 19 1883:
(i) A collection of prehistoric weapons and instruments, including a specially valuable series of Palaeolithic weapons from Acton. A fine series of Neolithic weapons from Denmark. A series of stone and bronze weapons from Ireland. A series of stone hammers. A series showing the gradual conversion of the simple bronze celt into the socketed form. Lastly, series of bronze hammers, of spear-heads and swords, and of implements of bone and ivory.
(ii) A collection of objects belonging to historic times.
A. Collection of weapons (of this a printed catalogue already exists) including—
(a) Defensive Armour :— Series of parrying sticks and shields from Australia, India and Polynesia. European shields of fifteenth century. Series of circular shields. Body armour from Polynesia, Japan, and China; Mogul scale and chain armour. Series of helmets, including bronze Greek and Etruscan helmets.
(b) Offensive weapons :— Series of boomerangs from Australia, India and North Africa. Throwing sticks. Bows. Cross-bows and quivers. Series of clubs, maces, and wooden battle-axes. Series of paddles, spears, javelins, and arrows. Series illustrating the development of the axe, halberd, glaive, and other cognate weapons. Several series illustrating the development and geographical distribution of various forms of swords, daggers, slings, lassoes, &c. A series of fire arms. A series showing the growth of the bayonet.
B. Collection of objects connected with domestic life, &c.
(a) Series illustrating modes of kindling fire :— Savage fire-sticks, flints, tinder-boxes, &c. Series of lamps (Babylonian, Roman, Egyptian, modern Algerian). Collections of mirrors, spoons, knives, &c.
(b) Valuable series of pottery and of bronze, silver, and glass vessels, illustrating especially the development of the various forms, and of the decorative patterns. This series comprises, besides a remarkably fine stand of Cypriote [sic] vases, Greco-Etruscan pottery, Samian ware, specimens from Mexico, Peru, India, Africa, Algeria, Japan &c; and also a collection of decorated gourds, and of basket-work.
(c) A collection of personal ornaments, necklaces, armlets, clasps, fibulae, &c, illustrating the development of particular forms. Especially valuable are the various series of gold and bronze ornaments (Cypriote [sic], Greek, Roman, Etruscan, Celtic, and Mexican).
(d) A collection showing the development of musical instruments (drums, stringed instruments, shell, horn, ivory, and bronze trumpets, &c.).
(e) A collection of objects of religious worship, and of charms, votive offerings, relics, divining-rods, &c. The series of votive offerings is very interesting. It ranges over a wide field, from ancient Cyprus to modern Brittany, and exhibits the most instructive coincidences of belief and ritual.
(f) A series illustrating the growth of the art of writing, including savage marks, Oghams, Runic inscriptions, &c.
(g) Series illustrating the realistic representation of human and animal forms (including some very fine terra cottas from Cyprus and Tanagra, Roman and Etruscan bronzes, Japanese masks of the sixteenth century, &c.). Series illustrating the conventionalised treatment of animal forms in decoration.
Series of mediæval panels illustrating the development of leaf-patterns out of architectural designs (to this the history of mural paintings at Pompeii offers an exact parallel, in the gradual transformation of the architectural designs into ornamental borders).
(h) A collection of harness, horse-shoes, spurs, and stirrups, ancient and modern.
(i) A series illustrating the history of boat and ship-building, comprising many beautifully-executed models of savage canoes.
... Oxford, January 1883.'
There does appear to have been slight differences in the types of objects displayed at Bethnal Green / South Kensington Museums and after the founding collection was transferred to Oxford. When the Hebdomadal Council considered the transfer in 1883 they received a report from Gilbert R. Redgrave, described as 'an expert recommended by the Department of Science and Art at South Kensington', which provided an estimate of dimensions of a building 'suitable to a reception of the Collection'. He stated:
I understand that the agricultural implements and the wood carving from Brittany would not be needed, and about 100 sq. feet may be deducted on this account ...' [Redgrave, 'Approximate Estimate of the Museum-space required for the accommodation of the Pitt-Rivers [sic] collection', Hebdomadal Council January 19 1883]
On 23 March 1883 Pitt-Rivers commented: 'I have just presented to the University of Oxford my museum which has cost me six thousand pounds at least ..' [L87 Salisbury and South Wiltshire Pitt-Rivers papers]
In September 1888, in an address to Section H of the BAAS, Pitt-Rivers stated:
After that, wishing to find a permanent home for it, where it would increase and multiply, I presented it to the University of Oxford, the University having granted 10,000l. to build the museum to contain it. It is there known as the 'Pitt-Rivers Collection,' and is arranged in the same order as at South Kensington. Professor Moseley has devoted much attention to the removal and re-arrangement of it up to the time of his recent, but I trust only temporary illness, which has been so great a loss to the University, and which has been felt by no one connected with it more than by myself; for whilst his great experience as a traveller and anthropologist enabled him to improve and add to it, he has at the same time always shown every disposition to do justice to the original collection. Since Professor Moseley's illness it has been in the charge of Mr. H. Balfour, who I am sure will follow in the steps of his predecessor and former chief, and will do his best to enlarge and improve it. He has already added a new series in relation to the ornamentation of arrow-stems, which has been published by the Anthropological Institute. It appears, however, desirable that the same system should be established in other places, and with that view I have for some time past been collecting the materials for a new museum, which, if I live long enough to complete it, I shall probably plant elsewhere. [Pitt-Rivers, 1888: 826]
It is clear from the manuscript collections of Pitt-Rivers' held at Salisbury and South Wiltshire Museum that some items from South Kensington Museum were sent to Pitt-Rivers' home after most of the objects were transferred to Oxford. A letter from Pitt Rivers' solicitors confirms this:
'You are aware that General Pitt Rivers has arranged to present the greater portion of his Anthropological Collection to the University of Oxford.' [Salisbury and South Wiltshire Museum PR ms collection, P132 Letter from Farrer and Co. to South Kensington Museum 24.5.1883]
In 1884 Pitt-Rivers confirmed the position:
I accordingly withdrew from my museum in London everything which related to agriculture and peasant handicraft, agricultural implements of various kinds, models of ploughs and country carts of different nations, household utensils, country pottery, cottage furniture, peasant costume, jewellery, and so forth, and put them into three rooms of a house near Farnham [Address to Dorset County Museum, page 13]
These items, in effect formed part of the collection later displayed at his private museum in Farnham, Dorset. There is no record of additional items being donated to Oxford than had been on loan to South Kensington Museum, though this might have been the case.
This site will eventually provide detailed information about each of the items in the founding collection. Until this data is available you will find out information about these artefacts by going to the main museum database interface (objects and photographs)(manuscripts). If you search for 'Augustus Henry Lane Fox Pitt Rivers' in the 'Individuals associated with objects' field you will get access to all the relevant artefacts.
Find out more about the founding collection, see here.
Notes
[1] 22830 is the estimate as at 22.2.2013, it is likely to rise over 2013 as the Excavating Pitt-Rivers project continues to find objects that were previously unentered in the accession books
Bibliography for this article
Blackwood, B. 1970. 'The Origin and Development of the Pitt-Rivers Museum' in The Classification of Artefacts in the Pitt-Rivers Museum Oxford. Occasional Papers on Technology, II, Oxford: Pitt-Rivers Museum
Bowden, Mark. 1991. Pitt-Rivers - The life and archaeological work of Lt. General Augustus Henry Lane Fox Pitt-Rivers DCL FRS FSA. Cambridge University Press, Cambridge, UK.
Burton, Anthony 1999. Vision & Accident: The Story of the Victoria and Albert Museum, London: V & A Publications.
Chapman, W.R. 1981. Ethnology in the Museum. Unpublished D. Phil thesis, vols I and II, Pitt-Rivers Museum, University of Oxford
Fox, A.H. Lane. 1875 [a]. 'On the principles of Classification adopted in the Arrangement of his Anthropological Collection …' Journal of the Anthropological Institute4 (1875) 293-308
Fox, A.H. Lane. 1877 [b]. Catalogue of the Anthropological Collection lent by Colonel Lane Fox for exhibition in the Bethnal Green branch of the South Kensington Museum June 1874 Parts I and II. London: Science and Art Department of the Committee of Council on Education HMSO [Re-issued 1879]
Gray, H. St.G. 1905. 'A Memoir of Lt-General Pitt-Rivers' in Excavations in Cranborne Chase vol V. Somerset [privately published]
Larson, Frances. 2007. 'Anthropology as Comparative Anatomy?: Reflecting on the study of material culture during the late 1800s and the late 1900s' Journal of Material Culture 2007: 12-89
Macgregor, A. 1997. 'Collectors, Connoisseurs and Curators in the Victorian Age', in M. Caygill and J. Cherry (eds) A.W. Franks: Nineteenth Century collecting and the British Museum British Museum Press
Petch, Alison. 1998. ''Man as he was and Man as he is': General Pitt-Rivers' collections' Journal of the History of Collections10 no. 1 (1998) pp. 75-85 Oxford University Press
Petch, Alison. 2002. 'Assembling and Arranging: Pitt-Rivers' collections from 1850 to now' in 'Collectors: Expressions of Self and Other Occasional Papers Series: Horniman Museum and Museu Antropologico of the University of Coimbra
Petch, Alison. 2006. 'Chance and Certitude: Pitt-Rivers and his first collection' Journal of the History of Collecting 18 no. 2 pp. 57-266 Oxford University Press
Petch, Alison. 2007. 'Opening the Pitt Rivers Museum' Journal of Museum Ethnography 19 pp. 101-112
Pitt-Rivers, A.H.L.F. 1888. [c]. 'Address as President of the Anthropological Section of the British Association, Bath, September 6, 1888', Report of the British Association for the Advancement of Science (1888), pp. 825-835.
Pitt-Rivers, A.H.L.F. 1891. 'Typological museums as exemplified by the Pitt-Rivers Museum at Oxford and his provincial museum at Farnham Dorset' Journal of the Society of Arts, 1891:115-22
Thompson, M.W. 1977. General Pitt-Rivers: Evolution and Archaeology in the Nineteenth Century. Moonraker Press, Bradford-on-Avon UK
AP, 9 November 2009, checked September 2010 and updated December 2010, updated again in March 2011 when research made it clear that the PR displays in London were not reproduced at Oxford at all and again in April 2011 with the letter from Moseley to Gamlen. Updated again in May 2011 including adding additional information from the V&A. Revised and separated from the account of the founding collection at Oxford August 2011. Updated again in December 2011 following research into SKM. Total for founding collection corrected February 2013