Augustus Pitt-Rivers married Alice Stanley in February 1853 after courting her for some 5 years. All his biographers, and William Chapman in his thesis, stress the impact that the intellectual Stanleys and their connections must have had on the young soldier and his intellectual development. What has been less appreciated is that the Stanleys may also have influenced Pitt-Rivers and his collecting by their own interest in the acquisition, and possible display, of ethnographic objects acquired by various members of the Stanley family during their travels.
It has only comparatively recently been realised that the Stanley family may have had a collection of ethnographic objects. These were acquired by members of the family during their travels. At the time of writing it is not clear whether these were displayed in the family home or merely stored out of sight but it is probable that they were on public display as a memento of the adventures and travels of the family.
It is known that Owen Stanley acquired a fairly large number of ethnographic objects during his travels as a Royal Navy captain. Although he was not an immediate member of Alice's family he was a close relative and it seems certain that some of his objects came to the head of the family, the Baron Stanley of Alderley. In addition Johnny Stanley, brother of Alice Pitt-Rivers, served in India and is thought to have acquired some ethnographic objects including some which were given to Pitt-Rivers for his own collections. It is possible that other similar items were acquired and kept by other members of the Stanley family.
If you have any information about this collection or any other members of the Stanley family in the nineteenth century collecting ethnographic or archaeological objects we would be most interested to hear from you at This email address is being protected from spambots. You need JavaScript enabled to view it..
The Stanleys of Alderley
Alice Pitt-Rivers, the wife of Augustus, came from a family with strong intellectual and political interests. Their seat was at Alderley in eastern Cheshire, not far from Manchester.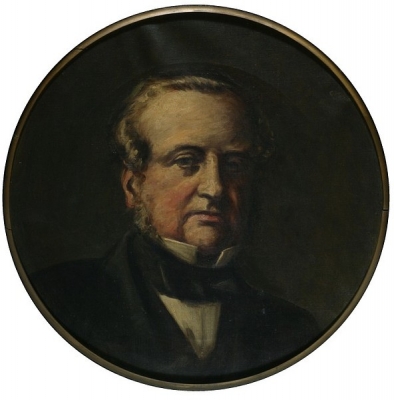 Her father, Edward John Stanley (1802-1869) was the 2nd Baron, a Whig Member of Parliament from 1831 and had several ministerial posts from 1835. He became a member of the Privy Council in 1841. He was President of the Board of Trade under Palmerston from 1855 and Postmaster-General from 1860-1866, establishing the Post Office Savings Bank in 1861. He was the head of the Stanley family. This portrait is from the Victoria and Albert Museum and is a medallion painting, one of a series of commissioned designs for portrait heads of the Lord Presidents of the Council (also known of the Board of Trade) that were used to decorate South Kensington Museum. All the portraits were painted by F.B. Barwell. Edward Stanley was President of the Board of Trade from 1855-1858.
Alice's mother, Henrietta Maria Dillon, was also a woman of wide intellectual interests and political influence. According to wikipedia, when he was Patronage Secretary, her husband was described by Lord Palmerston as joint-whip with Mrs Stanley. She helped to found the Women's Liberal Unionist Association and was a supporter of higher education for women, helping to establish Girton College, Cambridge. They had a large family of 12 children only 8 of which survived.
Their correspondence was published by Nancy Mitford (another descendant of Alice's sister, Blanche) in the 1930s, see bibliography at end for more information. Her books give a good idea of Stanley family life, and how close the wider family members were.
Alice's older brother, Henry Edward John Stanley (1827-1903) inherited the title and estate from his father in 1869. He is unusual for his time and class because he converted to Islam in 1862. He remained 3rd Baron Stanley of Alderley until his own death in 1903, when the estate was inherited by Edward Lyulph Stanley (1839-1925), Henry's brother and the third eldest son of Edward John and Henrietta Mary Stanley. He was 4th Baron Sheffield, 4th Baron Stanley of Alderley and 3rd Baron Eddisbury and called himself Lord Sheffield.
It is thought that Pitt-Rivers first became acquainted with the Stanley family in 1848 when he started to court Alice, though it is possible that the Lane Fox and Stanley families were acquainted before this date and most people of their class, at that time, at least knew of each other. The Stanleys were described by another relative, Bertrand Russell (son of Alice's sister, Kate), as:
a large family of exceptional vigour, healthy, boisterous, argumentative, each with his or her own very definite opinions on religion and politics, and each disagreeing with all the others. [quoted in Thompson, 1977: 19]
All his biographers make the point that it was not only the Stanley family members who were intellectually stimulating, but also their circle of friends and acquaintances which included many of the leading thinkers of the day.
Owen Stanley
Owen Stanley (1811-1850) was a Captain in Royal Navy and explorer, commander of HMS Rattlesnake. He helped establish the colony of Port Essington in Australia and surveyed New Zealand, New Guinea and Torres Straits. Fellow of the Royal Society from 1842 and Royal Astronomical Society [Starzecka et al, 2010:149] Owen Stanley was born in Alderley in Cheshire and lived there until he entered the Royal Naval College at the age of fifteen. He was the son of Edward Stanley, rector of Alderley (Cheshire) and later Bishop of Norwich, Owen's brother was Dean Arthur Penrhyn Stanley, Dean of Westminster. Edward Stanley was the younger brother of John Stanley, 1st Baron Stanley of Alderley who was father of Edward John Stanley, father of Alice Pitt-Rivers. Owen Stanley was therefore a cousin of Alice's father, and a second cousin to Alice.
His naval career included:
Frigate Druid from January 1826
Midshipman, Ganges, March 1826
Surveying Coast of South America 1826-1830
Sloop Adventure under Phillip Parker King 1830, surveying straits of Magellan
Promoted to Lieutenant June 1830
Commissioned Lieutenant, served on Belvidera and small ships with Mediterranean Squadron, surveying Greek islands
Served on Terror, from June 1836, Arctic expedition, taking charge of astronomical and magnetic observations
Commanded Britomart in 1838, east Indies station, surveying in Australiasian waters, establishing Port Essington in the Northern Territory in 1838 and becoming magistrate and commissioner of crown lands. Visited Australia again in 1841.
Promoted Commander in April 1839
1840 visited New Zealand
1841 visited Singapore, and Burma and then returned to England
1844 promoted Captain
1846 Given command of HMS Rattlesnake, December 1846 ordered to Australia to survey region of Hervey Bay, Queensland and then New Guinea waters. He sailed with Thomas Huxley and John MacGillivray.
Died in Sydney
This information was taken mostly from his Australian Dictionary of Biography entry (see link below) which states, 'Stanley's achievements were principally scientific. ... he charted considerable sections of the north-east Australian coast ... [and] south east New Guinea'. His name is commemorated in the 'Owen Stanley Range' in New Guinea. According to this site, whilst at Port Essington in the Northern Territory of Australia in 1839 Owen Stanley designed the set and costumes for the only play ever staged in that place, the 1797 comedy Cheap Living by Frederick Reynolds.
A biography of Owen Stanley was written by Adelaide Lubbock, probably the Hon. Mary Katherine Adelaide Stanley (1906-1981), daughter of Arthur Lyulph Stanley (one of Alice Pitt-Rivers' nephews), and the wife of one of Alice's daughter's * sons, Hon. Maurice Fox Pitt Lubbock. Her father had been Governor of Victoria, Australia between 1914 and 1919. According to her book Stanley was 'an unsympathetic character in certain respects, being reserved, self-centred, and violent tempered, yet gifted with many good qualities, who achieved considerable success as a naval surveyor and explorer'. [quoted in Journal of Navigation vol 23 issue 01 page 126-7 Review by G.S. Ritchie see here.] According to the same source, Lubbock's book contains copies of Stanley's own sketches, 'perhaps not very gifted by the common standards of naval officers of the day'.
* Alice Augusta Laurentia, second wife of John Lubbock.
Owen Stanley's collection
British Museum

There are a total of 239 objects from Owen Stanley in the British Museum, 4 were collected by Owen Stanley but, according to the British Museum online database, donated to the British Museum by Edward John Stanley in 1926 [sic].
The 4 donated by Lord Stanley in effect are the Stanley collection this page refers to as they are obviously items given by Owen to the head of his family, Edward John Stanley (1802-1869) at some point during his lifetime (ie up to 1850) or else given by his father or other relative after 1850. They were then passed down that family until the Lord Stanley of 1926, actually Arthur Lyulph Stanley who had inherited the previous year. Note that the British Museum online database entries for the following items are incorrect when they suggest that the donor is Edward John Stanley, 2nd Baron Stanley of Alderley, as he had died fifty years earlier.
The four items are:
Oc1926,1112.1, Model canoe, New Zealand
Oc1926A1112.1b,c Two model paddles for canoe, New Zealand
Oc1926,1112.2, Austral Islands paddle
Oc1926,1112.3, Maori house ornament, New Zealand
Oc1926,1112.1 is fully described by Starzecka et al, 2010: 27. There it is more clearly identified as being donated by Lord Stanley of Alderley (though later the catalogue makes the same mistake about that being Edward John Stanley, whilst it is clear it must have been Arthur Lyulph Stanley who was Baron Stanley of Alderley from 1925 to 1931). The catalogue entry gives an extract from a letter from him:
I believe that the canoe was brought to Alderley early in the nineteenth century by Capt. Owen Stanley RN who explored Papua .... There is no written information at Alderley regarding this canoe and the information I send you in this letter is derived from what I was told by my father. [Starzecka et al, 2010: 27]
The two canoe paddles are described on page 31 of the same catalogue.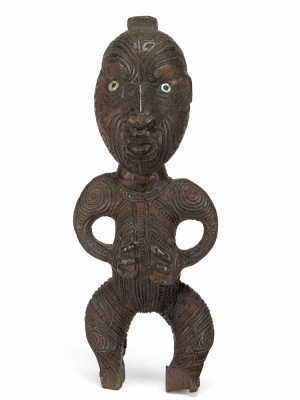 Oc1926,1112.3 is described on page 40 of the Starzecka catalogue of Maori objects in the British Museum, where it says 'Probably collected by Captain Owen Stanley, RN while in command of Britomart 1837-43'. It is not clear why it says probably when it obviously also came from Lord Stanley. It is not clear whether the letter quoted above about the canoe also discusses the house ornament.
The other 236 objects were apparently donated direct to the British Museum by Owen Stanley in 1851 according to the British Museum database. Again this must be incorrect (because he died the previous year) but it presumably means that they were bequeathed to the Museum after his death in 1850, or else donated by members of his family, after his death, in his name and appear to be largely or entirely given the collection number Oc1851,0103. You can find details of all these items by searching the British Museum online database here and searching for Owen Stanley in the museum provenance field. These items cannot be said to be considered part of any Stanley ethnographic collection at Alderley.
Founding collection, Pitt Rivers Museum, Oxford
Pitt-Rivers himself seems to have obtained an object field collected by Owen Stanley. It is not clear from the rather rough documentation that survives for founding collection items that are now in the Pitt Rivers Museum, University of Oxford, whether this item came directly from Owen Stanley to Pitt-Rivers (it is improbable that it could as Pitt-Rivers only began his courtship of Alice in 1848 and it seems Owen Stanley was in the Pacific at that time until his death two years later). It seems more likely that the item came via the Stanley family at some date after 1849, possibly in 1851 when the British Museum received their Owen Stanley donation. The item in the founding collection from Owen Stanley is:
1884.64.33 Accession Book IV entry -1884.64.1-37 Design Loop coil - Flat palm-wood club, decorated with a broken looped design New Guinea HMS 'Rattlesnake' Aug 1849
Collectors Miscellaneous XI Accession Book entry -HMS Rattlesnake PR 1718 Flat palm wood club with broken looped ornament New Guinea Aug 1849
Blue book entry - Coil Patterns Case 68 373 Club ornamented with broken looped coil exactly resembling the N Zealand pattern. Obtained by natives by H.M.S. Rattlesnake Aug 1849 N Guinea (1718)
It is also potentially possible that this item was actually field collected by Thomas Henry Huxley who was on the Rattlesnake voyage but the Stanley route seems much more likely.
Note that there are other items collected on the HMS Rattlesnake voyages in the Pitt Rivers Museum, these were collected by John Thomson who was the surgeon on board the ship and donated by his son, Arthur Thomson.
There is a painting by Owen Stanley in the National Library of Australia, see here and Tasmanian Museum and Art Gallery, Hobart and the Mitchell Library of New South Wales, see here. Presumably the Stanley family might have owned other watercolour paintings by him.
It is not known if there are other Owen Stanley collections elsewhere.
Johnny Stanley
John Constantine Stanley, known to his family as Johnny, was Edward John Stanley's (2nd Baron) second son and Alice Pitt-Rivers' brother. He was born in September 1837, nine years after Alice, and died in April 1878. He married Susan Mary Elizabeth Stewart-Mackenzie in 1871 and had two daughters. He served in the Grenadier Guards of the British Army (like Pitt-Rivers) including serving in the Crimea War and a period stationed in India during the Mutiny. [Chapman, 1981] He served as aide-de-camp to Lord Canning, Governor General of India. [See here, footnote to a letter from Thomas Carlyle to Lady Stanley] He may eventually have reached the rank of Lieutenant-Colonel in the Guards. He seems to have been a keen (and early) photographer, other images taken between 1858 and 1861 in Kalikut (Calcutta), India are shown here. For a photograph taken by Stanley in Allahabad in 1858 see here. These are all now part of the Metropolitan Museum's collections, acquired as part of Lord and Lady Canning's Album in 2005. The National Portrait Gallery holds a photographic portrait of him, taken on 26 October 1864 by Camille Silvy, see NPG A63908.
Johnny Stanley's collection
In the founding collection of the museum at Oxford are objects that might have been collected by Johnny Stanley. Chapman, in his unpublished D. Phil thesis, speculates that Johnny Stanley [an in-law of Pitt Rivers] collected items from Lucknow for Pitt Rivers [Chapman, 1981: 93]:
1884.17.14 Accession Book IV entry - 1884.17.1 - 17 - Weapons Quivers Long cylindrical quiver, of red velvet with gold thread designs and tassels Lucknow India [353]
Black book entry - 252 Quiver velvet embroidered Indian (327)
Delivery Catalogue I entry - Cross Bows European African and Oriental Red velvet quiver embt [sic embroidered] from Lucknow 327 Screen 11 234 235
Pitt Rivers Catalogue Entry (1877) - Screen 11 ... Red velvet quiver embroidered India [p61]
and
1884.24.123 Accession Book IV entry - 1884.24.1 - 270 - Swords etc Pata gauntlet sword with long blade and full guard (conical) forehand and forearm Lucknow [Drawing]
Black book entry - Screen 36 1054 - 1066 Series illustrating the development of the Kuttar with triangular blade and transverse handle into the Barra-Jumdadoo with medium sized blade and a rudimentary hand guard and ultimately into the puttah or gauntlet sword with long rapier blade and full guard for the hand and forearm (6 with sheaths) (cat nos 1209 - 1221)
Delivery Catalogue I entry - Daggers etc Puttah or Gauntlet sword and sheath 1221 Screen 209
Pitt Rivers Catalogue Entry (1877) - Screen 39 ... Fig 130 Puttah or gauntlet sword with long rapier blade and full guard for hand and fore-arm. Said to be used by men of inferior rank and athletics Lucknow [p182]
Additional Pitt Rivers Catalogue entry - Nos 1209 to 1221 show the development of a peculiar form of dagger with a cross handle, called Kuttar; the actual origin of which is unknown to me, but which I am informed is used generally by Mahomedans in India. Its apparently most primitive form is seen in the specimen, No 1209 Fig 128 [1884.24.152] where the blade is a nearly equilateral triangle. The blade gradually increases in length until it reaches the size attained in Nos 1219 and 1220 Fig 129, when it assumes the name, according to my informant, of Bara-Jumdadoo, and the cross-handle is covered with a kind of rudimentary hand-guard. [p173] In the next specimen, No 1221 Fig 130 called Puttah or the gauntlet sword the blade is considerably lengthened and narrowed, and the guard entirely covers the hand and the forearm, the extension and lightening of the blade in this series corresponds, it will be seen, to what is known to have taken place in the development of European sword blades [p173]
Pitt Rivers Museum label - 1221. F 16. 130. Puttah or gauntlet sword with long rapier blade and full guard for the hand and forearm. Said to be used by men of inferior rank and athletes. Lucknow. [El.B 10/09/2007]
Pitt Rivers Museum label - Pata or gauntlet-sword, with long rapier blade & full guard for hand and fore-arm. (Used by the SIKHS in sword-play and by MOHAMMEDANS at the festival of the Mohurrum). LUCKNOW. P.R.coll. [1221] [El.B 10/09/2007]
Written on object [.2] - Sheath of pata or gauntlet sword, LUCKNOW. P.R.coll. [1221] [El.B 10/09/2007]
and
1884.24.165 Accession Book IV entry - 1884.24.1 - 270 - Swords etc Indian short sword, the handle an elephant's head, chape of scabbard a fish. Taken at Lucknow (Indian Mutiny) by 60th Rifle
Blue book entry - Patterns consisting of animal and vegetable forms conventionalized in ornamentation Case 55 Dagger handle elephant's head chape a fish. Taken at Lucknow by the 60th Rifles (2107)
Additional Blue book entry - Chape = metallic tip of a scabbard, part of a buckle
Delivery Catalogue I entry -Illustrations of Human and Animal form Cases 92 - 93 Kris in sheath (Indian) 493 2107
Pitt Rivers Museum label - INDIAN SHORT SWORD. TAKEN AT LUCKNOW (Indian mutiny) BY THE 60TH RIFLES. P.R.coll. [2107] P.R.coll [rev.:] [493 Blue] [El.B 14/3/2007]
Other Stanley collections
Arthur Penrhyn Stanley
Known as Dean Stanley even by his relatives, was the son of the Edward Stanley, Bishop of Norwich and the brother of Owen Stanley. He donated an object and a cast to the British Museum. In 1866 he donated a limestone head of a 'goddess' said to be from Kadesh Naphtali (possibly Tell Kades in Galilee, Palestine) [1866,0628.1]. Apparently a cast of this object is available for sale in the British Museum Facsimile Service. C.218 is probably the original cast (the record online does not make it clear, on its base it is described as 'Cast of a head from Palestine presented by the Rev. Canon Stanley, DD').
Edward John Stanley
There are further items donated by Lord Edward John Stanley, (1802-1869), 2nd Baron, to the British Museum. It seems likely that unlike the Owen Stanley items these are attributed to the right person. They are:
1844, series of ?9 coins: 1844,0608.2 Silver patagon minted in Tournai 1627; 1844,0608.3 Silver patagon minted in Antwerp in 1633; 1844,0608.4 Silver ducaton minted in Brussels dated 1637; 1844,0608.5 Silver ducaton minted in Antwerp dated 1649; 1844,0608.6 Silver ducaton minted in Antwerp 1651; 1844,0608.7 Silver coin issued in Mexico 1621-1665; 1844,0608.9 Silver patagon minted in Antwerp; 1844,0608.10 Gold ducat minted in Gelderland dated 1659; 1844,0608.11 Silver ducat minted in West Friesland dated 1660
[Rather oddly given the sequential numbering system employed by the BM even during the 1840s there does not appear to be a 1844,0608.1 or 1844,0608.8 listed in their online database, however Katy Barrett who carries out research in the Numismatic Dept of the BM has identified that the two missing pieces are probably
1 - Large Bronze Medal of Sir Benjamin Brodie by Sir W Wyon.
8 - Another Foreign Silver Coin, Uncertain Spanish
The first is probably listed here, and has at some point losts its ticket so is currently un-identified, but is a Wyon medal of Brodie, the second's description is too broad to allow an individual coin to be identified. We are very grateful to Katy for her research.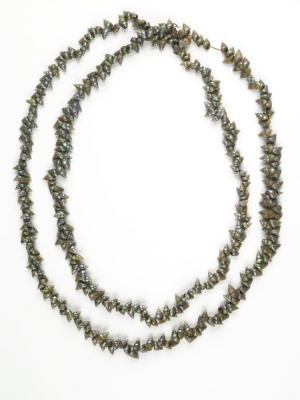 1866 series of necklaces: Oc1846,0729.2, Oc1846,0729.3, Oc1846,0729.5 Shell necklaces from the Flinders Island, Bass Straits. Donated 1846
[Again rather oddly there does not appear to be a Oc1846,0729.1 or Oc1846,0729.4, probably as with the instances above the provenance information has been lost and the online catalogue therefore does not identify the pieces as from Stanley]
It is not known who collected these shell necklaces but presumably it could have been Owen Stanley again as he travelled to Australia (though it is not clear whether he travelled to Tasmania as these items would suggest).
W.O. Stanley
Not all of the Stanley collections were ethnographic, some were archaeological.
There are a series of notebooks or commonplace books created by Pitt-Rivers, which are the property of Anthony Pitt-Rivers. One of them is entitled 'Personal Ornaments' and records interesting facts he has read about personal ornaments. It also includes a letter glued into the notebook:
Dec. 8 1875
Dear Fox
What do you make of this Bronze Fibula and cornelian intaglio ring. I have not got the particulars of the find to send you but they come from [name illegible looks rather like 'Path Daford'] round tumuli. You will find a paper of mine was read at the last Arch. meeting in Burlington H. not ... [illegible] from it the same and other pottery remains of [illegible] bones ... is the brooch Celtic or Roman or Gaulish?
I do not want much talk about the find until I have fairly elevated these horrid tramping Archaeologists [illegible] every where.
Yours affly
W.O. Stanley
There is a drawing glued on behind the letter, dated Dec 7 1875 and saying 'intaglio real cornelian Ceres tribe corn heads in right hands patera or cake loaf in other Bronze Natural size plain not notched on the under side'.
It is not known where the ring brooch now is. W.O. Stanley was Alice's uncle (her father's twin brother) who lived in Penrhos, Anglesey, Wales; William Owen Stanley (1802-1884) who was MP for Anglesey 1837-1847 and 1857-1874, and MP for Chester (1850-1857). He was interested in Celtic Archaeology and also donated items to the British Museum. Pitt-Rivers and his wife often visited their house on Anglesey.
Bibliography for this article
Australian Dictionary of Biography
Huxley, J. (ed), 1935. T. H. Huxley's Diary of the Voyage of HMS Rattlesnake, London
Lubbock, Adelaide. 1868 Owen Stanley, R.N. Captain of the Rattlesnake Australia: William Heinemann Ltd.
MacGillivray, J. 1852 Narrative of the Voyage of HMS Rattlesnake … 1846-1850, vols 1-2 London. Note that MacGillivray's book is available free as an e-book via Project Gutenberg.
Mitford, N. 1938. The Ladies of Alderley: Letters between Maria Josepha Lady Stanley of Alderley and Henrietta Maria Stanley 1841-50 London
Mitford, N. 1939. The Stanleys of Alderley: Their letters between the years 1851-65 London
AP, June 2011, updated regarding W.O. Stanley in February 2012; amended March 2014.
I am grateful to Jeremy Coote for pointing out this collection to me, and for realising the impact that this might have had on Augustus Lane Fox when he first met Alice Stanley. I am also grateful to Lady Stanley of Alderley who pointed out several errors in the original version of this page.