The following letters from the Pitt-Rivers papers held by Salisbury and South Wiltshire Museum suggest that there are items which do not form part of the items accessioned in the founding collection of the Pitt Rivers Museum at Oxford or appear in the catalogue of the second collection of Pitt-Rivers held at Cambridge University Library but which did apparently form part of the Pitt-Rivers' collections. This is a selection of the relevant letters, not all of them for which you will need to search Primary Documents.
This selection shows the kinds of information we have (limited) for the thngs that might have been in his collection but were not listed in the catalogue of the second collection. It is not known why these items were not added, some (in the end) might not have been acquired, they may have been missed whilst the catalogue was being compiled, or items were often not included or overlooked, in which case the second collection must have been even larger than we estimate.
-----
L1
29 Weymouth Street
Portland Place
London
17 Oct. 1881
My dear Pitt Rivers
Many thanks for your note I will pack up the flakes _ (one arrow head is very pretty_) in a cigar box & take them to the Lon & S. West Station this afternoon address'g to you to Tisbury Station. I suppose you send for parcels.
As to the payment for the them [sic] I will leave it to you - there are 33 & they belong to Clarke of Zagazig Egypt - he collected them himself at Helwân whither he went for the baths - he states they are rare there now s he was 8 days picking them up, & does not know the value at all. Whatever you send me I will forward to him.
Your two Stele have come - they are very fine - in fact the larger one is splendid. pity both are cracked. I will take great care & do my best towards giving you their history. The large one is of later date than the small one - Ptolemaic I should think - the sign [drawing] is used for [drawing] w'ch denotes a late period. I take it to be the stela of a Priest adoring Osiris who is accompanied by Iris & Nepthys.
With best regards
I am,
Yrs very sincerely
F.G. Hilton Price.
Frederick George Hilton Price (1842-1909) antiquary and banker, keen archaeologist with large collection of his own including many artefacts from Egypt. There are no items from Hilton Price in the founding collection, there are items from him in the second collection but they do not come from Egypt. There are no items from Clarke or Clark in the founding or second collections from Egypt. The current whereabouts of these flakes is unknown. It is not certain which the stela are but they might be 1884.98.2 and 1884.98.3 which are part of the founding collection obtained by Pitt-Rivers before 1874. My thanks to Alice Stevenson for suggesting that these might be the matching stele.
-------
L2
Trin[ity] Coll. Cambridge
Nov 21 1881
Dear Pitt Rivers
I am sending off the Chinese spears [see separate entries] to you and I enclose also the Irish swords. There is one very long one another ordinary one and a third broken. I think I may ask for £9 for the three. The spears are £10. It is a troublesome job trying to dispose of the antiquities for Mr Banks widow as I have to get them priced by experts & then find a buyer. If you dont want the swords you can send them to the Genl. Sec. Burlington House
Yours [illegible]
Thos MKenny Hughes
There are 3 spearheads from Ballina Mayo Ireland listed in the second collection Add.9455vol1_p1 /4 from Professor Hughes. There are also 5 ancient bronze spearheads from the Banks collection which might match this entry Add.9455vol1_p1 /3
------
L5 G.I. Bridges [probably, that is what Michael Thompson says in his catalogue of the letters]
15 Kensington Gore
S.W.
Jan. 2. 82
My dear General
I have been looking over my curios from Egypt I am sorry to find nothing of any value but I send a parcel today, containing a few things I got near Luxor. Some may be [illegible]. The [illegible] certainly are & worthy of a place in yr. Egyptian collection at Rushmore.
We have had nothing but rain here for the last week.
Kindest regards to Mrs Pitt Rivers & all the party.
Ys very truly
G.I. Bridges
I shall direct the parcel to Tisbury Station.
Nothing seems to match this letter, though it is possible that some artefacts do in the founding or second collection. At this time it is not clear who G.I. Bridges is though it is clear he is an acquaintance of Pitt-Rivers
----
L54
British Museum
Dec 18th '82
Dear Sir
In answer to your enquiries about the small terra cotta figure you had of me I beg to say that it was stated to have come from Mycenae.
You may have noticed similar ones in the Schlieman collection at S. Kensington
I am
Sir
Yours obediently
Wm Talbot Ready
It is supposed to be a [insert] winged [end insert] figure of a fate, or, of Minerva
----
L60
[Answered 30/XII/82]
82 Queens Gate, S.W.
December 14 1882
My dear Pitt-Rivers
My letter was written some weeks ago. I do not remember the precise date, and it is of no consequence now. It was to ask you to return to me if you could lay your hand upon them, some Drawings Photographs and Letters relating to Central American Antiquities which I sent you in 1880. They were from Dr Le Plongeon, and I wished to see them again in anticipation of a paper by Mr Maudsley which was read at the R. Geogr. Soc. last Monday I should still like at your convenience to have them again, but if you care for the Photographs I can place them at your disposal afterwards. Maudsley's paper was a very interesting one, I was sorry that you could not be present. He has greatly extended our knowledge of Querique and describes two new rivers Tikal and Usumacinta from which latter he a brought a fine piece of sculpture - and many capital Photographs from both. If you could catch him for your Society you would probably be more successful than we were in getting up a discussion as to what is really known about this extinct civilization. Believe me
Yours very truly
J.H. Lefroy
Gen. Pitt-Rivers
----
L94
124 Buckingham Palace Road
London SW
Ap 10/ 83
Dear Sir,
I have today dispatched the spades and hope they will arrive safely. The one with the wedge driven in for the foot to rest on came from the I. of Colonsay; it is called a "ceaba" and an illustration of it appears in the Proc. Soc. Ant. Scot. vol 5 p 113 also in Drummond's Scottish Arms. The other spade with the peg projecting at right angles to the shaft, for the foot to rest on came from Shetland but I have never seen any drawings of similar ones published. In Caedmon's paraphrase of the scriptures (see Archaeologia vol 24) a man is shewn digging with a "ceaba" so that this was probably the usual form of spade employed in England in the 10th cent. In the sculptures on Lincoln Cath. is also a similar spade. The hand plough I got in the I. of Skye and was in use at the time; it does its work well and is quite adapted for the soil. The local name for it is a "caschrom" (see Proc. Soc. Ant. Scot. vol 3 p 463 and Drummonds Scottish Arms) There is a curious form of implement used in Shetland for cutting the strips of turf which are employed for roofing instead of thatch see sketch [drawing] but I have not get a specimen. The Chinese lock is opened by inserting the key with the T shaped end in a vertical plane; it is then pushed forward and when it has got through the thickness of the door and lock case the T shaped end is turned round thus bringing it into the horizontal plane, it is then pulled back a little so as to catch under the notches of the tumblers and these are lifted by raising the key. The method of using the key is exactly similar to the case of Norse lock except that it lifts tumblers instead of depressing the ends of a spring. The fact of no Saxon lock-cases being found with the keys would go to show that the cases were made of wood or some perishable material. I should think it more probable that they were like the Norse locks than the Chinese. I enclose a rough tracing of a scale drawing of the Chinese lock which will render its construction more intelligible.
I must apologize for such a lengthy communication, but I am very much interested in these matters and scarcely know when to stop when I once begin
I remain
yrs vy truly
J. Romilly Allen
----
L97
Cork
Ap. 17 1883
My Dear Sir
It affords me great pleasure to comply with your request.
There are quite forty different pattern spades made by Scott & Co of Cork, which are used in the Southern and Midland Counties and in various districts of Ireland. I have elected two of different shapes that will illustrate the series. All are used with 4 feet handles. The English Labourer is not afraid to bend his back. The Irishman works and leans more upon his spade and stands almost upright.
In the North of Ireland a spade is used with a straight 3 foot shaft strapped and with a wide tread, and blade varying from 15" to 16" in length and tapering from 6" to 5" These are made in Newry Coal Island & elsewhere. [Drawing]
If I can at any time be of any use to you here it will afford me much pleasure
Believe me
Yours most truly
Robert Day
Scott & Co will forward the spade and advice RD
---
L102
Hargrave R.
Kimbolton
June 21/ 83
My dear Sir
I have heard from Mr Watson that you would like to have the lock for June 28th; would you wish the bunch of springs with it? and would you like the Roman padlock which I found at the Camp at Irchester? I will also ascertain with precision ... [words illegible] the former were found.
I will, on receipt of your answer send them (per Midland) addressed by Mr Knight-Watson
Yours truly
Rob. S. Baker
----
L103
Hargrave
Kimbolton
June 25/ 83
My Dear Sir
You mistake. The lock I am going to send you is from Bedford Castle.
The enclosed paper happened to come into my hands so I sent it to you, the lock figured in it is another found at Northampton Castle. this is (I think) in the Northampton Museum
I will send you a copy of the paper to which the plate belongs when it comes out, if you will remind me
I have packed up the following articles which I dispatch today or to morrow by Rail to Knight-Watson
1. Lock from Bedford Castle
2. Bunch of springs
3. Lock from Irchester
4. Portion of another
5. 3 bronze keys from Irchester
6. a lot of iron keys from Irchester
7. key from Northampton Castle
8. Key from the Nene Valley
9. Bunch of springs picked up here
Yours truly
Rob. S. Baker
----
L159
Office of the Civil Commissioner
of Queenstown
South Africa
3rd November 1884
Sir
I hear quite accidentally that you may care to purchase a fairly good specimen of Bushman's painting that I have. I became possessed of it by chance. It was chiselled or rather wedged off a large rock at Glen Grey in Jambockieland three months ago, and is, if not unique, at least almost so, as I believe with the exception of two specimens in the British Museum, there are no other excepting on the surface of the rocks themselves in the various Bushman's Caves in this Country.
It is of course difficult to affix a value on such a thing and were I well off I wd prefer to ask to [illegible] I took an exaggerated view of its value at first, as I did not know of the two specimens in the Museum but now that I know of them I would say that £7 or £8 would not be unfair.
If you care to give not [possible misread] there it is and I will take every care to pack and have it carefully shipped to any place you may choose. The size is some 4 ft x 2 1/2 ft the weight of the stone being som e170 lbs or so, the paintings are in a fair state of preservation - and of the animals usually depicted Ostrich (very good, almost artistic) Buffalo, some antelopes &c.
A strong packing case with equally strong iron bands to hinder its giving - would be all that wd be wanted and this I of course can easily get.
I am Sir
Your obedient Servant
W.J.J. Warneford
To General Pitt-Rivers
[Copy of answer]
Rushmore
Salisbury
28 Nov. 84
Sir
In reply to your letter of the 3 Nov. I shall be happy to give £7 for the Bushman carving if you will guarentee its safe arrival in London. Have you a drawing of it?
Yours truly
A. Pitt Rivers
----
L161
Copenhagen Museum ...
9 August 1885
My dear Sir
I am very much obliged to you for the very interesting book you were so kind to send me. I have been very pleased to read it.
I am very sorry that I have not been able to give you an answer belonging the Nydam boat. When I returned to Denmark I could not go directly to Copenhagen and when I arrived I did not find Mr Stephensen who made the model of the Nydam boat in the Museum. Now this time I found him. He made not the model alone, when he made it, he only directed the fabrication; and then man who worked it under his inspection, is not alive. But Mr Stephensen thinks that he will be able to get an other, who could make a new model under his direction. But he has not found one not yet. He thinks it will cost 150-180 Kroner £9-£10. He should prefer one, who was accustomed to make models of ships and boats. As soon as I am getting better information and an hable [sic possibly misread] man has been found I shall write again.
I remain
Yours very truly
Valdemar Schmit
Lieut General Pitt Rivers Esq London
---
L1635
MacCallum Ansd Aug. 29/ 96
47 Bedford Gardens | Kensington W. | August 27/96
Dear General Fox Pitt Rivers
I am arranging an Exhibition illustrating a 1000 miles on the Nile at Graves 6 Pall Mall I am showing a few things, curios and other articles Geological artistic &c along with my own 60 pictures.
Could you possibly lend me one of three flint Bangles you had from me, and one of the flint knives?
They will be taken every care of put into a glass case and if you like they shall be insured
With kind regards to the Lady's [sic] and yourself
I am Faithfully
Your obd servant
A MacCallum
These items do not appear to be in the catalogue of the second collection, or the founding collection. This appears to be Andrew MacCallum who is probably the person associated with 4 canopic jars to the British Museum. He was a landscape and Naval painter, 1821-1902 it would appear, although another source suggests he was Andrew MacCallum who discovered a rock chamber tomb in the Temple of Abu Simbel in 1874. The knife was probably 1884.140.82. This is mentioned in page 386 and Plate XXXI of 'On the Discovery of Chert Implements in Stratified Gravel in the Nile Valley Near Thebes'. Beth Asbury, Pitt Rivers Museum, has identified that Pitt-Rivers' chert article mentions only one knife and two bracelets from McCallum (figs. 7, 8 and 14). The knife has been identified as 1884.140.82 and was found unaccessioned in the museum's stone tool store in 2005 in a box with a flint ring 'from a tomb near Koorneh', 1884.140.83

----
L1694
Ansd
Pyt House | Tisbury | Wilts | 20 Nov: 1896
Dear General,
I am sending you the Water-Pipe, which I hope will interest you.
Please excuse my not writing myself, I am just off hunting.
Yours vy truly
John Benett Stanford
p.H.E.W
This item does not appear to be recorded in the catalogue of the second collection. This is a neighbour of Pitt-Rivers John Montague Benett-Stanford (1870-1947), an army officer and traveller.
----
L1719
Henley Park | Henley-on-Thames | Oxon.
Dearest General
A happy Xmas to you and [2 words illegible] of them. We are bringing you a present of some sleigh bells for the museum I think they are cowbells but you shall decide. We arrive on the 27th & hope Willy will leave some hunting. Kattie [?] was so grateful for the loan of yr. lamps The dance was a great success and she has a children's dance on the 25th With best love from Willy and yr very aff Blossie Fox Pitt.
This appears to be written by Lily Ethel Fox-Pitt, wife of Pitt-Rivers' son William Augustus Fox-Pitt. The sleigh bells are not listed in the catalogue of the second collection.
----
L1736
Ansd Jan 25/97
Jany 22d/189 [sic] | Clouds | Salisbury |
My dear General
I do hope that you are better though fear you must be quite shut up - in all this cold weather, happily your house is deliciously warm. When I was last abroad I found some dear little models of the old Provençal fire fittings I saw them yesterday & suddenly thought they might be of some interest to you, for your museum, better than wasting their [illegible] in my cupboard. If you care for them pray accept them [insert] I should feel so proud if you do so [end insert] but, if they can be of no use send them back as they [insert] can [end insert] act as toys for various grand children! trusting that you are truly getting stronger [illegible] in this bitter weather [illegible] love to Mrs Pitt Rivers Believe me yours most sincerely
Madeline Wyndham
Jany 22 1897
A Fender
A pair of fire dogs
A shovel & a pair of tongs
Miniature of the old Provençal fire place fittings bought at Hyeres Var 1895
These do seem to be listed in the catalogue of the second collection,  Madeline Wyndham was the wife of Percy Scawe Wyndham who was a Conservative MP and owner of Clouds, a nearby property.
----
L1794
[Note in pencil, from Thompson?, he went to Cyprus 1st w in Jan 97]
Nicosia | April 20
My dear Father
It is waste of time telling you about the GReeks and Turks and Crete, as you are much better informed by the Times telegrams than we are here. At the time of writing the Greeks [insert] in Cyprus [end insert] are paying their shillings & subscribing to receive telegrams from Athens about the war. There is great excitement but no one fears any trouble. They are sending, however, 200 (!) troops from Alexandria in case of disturbances. You will have seen the Professor and know all about his plans so I need not mention them. I have just recovered from a very mild attack of Cyprus fever it is very unpleasant, and I must take better case of myself especially as the weather is getting hot.
Out here the English do not share the enthusiasm felt in England for the Greeks as they are not altogether a loveable race from an English point of view. You would not find a single Englishman in the East who would not rather fight for the Turks. I have not been here long enough to dislike them thoroughly, but I already know they are not to be trusted more especially when you hear them say that they hope to have Cyprus before long.
I propose to leave here the end of May - the latest - and I want to go with the Armenian expert to Milan to study the irrigation works of the Po river for a few days on my way home. I have found furnishing my room, buying horses and especially my garden very expensive. The garden will only begin to pay when I have to leave, as I began late - under these circumstances I want you to send me £20 more, by return if you will, to enable me to get back. I have already bought considerable amount of womans work which I will bring you, and will get you other things that will do for the Museum. I dont feel up to writing much of a letter just now but will write more if I can before the post goes on Friday yr aff L. Fox Pitt
Capital invested
Garden
2 Horses ----- £14
Garden tools, harness etc £6
Repairing well £2
Stables £1
Seed etc £1
Preliminary labour to clear garden  £6
£30
Besides 3/- a day labour = 21/- a week for 10 weeks £10.10
Furnishing room £11
£51.10
Besides all this, travelling about with Professor & a hundred & one other exs. and having exs. & servant
OVER
All this has been very expensive and I undertook to do it at the very sensible suggestion of the Professor. I have at any rate learnt how not to do things at a comparatively low cost and chiefly out of my allowance.
This is the Greco-Turkish war or Thirty Days war of 1897, between the Kingdom of Greece and the Ottoman Empire. The apparent cause was the status of the Ottoman province of Crete whose Greek majority of residents wanted Greek rule. There are no 'women's work' from Lionel from Cyprus listed in the catalogue of the second collection. None of the accounts of the displays at Farnham mention this either. If it was put on display it would probably have been in Room 1.
----
L1805
Geddes | Ansd Apr. 29/97
University College | Dundee | Mon. 26/4/97
Dear General Pitt-Rivers
Herewith I return the coat I borrowed, & which I ran off with for the north journey, as I had not time to go back to the Bishop's to pick up my own!
I have delayed sending it in order to enclose the two weapons spear-heads; I am sorry there is only one with a socket. I bought them at Nicosia & probably they came from the tombs of the neighbourhood.
We had a letter from Douglas this week, wo is evidently enjoying himself camping out and sketching, & who promised us an exhibition in Edin', so he is evidently busy. From Lionel we have nothing this mail, which doubtless indicates he is still busier!
My wife sends her kind regards to Mrs Pitt Rivers & yourself. (We have our little boy & girl again with us here. But the baby only arrives today having been in quarantine) so it is anew acquaintance to make after six months, & a great household event to which I must hasten!) Believe me
Yours vy faithfully
Pat Geddes
One of the spearheads is Add.9455vol4_p1479 /2, the other appears not to be listed in the catalogue of the second collection.
----
L1806
Hartlett [sic] | Ansd. Apr. 29/97 | H.G.
171 Stanhope Street | London | N.W. | April. 27. 97.
Dear Sir,
I have brought home with me, from Borneo a fine collection of Ethnological specimens and knowing that you are interested in these objects, I shall have much pleasure in showing them to you, or sending a list of them.
Yours faithfully
Edward Bartlett
Lt. Gen. Fox-Pitt-Rivers
-----
L1810
Bartlett | Ansd May 6/97
171 Stanhope Street | London | N.W. | April 30. 97.
To General Pitt-Rivers
Dear Sir,
I am sending you a rough list of my collection of Ethnological things from Borneo with prices to them, at the same time I may mention that I am anxious to dispose of the whole in one lot, unless you or the British Museum can take sufficient out of them to make it worth my while to break up the collection.
I have not had time to draw up a detailed list, but hope this will enable you to judge what they are; at the same time please return it to me because I have not copied it all out yet.
I have written to Mr Balfour at Oxford asking him to come and see the collection with a view to purchasing the same.
Please put an X to all those things which you would like to have.
An early reply will greatly oblige
Yours faithfully
Edward Bartlett
P.S. No doubt you will remember my name as late Curator of the Maidstone Museum before Mr James took it. *
*Frederick James, one of Pitt-Rivers' assistants. There are letters from James to Pitt-Rivers in the S&SWM PR papers.
----
L1817
Bartlett | Ansd May 12/ 97 | List returned
171 Stanhope Street | London | N.W. | May 7. 97.
To General Pitt-Rivers
Sir,
I have received your tracing of a supposed Dyak shield, allow me to say it is not Dyak but a Kyan shield it is well known that the Dyaks have plain shields in fact they dont understand the art of the decorating one.
With regard to the shields in my list no 1-5 are ornamented like the tracing you sent, but of different designs, each shield having its own ornamentation on the front & back
The rest of the shields are plain, except three which are painted in colours on the front only, with distinct designs but not Kyan patterns, these are Nos 6 a Kyan shield painted by a Dyak 11a is a Kyan shield painted by a Dyak 12 is a Dyak shield and ornamented by a Dyak.
I send tracing of Nos 88, 135, 139.
Please allow me to mention that I shall be leaving soon and wish to know what portion you wish to receive or whether the whole, therefore, an early answer will greatly oblige.
Kindly let me have list again
Wish you had sent some one to look at the things.
I am
yours faithfully
Edward Bartlett
PS the tracings are full size
----
L1835
Bartlett | Ansd May 29/97
171 Stanhope Street | London | N.W. | May 28. 97.
To General Pitt-Rivers
Dear Sir,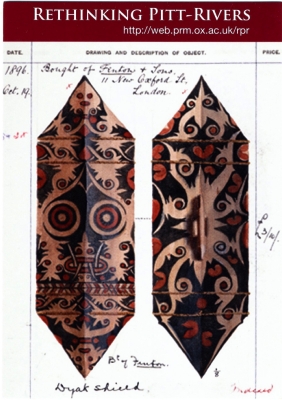 I shall be glad to know whether you have decided to retain all the Borneo things sent on approval, if so, I shall feel much obliged by a cheque for the same.
I am
yours faithfully
Edward Bartlett
----
L1839
Bartlett | Ansd June 1/97
171 Stanhope Street | London | N.W. | May 31. 97.
Dear Sir,
I'm sorry now that you consider the prices high, and that the things have been sent, because every day is a loss to me in the sale of them.
I reduced the prices of the lot in the first box from £172-10-0 to £150 for the lot; after all my trouble in collecting and bringing these things home, it is not worth the travelling expenses.
I shall now leave the price of the first lot entirely in your hands, sned me a cheque for the mot you can aford [sic] for the lot.
Yours very truly
Edward Bartlett
General Pitt Rivers
P.S. Kindly remember you have the first offer of these things
Pitt-Rivers is only known to have bought one thing from Bartlett according to the catalogue of the second collection, a wood figure for £2, see Add.9455vol5_p1619 /2. However L1839 appears to contradict this. Balfour also seems to have obtained items from the Bartlett collection for the Pitt Rivers Museum at Oxford, both directly and via Stevens Auction Rooms in 1900. The ones purchased directly from Bartlett were not obtained until 1899 but are all from Borneo (they total around 80 objects). There are also 6 items from Bartlett in the British Museum.
----
L1868
Ansd June 29/97
Atherton Grange | Wimbledon | June 27.97
Dear Sir
Before attempting to distribute, or to dispose en bloc of my newly-discovered Palaeolithic Implements from Somaliland, (from the palaeolithic city or settlement at Jalelo) which I visited this winter (having discovered it last year), I think I might to communicate [sic] with yourself, as to whether you are disposed to acquire the collection as it now stands or any portion of it. I am anxious to cover part of the expenses of an expedition. I am proposing to myself [sic] in Southern Russia, in search of some similar city of prehistoric [illegible] I enclose a cutting which you may have seen as the reporters of many of the daily papers came to see me, which I shd be much obliged if you would kindly return. The Egyptian things (which are not so perfect as the Somaliland) are I believe being acquired by Liverpool. I think there are over 2000 Somaliland palaeo. of which about 500 are perfect - the most perfect known,; and I had better say at once that I want (1) two hundred pounds for one hundred specimens which may be selected by yourself or anyone you depute, to which I would add two hundred of the second grade (flint & quartzite) if you desire (2) four hundred pounds for the lot as it now stands (packed in cases at 3 Hanover Square).
At the request of the Council of University College I am exhibiting them once more on Wed next (30th) at University Coll. Gower St. from 8 pm to 12 midnight & should be glad if you could come & see for yourself. Or if you will request Prof. Flinders Petrie (of Univ Coll) to select the ones hundred for you for the sum named I shall have them forwarded to you on Thursday and the 2nd class ones, later.
Perhaps you would let me know - well before Wed morning [insert] or by Telegraph to Flinders Petrie by Th.[end insert] as I find the packing & unpacking very laborious work.
Believe me
sincerely yours
H.W. Seton-Karr
General Pitt-Rivers
-----
L1870
Ansd by telegram July 10/97
Atherton Grange | Wimbledon | July 3.97
Dear Sir
I have just sent off to you a case containing 25 picked examples & one hammer stone. The rest of the box is filled up with 2nd class impts & flakes. The 25 are contained in 3 wood boxes in the other, & are made of different sorts of stone. I think you will be astonished at the weathering of some
------------------------- [in the original letter]
the flakes all come without exception from Marodigeh a place 20 miles south of the palaeolithic city.
All my perfect implements were found at this settlement, which lies between the wells of Jalelo, Dago, Bolgathan & Hambabeina, 85 m. from Berbera & 75 from Bulhar. I enclose some cuttings previously omitted.
It was Th. mg [apparently Thursday morning] which I rec'd your letter & the imp were already packed, but I told Prof. Petrie that I had hoped he would have been able to choose for you, but I have picked the best series I could
Your truly
H.W. Seton-Karr
Enclosed three newspaper clippings:
'The Cradle of the Human Race' Tools probably used by Adam. Mr H.W. Seton-Karr's discoveries [no date or newspaper name]
'Prehistoric Man - Hunting in Africa: Chat with Mr H.W. Seton-Karr [no date or newspaper name][2 clippings]
'Wild Beasts and Prehistoric Man' Black and White June 19 1897 page 778
[ There is also two copies of a typed version of L1870 ]
----
L1875
Karr | Ansd July 15/97
Atherton Grange | Wimbledon | July 13.97
Dear Sir
Many thanks for your telegram telling me the Implements had arrived.
Your letter has not yet reached me, but I merely write to say that I shall be happy to present you with 100 second classImplements (for yourself only) in addition to the selection series from Somaliland, because I have a great many of the former from which I picked out the best.
I am going on Fri. ev. to St Malo, but on hearing from you I shall be happy to pack & sand them to you, without any further expense to yourself the end of next week
Indeed I am glad to get rid of them I have to stimulate me to find another palaeolithic settle ment (in Persia perhaps); I hope next year to be able to send you some Egyptian axes from the E. Desert but my latest of these have all as you know been acquired by the Corporation of Liverpool. Will you let me know if, in case I am near Salisbury, I have any chance of seeing you. I came there last year to play golf.
Yours sincerely
H.W. Seton Karr
General Pitt Rivers
----
L1879
Atherton Grange | Wimbledon | July 16.97
Dear Sir
There will be a short account in the Aug. no Anth Journal, but I have not published anything more.
I shall be glad to let you have some Egyptian ones next year, if Mr Forbes will let me without interfering with his morphology, if I get any more. I played golf some where near Salisbury, but though I heard of your links I did not visit them I beg  [illegible] cheque for 50£ with thanks
I will come to Tisbury on Mon July 26th at 12-18 & bicycle over in time for lunch at 1-30 if your son will be at home & would play golf in the aft, & perhaps next morning too, & I could leave Tisbury on Tues 27th at 4-42 p.m. If they are not at home then I will come another time. I go to St Malo today for four days.
Yours sincerely
HW Seton-Karr
See Add.9455vol5_p1554 /7 and on, only 34 are listed in the catalogue of the second collection, Pitt-Rivers paid £50. The 100 second class implements are not listed in the catalogue of the second collection.
------

L2103
Seton Karr | Ansd June 28/98
Atherton Grange | Wimbledon | June 5 98
Dear General Rivers
I was in Egypt the whole of last winter, & spent the time in making an examination of the desert along the banks of the Nile northwards from Esna where the sandstone ends and the flint bearing limestone commences, I also visited the deserted emerald mine by the Red Sea for Mr Streeter.
I also discovered a new but small flint mine near the old [insert] other [end insert], and made a very rich haul chiefly of a large quantity of knives just like those from Denmark. This is I think the first time these have been found in Egypt. There were also truncheons with handles and large implements like the Pressigny ones - about 3000 in all.
There were no palaeolithis here, but as I anticipated I made great discoveries of them at Esna where people from the South would first meet with flint.
I have not yet written to anyone about these things because I did not want them separated, and Liverpool, to whom I desired to offer them first have not yet made up their minds. I am moreover [insert] I fancy [end insert] obliged not to put the new flint mine things "on the market" in such a way as to interfere with their last acquisition, & so I may keep them for a time.
I am however free to do or [sic] I like with the other things - namely my new discoveries at Esna, Thebes, Matana, Nagada, Kina, and so on, which as you know have nothing to do with my flint mines which are hundreds of miles north, & it is with reference to them that I am communicating.
You are the first to whom I am writing & if I might send you a series from the Nile from Esna, northwards, which could be illustrated with a map of the river from Cairo to Aswân (for I found some remarkable ones in the central desert E. of Aswân on my way to the emerald mines, tho not of flint), I think you would be surprised & pleased I think this collection, which is practically my winters work (except the mines) is worth about 150£, & numbers about [insert] upwards of [end insert] 250, although I have labelled & repacked but not counted them.
If this is too many I could send you a selection from each locality of some of the best for 50£ or someone could come & choose for you.
I did not get to Somaliland again but next time I shall endeavour to work in the way you explained to find some deposits which may contain remains; I was also deterred from excavating one of the pits at the flint mine of Wadi el Sheik partly by want of time and partly because I found them full of the deadly cerastes the enormous funnels found formed by drifted sand & piled up excavated material, making a trap for them.
I have this in view however. Perhaps I ought also to add that I believe Dr Forbes (Liverpool) desires to effect any good exchanges for the Liverpool Museum after the [insert] his [end insert] next Museum Bulletin is out which deals with the Flint Mine Implts which he acquired.
In case I ought not to have mentioned to you about my new flint-mine, so as not to interfere with Dr Forbes' contemplated exchanges, perhaps you would kindly consider this as confidential, because although the new mine is quite distinct yet I do not want to interfere with him, & so will not part with any for the present.
But with regard to the other parts of Egypt I am free, & it is about these I write.
With best regards
I am
yours sincerely
H.W. Seton-Karr
----
L2124
Atherton Grange | Wimbledon | June 29 98
Dear Genl. Rivers
I am very glad that you are fairly well, as you have been away & so on, & I trust you will be all the better for the change.
Please give my very best regards to Mrs Rivers & your son if at home, - the one I know
I am sending the case of implements off today.
I go to Norway on Th. of next week
I have included the only stone implts I found at the lost Emerald Mines of Zabara in Jan, namely 3 objects in micaceous schist, or talcose schist. All the implts are named as to locality. No one but Dr St... [illegible] has seen them (the latest mine implts I cannot show on account of Dr Forbes) who I think will again & [3 words illegible] 81 for 70£ I have now about 10£ worth left for I think my friend Wood
yours sin...
HW Seton-Karr
---
L2125
Atherton Grange | Wimbledon | June 29 98
Dear Genl Rivers
I omitted to say in my letter today the following is the list of Implements I have sent
From
Thebes 7
Edfu 1
Farshort 2
El Kab 5
Darawi (S of Esna no flints) 4
Kina 6
Mainfahout 1
Girget 1
Nah Hamadi 2
Nagada 2
Esna 12
Magaga 11
Emerald mines of Zabara 3
---
57
-------
L2128
Atherton Grange | Wimbledon | July 1 98
Dear General Rivers
I have sent a small series of Egyptian Implements to a Mr Newton, & asked him if he does not retain them to send them on to you if you will accept them as an addition to the others; if my winters work is well represented in your museum I shall feel that my winter has been well spent as regards the Desert
yours sinc...
HW Seton-Karr
---
L2147
[illegible] | Sundalsören | Nordmore | Norway | July 23 98
Dear General Rivers
Thank you very much for the cheque for the Implements. I hope none of the third box were broken in transit. I sent them on without repacking as I was just off.
I am going back to Somaliland in November cannot some archaeologist be sent with me?
yrs [illegible]
H.W. Seton Karr
7 items are listed in volume 9 of the CUL Catalogue as coming from Seton-Karr possibly in 1899, they may be part of this collection, the remainder are not listed in the catalogue
-----
L1877
And. Sept. 11/97
Waterloo House, Wimborne | ... Mark Barnes, Saddler & Harness Manufacturer ... | 1897 July 15
Dear General
I have taken the liberty to send you on an old Candlestick and Candle. It was found in The Oldest House in Wimborne where Matthew Prior lived, it was taken from and old Bricked up Cupboard. I have lived here 53 years - and I knew the people who lived in the House, over 60 years - one of my men has had it for 3 or 4 years given to him by the man who lives in the House now A  friend of his. Another man who works for me showed me the earthen work He got it from Weymouth. He said it was a Bed Candlestick an [sic] a Money Pot I was so pleased with my visit to your grounds I said I would send it for you to see and if any use to you you can let me know next Bank Holloday [sic] When I  hope to have the pleasure of seeing you again. If I may be allowed to speak to you Mr Harder knows me and beg to remain
your obt servant
Mark Barnes
Barnes & Mullins Celebrated Banjo Players are engaged to play I hear Barnes is my son
These items do not appear in the catalogue of the second collection
L1938
Ansd Sep 18/97 | 3/- sent for Barnes' man
Wimborne | Sep 12/97
Dear Sir
Expecting the Candlestick of Mathew Prior. That was mine and I told the General that He was welcome to it. And The General promised me He would show it. Dont you think its A Curious old bit. I wish I could get hold of more old stuff. I do I shall have great pleasure in sending it to the General if he would accept it. With regard to the Earthen stuff when I was going to track up the Candle one of my men said he had an old Earthern Candlestick His Grandfather brot from Weymouth Many years ago. I said let me have it and Ill send it along now if you think it worth while to send my man a trifle for that why do so; and he would be very glad with anything as he is poor and it was no use to him
Your obt servt
Mark Barnes
Saddler | & Corn Dealer
Any little order from to General [sic] would be highly esteemed
----
L1934
James | Ansd Sept 17/97
Maidstone | Sept 11th 1897
Dear General Pitt-Rivers,
The "agricultural" jug is for the Museum at Farnham if you will accept it. I can give no further particulars than that I acquired it for a few pence from a country woman.
I did not hear a very good account of you from a Gentleman (Mr Seton-Karr) who was in here the other day, but I hope by now you are better.
We are going ahead here. A new wing is to be built next month, of two floors each 54 ft by 23 ft, and a new house adjoining for the Curator
Yours truly
Fred. V. James
General Pitt-Rivers DCF FRS
This must be Add.9455vol7_p2117 /2
-------

L2022
James | Ansd Dec 17/97
Museum & Public Library | Maidstone | 16 Dec 1897
Dear General Pitt-Rivers
I am sending you by rail to Tisbury a little box with a horse-shoe in it of peculiar form found at Aylesford near Maidstone.
From enquiries I have made from a farmer, it would appear that its use is, as I surmised viz for a horse short in one of its forelegs. It may do for your agricultural museum as we have no department here that it will go in specially, and I detest a "curiosity" case.
Can you find time to measure that skull & [illegible]-bones I mentioned to you some time since and found by me on the site of Mr Arthur Evans Late Celtic urn field at Aylesford? It was at a depth of 4'8" beneath the surface & ought to produce valuable data in connection with his researches.
I want the results for a lecture in February next.
With compliments of the season & best wishes for your health
Yours very truly
Fred V James
None of these items are listed in the catalogue of the second collection
--------

L2050
P.O. 10/6 | sent on | Mar. 18/98
Barum House | Near Wealdstone | British Museum | 21 Feb
General Pitt Rivers
I beg to enclose for your inspection a small bronze figure found some six years since by Mr Billiotti at Ilyrus in Crete. It shows a very unusual form of restoration the head & bust being removeable from the trunk. It is not very beautiful but I consider it very early & of interest in suc a collection as your own. It is a question whether the ancients have been putting old heads on young shoulders or vice versa.
Should the bronze prove of interest to you I will dispose of it for 10/6
I beg to remain
Yours respectfully
A.P. Ready
Augustus P. Ready was the brother of William Talbot Ready who also worked at the BM and dealt in antiquities. This object does not appear in the catalogue of the second collection.
------

L2407
Forbes Ansd June 14/99
Shillingstone | Dorset | June 10th
Dear General Pitt Rivers
I sent my cart all the way to the Museum with the clock which I hope you will find interesting. I can find out nothing about it, though I had an interesting conversation with the old clerk now 84 years old, who woud it up for 50 years, & remembered deer stealing, when the deer was concealed in the church tower, also that some men, two sons of the then clerk, who were afterwards transported for burglary were concealed in the tower for several weeks. I am very sorry to hear that you are so unwell.
Yours sincerely
Julia Forbes
This item does not appear to be listed in the catalogue of the second collection
-----------
L2064
Whitehead | Ansd Apr. 14/ 98
Wyke Hall | Gillingham | Dorset | [in pencil] 7 April 98
Dear Sir
Would you like to buy an enormous Man Trap for your Museum? I know you have a small one, but nothing like mine! It belonged to my Great Uncle Thomas King who had the little discussions on Cranborne Chase with your ancestors. If you are disposed to look at the Man Trap, I should be delighted to show it to you, as well as my Pictures of more famous [illegible]. Could you and Mrs Rivers drive over one day? If you will for a time next week I will be at home. I am giving up my lease of this house to a Purchaser, and on that account, I am parting with a few cumbersome [?] things
Believe me
faithfully yrs
Mary Whitehead
7 April
----
L2071
Wyke Hall | Gillingham | Dorset | [in pencil] 15 April 98
Dear Sir
I am very sorry indeed to hear you are out of health - and I hope you will soon by quite well again. I would like you to have the Man Trap. I dont like it to go to anybodys hands and it is rather big to carry about. Its size is very much larger than yours & it has been in our family a great number of years.
The Pictures I do not part with, they are very interesting to Wilts and Dorset men. They are copies of the Originals, which more made their rooms [sic], and therefore now belong to my Brother Revd F. King Canon Jackson refers to them in a Lecture he gave on Cranborne Chase of which you no doubt have a copy If not I can lend you mine, I have another very curious old Painting of the celebrated doing at Handley on the day the Deer were killed from Sunrise to Sunset near the Larmer Tree a motley pack of dogs of all kinds pulling down a Stag. I dont care about this picture so much or "The Law Suits" Sincerely hoping you will soon be well
I remain dear Sir
Yrs very truly
Mary Whitehead
15 April
Enclosed
Mr King's "Man Trap" Highest 6 feet 5 width 2 - 9
This trap is not listed in the catalogue of the second collection, nor are the pictures.
---
L2068
April 14/98 | 5 Beaumont Crescent | West Kensington | London W
Ansd | Apr. 26/98 | Buckland
Dear Genl. Pitt-Rivers
I have just learnt that some relics which I saw two years ago, & believe to be of great interest are for sale, & knowing you are a collector I think you will pardon me for calling your attention to them.
They belonged to an old lapidary who had discovered them in a cave in the Great Orme's Head, and were described some years ago by Professor Boyd Dawkins as of Neolithic age. The owner died at Xmas, & I now hear his sister is selling or offering for sale, all the curiosities he had collected, & amongst them the necklace found with the Neolithic remains in the cave, which will probably thus pass into the hands of some dealer in curiosities, instead of finding its proper place in some national collection. The marked teeth are I think rare, if not unique in Britain, although found in French & Belgian caves.
I wrote a little paper on the subject for the Anthropological Society, which was returned to me for the reason given in the annexed letter, I sent it to you herewith as more explanatory than a letter, & if it should be to you in oft-told tale you will perhaps kindly return it to me, & pardon me for writing to you of things already known, but which seem of special interest to
yours greatly obliged
AW Buckland
---
L2076
Paper returned, Apr 28/98
April 27th 1898 | 5 Beaumont Crescent | West Kensington W.
Dear Genl Pitt-Rivers
I am sorry I cannot give you any address in Llandudno with regard to the necklace, bears teeth & horse's jaw with marks upon them, about which I wrote to you. I thought you might probably have a correspondent in the neighbourhood, or some agency employed by you in such transactions, or might know the owner of the property who allowed the old lapidary to take possession of the cave in which he had discovered the neolithic human remains, & their ornaments. The cave itself is most interesting, & the genuineness of the discovery was endorsed at the time by Boyd Dawkins, so that I trust it may not now be given over to the tender mercies of the excursionist & curiosity seeker. My informant was a lady from Llandudno who knowing I was interested in the matter called to tell me that the old lapidary, whose name I think was Kennion [insert] drick [end insert] was dead & that his sister was selling all his curios as fast as she could. He had a few good things & a lot of rubbish all which, with the cave containing some of the Neolithic remains still in their original matrix, & a Camera Obscura which he had erected in the Garden he exhibited at 2d a head
My informant said it was rumoured that the authorities of Owen's College were thinking of purchasing some of the things, but she feared that the old man's sister would accept the first good offer, not caring what became of the things so perhaps ere this they are well dispersed.
I am very sorry to hear you are invalided, but trust the ailment is transitory. I see at last there is some chance of the establishment of an Anthropological Museum & Bureau of Ethnology in London I remember that you brought forward a plan for such an institution some years ago, & trust now your scheme may be adopted I was glad to see that Mr Rudler had been elected President of the Anthropological Institute, but I have not seen him, as I am not able now to attend the coming meetings. I should like my little paper back some day, at your convenience.
Yours very truly
AW Buckland
This item does not appear in the catalogue of the second collection. These necklace teeth might be those shown herewhich are now in the National Museum of Wales and were found by Thomas Kendrick in the so-called Kendrick's Cave, he was a stone mason. See also here.
The correspondent is Anne Walbank Buckland whose items are part of the founding collection and may therefore have known Pitt-Rivers before 1880.
---
* S&SWM PR papers holds earlier letters from Selous which have not been transcribed, the first asked for Pitt-Rivers opinion on some tools acquired by Selous, the second and following letters start to discuss selling part of his collection to Pitt-Rivers. Edmund Selous (1857-1934) was a British ornithologist and writer and younger brother of big-game hunter Frederick Selous. See here for wikipedia entry. These items are not listed in the catalogue of the second collection.
L2153
July 25th 1898 | Wamil Hall | Mildenhall | Suffolk
Dear Sir
I am sending you today by goods train 50 specimens of stone implements. On re-reading your letter * I see that you say about 20 but as I have packed them & do not think that number would give a fair idea of the collection I am letting them go. - with three pieces of bone found with some of the stones included in case they should be of interest. The gravel-pits near the [1 word illegible] belong I believe to the "drift" formation. I have besides another hundred palaeolithic & fifty neolithic specimens (my own classification) & some more bones found in same formation with former Just a few amongst these may be doubtful most of the palaeolithics are rude - some so rudes as to be interesting, to my mind, on that account. Also 3 good specimens of forgeries (as I suppose) should these interest you.
Every specimen I am sending is wrapped up separately in paper together with ticket giving locality &c. Each ticket is numbered are [sic] also the stones themselves. I also enclose a list of the numbers. £20 is the price that I thought of asking for the collection.
Yours very truly
Edmund Selous
General Pitt Rivers | Rushmore | Salisbury
----
L2178
Cheque £20 sent on Aug 16/98
August 12th 1898 | Wamil Hall | Mildenhall | Suffolk
Dear Sir
Not having yet heard from you with regard to the flints which I sent you on the 25th of July last, I write to ask if you have received them in safety & if you would care to take them - since if not I shall be glad to have them again
yours truly
Edmund Selous
General A Pitt Rivers
Rushmore
Salisbury
The list of numbers is attached in the S&SWM PR papers, but has not been transcribed
------

L2200
September 6th 1898 | Longford House | Gloucester
Dear Sir
In reply to your last letter I have looked through all the flints I have left but there are none worth sending you as picked specimens, I am sorry to say, all the pick having been comprised in those I sent you. I reckoned the quantity together with the quality. Since you are so good as to give me the price I asked for both together for the latter only I can only hope it may contain something of great interest to you
Yours faithfully
Edmund Selous
General A Pitt Rivers
Rushmore
Salisbury
----
L2236
Memorandum | Arthur Conyers | Blandford [business address]
Oct'r 7 1898
To: General Pitt Rivers
Sir
I am taking the liberty to send you a pice [sic] of wood which has been dug up whilst making the new line at Blandford it is very much like a horse foot and I thought it might interest you.
I Remain
Your Obed Servant
AConyers
Reply [different hand]
General Pitt Rivers begs to thank Mr Conyers for the piece of wood in form of horse's foot found at Blandford
This item is not listed in the catalogue of the second collection.
Fielding ans'd
107 Queens Gate
My dear Pitt Rivers
Although I believe you have given away your great collection of antiquities I hear that you still buy and I have some which I want to sell & if you don't care to buy them you may perhaps like to see them as I believe they are not to be beat in their way. They are chiefly old glass which were found in a tomb at Malta whilst I was there. Altogether there were over 60 articles in the same tomb, mostly terra cotta urns full of bones, but amongst them 2 of the finest glass bottles I have ever seen. There is nothing like them in the Brit: Museum or in the Museum at Naples. I gave £30 for the lot and am willing to take same sum. They are quite thrown away with me and I want the room. I have also some pretty glass from Halicaruapus which I will throw in with the rest. Should you care to see them it would be best to let me know when you will call although I am generally at home in the forenoon.
Believe me yrs very truly
P. Fielding
There is one item in the catalogue of the second collection which is related to Percy Fielding, but not this collection of glassware. Given the uncertainty about dates, this collection does not also not form part of the founding collection.
---
L2550
Dear General Pitt Rivers
Mr Wareham called today, & he examined all my bric a brac, & he said that all the China including the tiles would be wellworth 25 guineas. And that a purchaser would have to give more if he bought them out of a shop. I write to ask you whether you would give me 25 guineas & let me convey the whole of the china & tiles to your house in Grosvenor Gardens. You will be sorry to hear that my dear father aged 86 had a [illegible] stroke Saturday & is not expected to live
I am so thankful to be with him. I havse been nowhere since Saturday, though my nurse is part of Lady Salisbury's party. I sent my [illegible] & neice Edith Piggott
Yrs sincerely
Isabel Burton
23 Dorset St | Portman Sq | July 29
This letter must date after the death of Richard Francis Burton in October 1891, Isabel Burton disposed of his collection and manuscripts. Pitt-Rivers did not buy the china or tiles, or at least they are not listed in the catalogue of the second collection under Richard Burton or Isabel Burton's names.
--------
P122
... South Kensington Museum, London, S.W. | 8th day of August 1879
Machy No 4043 / 79
South Kensington Museum
Sir,
I am directed to transmit for your information the enclosed copy of a letter which has been received at this Office from Messrs Ransomes, Sims, & Head, stating that a model may be made of the plough exhibited by them in the South Kensington Museum.
I am,
Sir,
Your obedient servant,
A.J.R. Trundell
Major General Lane Fox | 19 Penywern Road | S.W.
Copy
Ipswich | August 1879
Messrs Ransomes Sims & Head present their compliments to Major General Lane Fox and they have much pleasure in giving their permission for a model to be made of their Egyptian and Java plough, now in the South Kensington Museum, for exhibition in the Anthropological collection
Science and Art Department | South Kensington | London A.E.R
These models [?] do not appear in the catalogue of either collection [founding or second], they may have been removed from the founding collection in 1885 when the other agricultural objects were removed but not listed in the catalogue of the second collection.
---
S&SWM PR papers P143a
Memorandum
Wimborne Jany 10th 1893 | F. King | Bicycle, ... and Domestic Machinery manufacturer and agent ...
General Pitt Rivers
Dr Sir,
Knowing you are enlarging your Museum by adding a Cycle Department & I  having been in the trade for many years have during that time collected a number of Machines of various patterns & types _ I have them at my Factory at Wimborne in the Stores, they are all for Sale and no doubt I could meet your price by taking the lot
I am Sir
Your obet st
F. King
----
Ansd Sept 11 / 95 and Sept 18/ 95
Memorandum
From Osborn Collins | Maker of the 'Little Wonder' & 'Osborn' cycles, Serpentine Road, Poole ...
29th August 1895 | To General Pitt Rivers | Rushmore | Salisbury
Dear Sir
Referring to my last visit to Larmer Tree when you asked me to obtain any old Bicycles I could for you I am happy to inform you I have obtained two one was made in about 1868 & the other in the early seventies. As one is without a back wheel I am fitting one dated about 1874 I also have a piece of rubber tyre probably the first that was made, as it was constructed to the design of Mr Tarrant of this Town, to go on the wooden wheel that was then used date 1869. The two machines are presented to you by Mr Tarrant Shall I send them direct to Larmer Tree? Trusting you have secured others of different dates
I remain
Yours respectfully
Osborn Collins
----
Memorandum
From Osborn Collins | Maker of the 'Little Wonder' & 'Osborn' cycles, Serpentine Road, Poole ...
19 Sep 1895 | To General Pitt Rivers | Rushmore | Salisbury
Sir
I regret having delayed sending machines but have been so very busy, however I am sending them tomorrow by train to Tisbury & trust they will reach you in good condition
I am Sir
Yours obediently
Osborn Collins
-----
Memorandum
From Osborn Collins | Maker of the 'Little Wonder' & 'Osborn' cycles, Serpentine Road, Poole ...
20 Septr 1895 | To General Pitt Rivers | Rushmore | Salisbury
Dear Sir
I beg to inform you I sent of [sic] bicycles to day addressed to Tisbury Station & trust you have received the same safely
Yours truly
O Collins
There do not appear to be any bicycles from the first donor in the catalogue of the second collection. The cycles from Mr Collins are Add.9455vol3_p1226 /1-2
AP, May 2011.