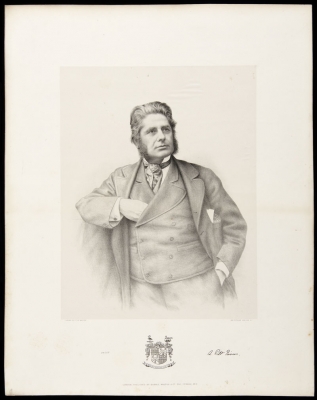 1880 was a year of great change for Pitt-Rivers. He inherited a great estate and a large annual income from his great-uncle which meant transferring his main residence from London to Rushmore, on the Dorset / Wiltshire border. In addition, his active army career had ended.
However, his archaeological career probably reached its zenith in this decade with many excavations on his own estates on Cranborne Chase as well as several key publications.
So far as his collection was concerned things were also changing. By the early 1880s he was in search of an alternative museum to put his collection on public display, this would culminate in 1884 with a legal agreement with the University of Oxford to donate his collection there. By 1885 the links to his first collection had effectively been severed but he was well on the way to accumulating a second, large private collection. This webpage looks at this momentous decade in more detail.
His life in the 1880s
By May 1880 Lane Fox had been given permission by Queen Victoria to change his name to Pitt-Rivers. This marked the change is his life and fortune. He celebrated this with his only private journey outside Europe, a Cook's Tour to Egypt in February and March of 1881. Two months later he was made a member of the Athenaeum which may have been another marker of his change of fortune. The Athenaeum encouraged wide-ranging intellectual debate between its members, fostered by its rule that members should not dine alone. (Anne Anderson, pers. comm.) 1880 and 1881 marked years when Pitt-Rivers was very active in the Anthropological Institute, serving as President in 1881-2. He also attended several British Association for the Advancement of Science meetings during the 1880s including York in 1881, Manchester in 1887 and Bath in 1888 where he was President of the Anthropological Section.
Pitt-Rivers' fairly frequent annual summer holidays to German speaking countries in Europe (including Switzerland, Austro-Hungary and Germany itself) commence in 1882. These may have been combined with visits to spas for his health, he seems to have suffered from diabetes from the early 1880s.
In October 1882 he was put on retirement pay from the British Army with the honorary rank of Lieutenant-General. This will have enabled him to take up roles like the Inspector of Ancient Monuments, first discussed by John Lubbock with him in October 1882 and invited to take the post a month later. By 1883 he has undertaken his first Inspector's Tour in Scotland. He also undertook other Establishment roles, serving as Sheriff for Dorsetshire from November 1882, and again in 1883.
On 30 June 1886 he was awarded the D.C.L. by the University of Oxford at Encaenia. In 1888 he unsuccessfully stood as a county councillor, as an Independent.
His archaeological work
His archaeological work during the 1880s was dominated by his excavations on his own estates, which he illustrated with a series of large publications, bound in his characteristic blue and gold bindings (blue and gold were his colours, as remarked on by the Petries). Amongst the earliest excavations on the estate was one with George Rolleston, his friend and Linacre Professor of Anatomy and Physiology at the University of Oxford (who may have been the deciding factor in Pitt-Rivers deciding on Oxford as the eventual home for his founding collection). Unfortunately Rolleston died in 1881. In 1881 he carried out some small-scale surface archaeology in Egypt during his Cook's Tour.
The first of his private published books, Primitive Locks and Keys was published in 1883. In 1883 and again in the summers of 1884 and 1885 he travelled to Scotland as part of his duties as Inspector of Ancient Monuments, in 1886 he travelled to Wales. In 1887 his first volume about the Cranborne Chase excavations is published, a year later his second volume was also published.
His collections in the 1880s
The early 1880s are marked by a large number of additional items being added to the displays at South Kensington Museum. However, Pitt-Rivers' relations with the Museum were not good and by May 1882 he had commenced negotiations with the University of Oxford authorities to transfer the collection there. In March 1884 Pitt-Rivers signs the Deed of Gift to the University. It takes a further year to get the transfer of artefacts finally underway and for the remainder of the decade the founding collection is effectively out-of-bounds both for the public and for Pitt-Rivers (much to his disgust) while new displays are formulated in Oxford. He donated over 23,000 archaeological and ethnographic objects to the University of Oxford: [1] to recognize this the University Museum carved 'Pitt Rivers Collection' over the door to the new extension purpose-built to house his collection.
For an unknown reason, Pitt-Rivers decided almost immediately after 1880 to acquire a second large collection which would remain in the Pitt-Rivers family's hands until the 1960s. This collection was housed in his private home at Rushmore and also in a private museum for the public at Farnham Dorset.
During the 1880s Pitt-Rivers acquired over 10,000 objects for his collections, less than 2000 of which were included in the founding collection.
His publication during the 1880s
Pitt-Rivers, A.H.L.F. 1880/ 1883 'Excavations at Caesar's Camp, near Folkestone conducted in 1878.' Archaeologia 47 [1883] pp. 429-65
Pitt-Rivers, A.H.L.F. 1881 'On the discovery of chert implements in stratified gravel in the Nile Valley near Thebes' Journal of the Anthropological Institute 11 [1881] p. 693
Pitt-Rivers, A.H.L.F. 1881 'Report on the excavation of the earthwork known as Ambresbury Banks Epping Forest'.Transactions of the Epping Forest and County Essex Natural Field Club 2 [1881] 55-68 also Report: British Association for the Advancement of Science [1881] 697
Pitt-Rivers, A.H.L.F. 1881 'On excavations in the Earthwork called Dane's Dyke at Flamborough in October 1879 and on the Earthworks of the Yorkshire Wolds'. Journal of the Anthropological Institute 11 [1882] pp. 455-470 and Report: British Association for the Advancement of Science [1881] p. 690
Pitt-Rivers, A.H.L.F. 1882 'Anniversary Address to the Anthropological Institute as President' Journal of the Anthropological Institute 11 [1882] pp. 488-508
Pitt-Rivers, A.H.L.F. '1883 On the Egyptian boomerang and its affinities' Journal of the Anthropological Institute 12 [1883] pp. 454-463
Pitt-Rivers, A.H.L.F. 1883 'Address to the Antiquarian section of the Annual Meeting of the Archaeological Institute held at Lewes' Archaeological Journal 41 [1883] pp. 58-78
Pitt-Rivers, A.H.L.F. 1883. On the development and distribution of primitive locks and keys: illustrated by specimens in the Pitt Rivers Collection. Chatto and Windus London UK
Pitt-Rivers, A.H.L.F. 1884 [a] Address delivered at the Opening of the Dorset County Museum, Dorchester January 7 1884. J Foster Dorchester, UK
Pitt-Rivers, A.H.L.F. 1884 [b] Report on excavations in the Pen Pits near Penselwood, Somerset. London Privately printed
Pitt-Rivers, A.H.L.F. 1884 'Address delivered at the Annual Meeting of the Dorchester School of Art, February 1884'Dorset Chronicle, February 7 1884 (pagination unknown)
Pitt-Rivers, A.H.L.F. 1887. Excavations in Cranborne Chase near Rushmore on the borders of Dorset and Wiltshire vol I Rushmore privately printed
Pitt-Rivers, A.H.L.F. 1887 'Inaugural Address at the annual meeting of the Archaeological Institution held at Salisbury':Archaeological Journal 44 pp. 261-277
Pitt-Rivers, A.H.L.F. 1888. Excavations in Barrows near Rushmore. Excavations in the Romano-British village Rotherly. Excavations in Cranborne Chase vol II Rushmore Privately printed
Pitt-Rivers, A.H.L.F. 1888. 'Address as President of the Anthropological Section of the British Association, Bath, September 6, 1888' Report of the British Association for the Advancement of Science (1888) pp. 825-835
Pitt-Rivers, A.H.L.F. 1889 'Discussion of Govr Moloney's 'Exhibition of Bow from Yoruba' Journal of the Anthropological Institute 19 [1889] pp. 214-5
Pitt-Rivers, A.H.L.F. 1889 'Remarks on the paper 'On the Structure and Affinities of the Composite Bow' by Henry Balfour' Journal of the Anthropological Institute 19 [1889] pp. 246-50
AP, April 2011; revised February 2013
Notes
[1] 22830 as at February 2013