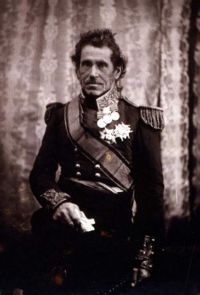 Mark Bowden
I have always thought that Augustus Henry Lane Fox Pitt-Rivers' [APR] military career is virtually irrelevant to his archaeology and ethnography, except in the relatively trivial matter of his postings to various places giving rise to particular bouts of fieldwork or collecting.  The fact that he, a soldier, took up such scientific interests is of no surprise.  The army which he joined in the 1840s was one in which the ideal of the gentleman amateur was aimed at for all officers – they were certainly to take no more than an amateur interest in military affairs but they were by all means to pursue their interests in geology, botany, butterfly collecting, etc.  In fact the question that perhaps should be asked about APR and his ethnographic and archaeological work is what took him so long?
He joined the Grenadier Guards (the Lane Fox family regiment, as it were) in 1845 but it was not until 6 years later that he began his first collection, and he began it with objects that were directly related to his military activities – firearms (though admittedly he immediately branched out into other areas, notably locks and keys).  Perhaps APR joined the Grenadiers not because it was one of the few careers open to the younger son of a cadet branch of a landed family but because he was genuinely interested in the military life; it is known that he cherished his father's letters from the Peninsula (do those letters still exist, I wonder?) and that he continued to collect items of military interest throughout his life.
This would explain his membership of the Committee set up to experiment and report on the most appropriate rifle to be adopted by the army.  Perhaps Studholme Brownrigg couldn't find anyone else prepared to work with him on this decidedly technical military topic.
The course of APR's military career was thereafter set on musketry instruction, in which he became one of the foremost exponents of his generation.  It was as a musketry instructor, for the Brigade of Guards, that he went to the Crimea in 1854.  However, once there he changed tack, gaining an appointment to the staff that would take him closer to the scene of action.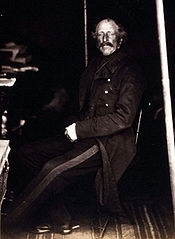 Tony Richardson's excellent 1969 film The Charge of the Light Brigade depicts with clarity and absolute truth the senile incompetence of senior commanders of the British army in the Crimea.  What it does not show is that there were a very few senior officers of experience, talent and ability.
It was APR's luck (perhaps with an element of judgement) to be under the command of two of them: Sir George de Lacy Evans, commander of 2nd Division, on whose staff he served at the Battle of the Alma as DA Quartermaster General, an intelligent, active man and for many years a radical MP (and, like APR's father, a Peninsula veteran); and Sir John Pennefather (of whom more in a minute).
After the brief but extremely bloody, unpleasant, unhealthy and dangerous interlude of the Crimea the remainder of APR's military service was spent in further rifle training and administrative posts (not that these were without their own trials, figurative and literal, especially when he took part in the repression of the Fenians in southern Ireland in the 1860s).  It was there, of course, that he undertook his first 'archaeological' fieldwork but it was also there that he began to write his series of lectures on 'Primitive Warfare'.
He finally took retirement from active military life in 1882, citing ill health but probably also because of his new responsibilities as a major landowner.
What kind of soldier had he been? Rather a good one, I think.  De Lacy Evans, who was no fool, called him an 'extremely zealous, hard working and meritorious young officer' (though the fact that he mentioned APR in despatches means little: there was a fixed pattern about which officers were mentioned in despatches – battalion commanders, staff officers and virtually no one else).
Sir John Pennefather was a brigade commander in the 2nd Division at the Alma and later APR's commanding officer at Malta.  He was a soldier's soldier, I think – pugnacious, aggressive, very able – the sort of person you would far rather have on your side than against you in a fight.  He later (1855) wrote to APR in the following terms:
'If my opinion of your bearing in the Field before the Enemy, which was always cool & forward and effective, or your diligence, zeal & intelligence as a Staff Officer can ever serve you, I am bound to give it in the strongest terms.  If I were going on any hard work in war tomorrow, I know no man I would sooner have at my side than yourself'
These are strong words and Pennefather was no vapid politician, making flattering speeches to all and sundry; I think we have to accept that he meant precisely what he said.
APR may have been a beneficiary of his father's own military career more than once. While working on this I discovered that the Quartermaster General of the Forces from 1851 to 1855 was Sir James Freeth, who was not only another Peninsula veteran but had served in the same regiment as ALFPR's father, the 98th (North Staffordshire) Foot - so that is probably how APR got that appointment.
It may be time to re-assess the contribution of his military experience to the 'scientific' side of APR's life. The Quartermaster General's department was responsible for the supply of equipment and munitions to the various formations of the army; experience in organisation and handling of large quantities of material may well have stood APR in good stead in his later career, especially on the committees of learned societies and in controlling museum collections. Another set of skills required of all officers was military sketching – the production of hand-drawn maps and perspective pictures of areas or routes, produced in the field to assist tactical manoeuvres or administrative requirements; a development of the military sketch, especially used in training, was the 3-dimensional terrain model. The relevance of this to APR's fieldwork and museum displays is clear. Furthermore, his experience of military law in southern Ireland in the 1860s had a bearing on his later thoughts about the recording of archaeological excavations. Most important, perhaps, is APR's early work in rifle testing and subsequent demonstration and instruction in the use of rifles; that early experience seems to have had a direct bearing on his first collection and may therefore be said to have been seminal to the whole of his collecting activities.
Mark Bowden, March 2011 (based upon his talk to the Rethinking Pitt-Rivers workshop 25 March 2011)
Mark was very grateful to the workshop contributors for their comments and the discussion on 25 March which have fed into this page. We are very grateful to Mark for allowing us to publish this talk. We are hopeful that Mark and another workshop contributor (Christopher Evans) might write a joint paper about Pitt-Rivers' military career, we look forward to reading it.
Bibliography for this article
Bowden, Mark 1991. Pitt Rivers: The Life and Archaeological Work of Lieutenant-General Augustus Henry Lane Fox Pitt Rivers, Cambridge: Cambridge University Press.
Thompson, M.W. 1977. General Pitt Rivers: Evolution and Archaeology in the Nineteenth Century Bradford-on-Avon: Moonraker Press.
http://en.wikipedia.org/wiki/John_Lysaght_Pennefather
http://en.wikipedia.org/wiki/De_Lacy_Evans
http://en.wikipedia.org/wiki/James_Freeth
Links to the Dictionary of National Biography entries for the above people are provided above.
Addendum
Carl Slater [1979] has argued that the system under which Pitt-Rivers joined the British Army, and moved up the ranks, that is, that of rank purchase, ensured that the British Army was run by aristocratic senior officers.
By the nineteenth century, the purchase system had established itself as the most common means of promotion within the army, applying to about seventy-five per cent of all men appointed to fill commissions. Despite the implications of its title, purchase was not simply a matter of buying and selling commissions in an open market. A definite scheme of qualification and advancement did exist, even if only theoretically. It was intended to exert some form of regulation upon the distribution of commissions to ensure at least a minimum of professional competence among purchase officers. Applicants for the initial appointments of cornet and ensign as well as for the subsequent advancement to captain (following suitable service in the intermediate rank of lieutenant) were required to pass written examinations. Promotions to captaincies and majorities were also contingent upon a prescribed number of years' service within the respective subordinate ranks of lieutenant and captain.(9) Purchase, finally, followed the orderly progression of rank and applied initially to only the senior officers within each rank. If such an officer proved unable to meet the expense of promotion, the option for advancement by purchase passed to the next in line according to seniority within the respective rank. If none of the officers within this rank could meet the purchase price, the promotion went to a suitable applicant from another regiment who could afford the advancement. Upon an officer's retirement (even a non-purchase officer if he had served for at least twenty years), he sold his commission, theoretically receiving in return a sum of money equivalent to the amount he had invested in the purchase of his promotions based upon the prices established by official regulations.
The purchase system was restricted to regiments of the infantry and cavalry of the line and to the guards. Ideally open to all aspirants — though naturally not all could meet its heavy financial requirements — the purchase system provided a modified form of advancement through seniority as well as ability to pay. It was non-existent in the ordnance corps and in the Indian army, where promotion was based upon strict seniority. Nor was it the sole means of advancement in the regular army, since a vacancy created by a death in an upper regimental rank brought the normal rule of seniority into play and enabled everyone in the subordinate ranks within that regiment to advance a step. Purchase applied only to regimental advancement and stopped at the rank of lieutenant-colonel. Promotion beyond this position to the ranks of colonel and general officer was based exclusively upon seniority.
He also argues that this system made military revolt much less likely as the rich had nothing to gain and everything to lose from a mutiny:
For all of its flaws and abuses — and there were many — the purchase system nevertheless endured for approximately two centuries. This can only be explained by the fact that it gave the country what it wanted — a cheaply financed officer corps that in no way threatened the established order, mainly because the social background of the officers themselves generally comprised a principal prop to that order. Because most commissions were purchasable and salaries were so outrageously low, it was fairly obvious that only men of independent means could actually afford a career in the army. Provision was made to some extent for indigent but talented individuals, but, for the most part, the English did not desire to see command of the military devolve upon a body of mercenaries. It was far more preferable, both economically and politically, to draw the officers from that part of society most concerned with the preservation of its order and stability, the wealthy and landed classes.'
Slater, Carl G. 1979. 'The problem of purchase abolition in the British Army 1856-1862' Military History Journal [The South African Military History Society], 4 (6) no pagination. Accessed at http://samilitaryhistory.org/vol046cs.html]
AP September 2011