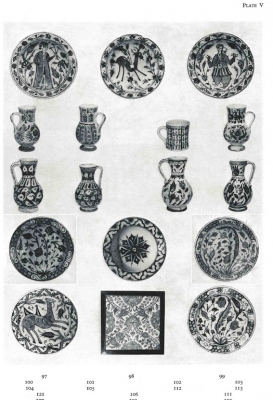 Objects that are said to be part of Pitt-Rivers' second collection, but cannot be found in the catalogue held by Cambridge University Library
Part II
See here for Part I of this article.
Articles said to be from the Pitt-Rivers' second collection (or his private collection)
We know that there are many possessions of Pitt-Rivers which are not listed as part of the founding collection or of his second collection, most notably most of his art collection (particularly that inherited in 1880), his objects d'art used to decorate his houses and other fine art and ceramic pieces. A Sotheby's sale on 23 February 1976 listed many such ceramic pieces, from page 14 there is list of 11 'Isnik pottery' pieces, shown here in an illustration from Plate V of that catalogue. NB the items marked 97-107 are the ones that were sold by Stella Pitt-Rivers. The same sale catalogue lists many Egyptian antiquities collected by Flinders Petrie from Ballas, ancient glass from Cyprus and Palestine / Israel, and Greek, Roman and Etruscan antiquities not all of which can be matched precisely to entries in the second catalogue).
Another sale selling similarly unlisted material put up for auction by Stella Pitt-Rivers was held by Sotheby's on 12 April 1976. Here there were 3 Iranian glass vessels put up for sale (see illustration) which were all purchased by Pitt-Rivers as they were said to have been acquired in 1882.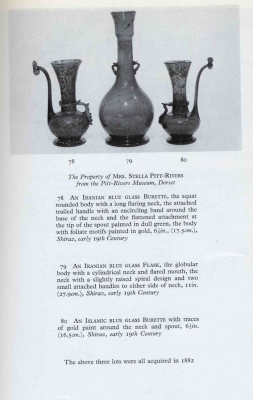 An item sold at the Sotheby's, London sale on 15 July 1975, described as being the property of Stella Pitt-Rivers from the Pitt-Rivers Museum, Farnham: 'Lot 51 An American Indian hide and beadwork Money-Bag of rounded pouch like form, decorated with red, green, white and blue floral and foliate beadwork and with a simple hide draw-string 6 3/4 in (17 cm) Eastern Woodlands ...' cannot be matched to items listed in the catalogue of the second collection. Unfortunately it is not illustrated in the Sotheby's catalogue. On pages 21 of the same sale catalogue [Sotheby's 15 July 1975] there are a North American 'Indian' pipe-bag, ceramic pipe, and saddlebag which are also not listed in the catalogue of the second collection but appear to be attributed to Pitt-Rivers by Sotheby's as the bird-harpoon on the same page is in the second collection. [Add.9455vol3_p1235 /1] The page is shown here in case anyone can recognize the items.
In the same Sotheby's catalogue there are many other items which cannot be matched to entries in the catalogue of the second collection. These include: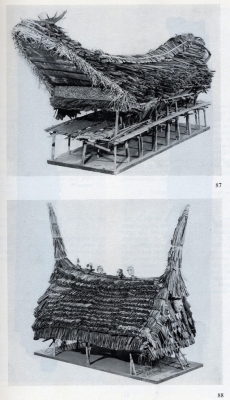 Lot 63 A Fiji Islands Wood bowl, of semi-spherical form, with slightly overhanging rim and with a pierced rounded lug to either side 13 in (33 cm) (slightly damaged) Formerly in the Savage collection.
and Lot 76 A Fiji Islands wood kava bowl (tanoa) of slender boat-like form, pointed at either end and with a roughly rectangular lug on the underside pierced twice for suspension  Formerly in the Savage collection. [There are no items from Fiji in the Savage Collection listed in the catalogue]
One of the following:  'Lot 74 A large Fijian wood kava bowl, of circular form, supported on four tapering cylindrical legs and with a lug in the form of a stylized animal's head on the underside, pierced for a fibre attachment (now missing) 28 3/4 in (73.5 cm) by 8 in (20 cm) (damaged) Formerly in the Wharton collection OR 86 A Fiji Islands wood kava bowl (tanoa) of typical shallow rounded form, slightly pointed at either end, supported on four cylindrical feet with a pierced lug on the underside and with traces of the original contents remaining on the inside 3 1/2 in (9 cm) (47.5 cm) long Formerly in the Wharton collection [the latter seems more likely to be matched to Add.9455vol8_p2097 /4 by size which means that there seems to be no match to the first entry]
Lot 87 A Sepik River wood, palm spathe and cane model native clubhouse (Ngove), the low squat house supported on a rectangular base by twenty seven stilts, the floor in the form of lengths of split bamboo, the roof in the form of lashed palm fronds and with the underside of each upward curving end covered with palm spathe and decorated with white and ochre painted stylized human figure, geometric and scroll motifs 105 1/4 in )267 cm) long by 28 in (71 cm) wide by 39 in (99 cm) high [see copy of photograph on this page]
Lot 88 A Sepik River wood, palm spathe and cane model native clubhouse (Ngove) the long 'A' shaped house supported above the rectangular base by nine wood stilts, with an upward pointing conical projection at the apex at either end, the top ridge decorated with four modelled clay stylised human heads with shell inset eyes, with an oval-shaped wood stylised human face with white painted scroll decoration at either end and with a ladder to the entrance at one end, 49 1/2 in (126 cm) long by 24 3/4 in (63 cm) by 51 1/4 in (130 cm) high [see copy of photograph on this page]
Lot 224 A West African copper and hide drum, of semi-spherical form, with a hide covering secured in place with hide bindings that gather together around the base and with copper pegs securing the hide around the rim 13 1/4 in (33.5 cm) by 23 1/2 in (59.9 cm) and Lot 225 Another similar but without any copper pegs securing the hide in place 9 3/4 in (25 cm) by 15 in (38 cm) [There is only one African drum listed in the catalogue [Add.9455vol9_p2353 /10] and that has no illustration or detail to be matched to these entries, one of them at least is therefore unmatched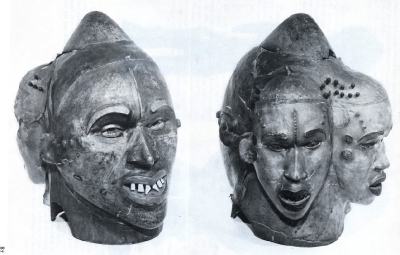 'Lot 238 An Ekoi wood and skin helmet mask, in the form of a wood structure with skin stretched tautly across it and secured in place with wood pegs, one side in the form of a grotesque large male human head, the skin darkened, with a ridge down the forehead, three raised bosses to either side of the pierced eyes, with semi-circular lug ears, the grinning mouth slightly open and with pointed bone inset teeth, the other side of the mask in the form of two smaller female human heads, each face lighter in shade than the male face, with raised darkened areas representing cicatrisation marks on the foreheads and besides the eyes, with protruding darkened lips and metal inset teeth representing the coiffure (only a few remaining) the whole surmounted by a conical projection, originally with wood peg insets 18 in (46 cm).
Lot 240 A Warega ivory human figure of highly stylized form, standing with arms pendent, with a protruding stomach, the slightly concave face with the features crudely portrayed and with circle-dot decoration on the face, the back and the sides of the stomach 8 in (20 cm)
The second of the Fijian bowls above (lot 76) appears to match an image on Add.9455vol1_p69, the right hand top coloured drawing. This is probably the right object (which means it was part of the second collection), but it also means that the reference to Savage is wrong, and the item was actually collected by Arthur Charles Hamilton Gordon and donated on 25 August 1882. The same is probably true for the first mentioned item too. This mis-recording of data in the sales catalogues makes matching sale catalogue lots to the second collection catalogue very difficult, if not impossible, when the lot is not photographed. The absence of matches for the model houses suggests that display material of this kind (models made to illustrate objects too large to collect or display) might not have been considered objects per se and not been catalogued.
Items sold at the Sotheby's, London sale on 13 December 1977 can also not be matched positively to entries in the catalogue of the second collection:
Lot 271 An American Indian Tunic, predominantly white, pale blue panels on the front and back and decorated with applied geometric panels in dark blue and tan army felt 35 1/2 in (90 cm)
'Lot 320 A Maori kauri gum Human Head, naturalistically modelled with strongly pronounced features, a small zone of incised tattoo (moko) beneath the protruding lips, the face rubbed with ochre and the features and coiffure coloured black, 14 1/4 in (36 cm) (the base of the neck slightly repaired) Formerly in the collection of Colonel Knollys [Note that there are other kauri gum heads in the second collection, but not said to come from this source]
The Sotheby's sale on 27 February 1978 contained items put up for sale by Stella Pitt-Rivers which also cannot be matched to entries in the catalogue held by Cambridge University Library:
Lot 60 A Solomon Islands wood staff, covered with black pigment, carved with a stylized frigate bird at the top, both sides of the bird inset with serrated-edged mother-o'-pearl plaquettes 30 1/4 in (77 cm) and a New Guinea bamboo staff, of slender form, surmounted by an elongated stylized figure, with incised linear and dentate decoration 34 5/8 in (88 cm)
'Lot 69. A Caroline Islands belt, composed of small circular coconut shell discs strung together into broad bands with woven fibre cord and with straight wood spacers, alternating dark and light brown 48 ins (122 cm) ... The first piece with an old label reading "Waistbelt from Hogilus Islands, Caroline Group. Made of coconut shells and fibre. Stained with tyke' Obtained from Mrs H.S Carr, 31st March 1884.'
There are no items that mention Mrs H.S. Carr in the catalogue and this item does not match any entries by description. The item must have been owned by Pitt-Rivers as it was obtained long before his death if the attribution is correct, but it is not clear why it was not entered in the catalogue of the second collection. From the same sale there other unmatchable items
Lot 74 A Sepik River wood woomera, of long slender form, with a broad flattened triangular panel in the centre, decorated with incised scrolling and with a stylized figure at one end, the whole with red and white pigment 37 1/2 in (95 cm) and Lot 75 A Sepik River wood woomera, of similar form to the Lot above, the socket end in the form of a stylized head with red, white, and yellow pigment 39 5/8 in (100.5 cm)
Lot 80 A Trobriand Islands wood drum, of almost cylindrical form, tapering slightly towards the middle, with incised decoration around the drum and on the ridges which extend to either side of the loop handle 38 1/4 in (97 cm)(with an old native repair to a split on the side) Formerly in the Bryce Wright Collection
Lot 108 ... a pair of Zulu (?) ostrich eggs, 5 3/4 in (14.5 cm) each approximately (one repaired)
Lot 110 An Ibo wood mask, of massive form, with pierced slit eyes, cicatrisation marks on the cheek, protruding mouth and nose and with a pair of monkeys holding a bowl on the top of the head, one seated on either side 23 3/4 in (60.5 cm)
Lot 112 An Ikenga wood headdress, made in several parts, in the form of a hemi-spherical base surmounted by three conjoined human heads, surmounted in turn by a human janus head and with a panel extending to either side of which are attached two additional heads, each with angular features and traces of pigment 15 1/4 in (38.5 cm)
Lot 180 ...  also two Western Indian polychrome painted soapstone steles, one with figure of an elephant-headed God Ganesha the other with a seated deity 4 3/4 in (10.5 cm) and 6 1/2 in (16.5 cm)
There are other items from this sale that are also unmatchable; the ones above are a selection of the more obvious examples where it seems clear that the item is not listed in the second collection catalogue.
According to the Sotheby's catalogue for a sale on 26 November 1979, a shrunken head was sold which was described as being the property of Stella Pitt-Rivers from the Pitt-Rivers Museum, Farnham: 'Lot 48 A Jivaro Indian shrunken head, the features well preserved with long pale coloured hair, bead and feather suspensions from the ears and a feather ornament hanging from the top of the head, the lips sewn in four places with long stranded string 4 in (10 cm) contained in a Victorian domed glass case. ... Provenance obtained by Mr St George Pitt 1898" [illustrated]. It is not clear why the shrunken head was not catalogued at the same time as the three other items listed in the catalogue as being collected by St George Pitt (actually St George William Lane Fox-Pitt, one of Pitt-Rivers' sons) in Ecuador: two pottery vessels and a syrinx. For these other items see Add.9455vol7_p2109 /1-2 and Add.9455vol8_p2187 /2.
This item was presumably not the same one which put up for sale on 15 July 1975, again by Sotheby's:
Lot 52 A Jivaro Indian shrunken human head, with all the features intact, the small face with compressed features, the eyelids sewn together,  the lips tied in three places with pieces of string that combine to form a tassel, with ash-blonde hair and with pierced ears 4 in (100 cm) without suspensions contained within a Victorian glass-domed specimen cabinet Literature Buxton pl. 13'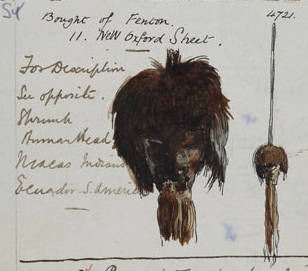 One indicator that it is not the same object is the differing description of the lip stitching. There is only one shrunken head listed in the catalogue of the second collection, Add.9455vol2_p473 /2 obtained from Fenton on 7 May 1889. This might be the item sold in 1975 as its physical description is not very good. Unfortunately the 1975 head was not illustrated by Sotheby's, but the second collection catalogue image is shown here:
'Description of object: [p. 473] Bought of Fenton 11 New Oxford Street For Description See opposite. Shrunk Human Head Macas Indians Ecuador S. America [2 Drawings one numbered 4721] Added: [p. 474 note] SHRUNK HUMAN HEAD, MACAS INDIANS. ECUADOR. S. AMERICA. The custom of preserving the Heads of Enemies slain in battle, has prevailed amongst many Nations, ancient and modern. The Macas Indians & other Tribes surrounding them, have devised a method of shrinking them into the size shown in this specimen. The scull [sic] and bones are removed through the neck, preserving the flesh of the head, features, & hair. The fleshy parts are then shrunk by placing hot stones in the aperture, which are constantly replaced by others, until the head is reduced to such a size that it can be hung round the neck of the Priest by means of a string.' (see illustration on this webpage)
The New Ireland chalk figure shown here is unmatchable to the catalogue, although according to the Sotheby's catalogue for a sale in London on 26 November 1979 this was:
'Lot 51 A New Ireland chalk ancestor figure, standing with hands clasped across the stomach with prominent genitals, the large flat face with protruding circular eyes and a notched beard extending around the chin, the coiffure arranged in three lobes intersected by notched lines 14 1/8 in (36.5 cm) ... Provenance bought of Webster, September 1897.
However, the catalogue does not list any matching figures bought from Webster during that time. The only similar figure from 1897 is Add.9455vol4_p1440 /2, which bears some resemblance, but does not have the triangular shape below the chin which is shown in the photograph. It also apparently had much more prominent toes (to name but two of the discernable differences). This figure was obtained on 10 March 1897, but that is not sufficient to discount it, as several other objects that have been matched to entries in the catalogue were entered with the wrong date or donor in Sotheby's sale catalogues.
A lead figure sold at Sotheby's on 2 December 1980 can not be matched to the catalogue of the second collection from CUL:
"Lot 31 A New Guinea lead pendant Incised with a human figure, the face with mica inset eyes, the arms visible in low relief, the remainder of the surface with fine incised chevron decoration, with red pigment and a fibre suspension 6 1/4 in (17 cm) Provenance Pitt Rivers Collection. A painted label on the back reading "New Guinea. Bt Webster Sept 1897. P.1698"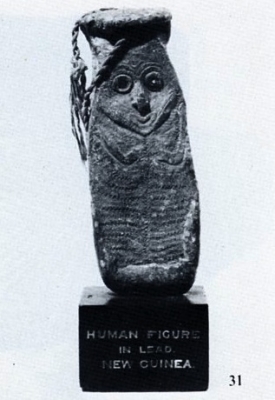 Note that page 1698 of the CUL catalogue does show objects from Webster, but ones donated in August 13 1898 (specifically, Benin objects), and therefore do not relate to this object. It is possible that this is a misreading of the number, but no object that matches the description can be found. Items from Webster in September 1897 are mostly shown on pages volume 5 page 1574 to 1621, though entries from this month are also shown on page 1662, volume 6 page 1837, volume 8 page 2124 and finally volume 9 page 2350. None of them match this object, nor do any of the other of the entries in the catalogue that can be identified in the catalogue.
Another item from the same sale which cannot be matched is
Lot 32 A New Guinea feather headdress comprising a thick backswept cluster of cassowary feathers tipped with red and yellow parrot feathers and white parrot feathers, a row of six hornbill beaks forming a crown-like device across the front, 20 in (51 cm) wide approx. With a painted label reading "Hornbill & Feather Headdress from Orokaiva, a Northern division of Papua or British New Guinea" Provenance: Formerly in the Savage Collection and now Pitt Rivers Collection.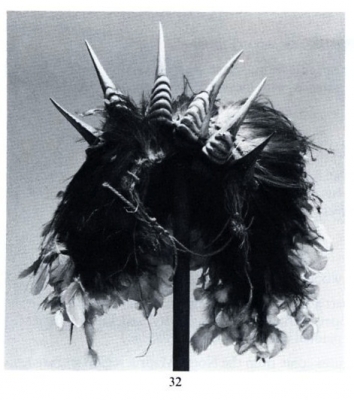 There are headdresses in the Savage collection listed in the second collection catalogue but none that resemble this specimen (which seems much more complicated than the ones listed), nor are any artefacts said to be from Orokaiva.
Other unmatchable items are listed in the Sotheby sale catalogue for 30 March 1981. The first instance is:
'Lot 61 An Oceanic (?) phallus 7 1/2 in (19 cm) and a Japanese (?) stone representation of the female sex organ, with a section of gold lacquer 5 1/4 in (13.5 cm)
'Lot 234 A North African ebony wood chair elaborately carved with the pieces pegged together, with openwork panels of geometrically woven string forming the seat, backrest, footrest and other purely decorative panels, decorated with geometric ivory and bone insets 47 1/4 in (120 cm)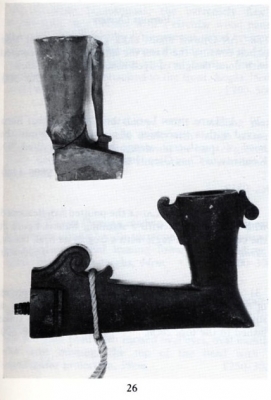 The final Sotheby's sale which included items put up for sale by Stella Pitt-Rivers and which have been checked in detail was held on 25 June 1984. The following items were not matchable:
Lot 26 Two American Indian stone pipe bowls, one in fragmentary state of Plains origin, with the remains of a human figure 7.7 cm the other Ojibway, the stem of both the flared section with spiralling motif protrusions 12.5cm the first inscribed Webster 189* £200-300
There are no North American pipes which match this description nor do any of the items obtained by Webster during the 1890s.
Lot 54 A Matty Island wood and shark tooth knife each side of the flat blade with five teeth bound with fibre and covered with white kaolin pigment, the handle of circular section, the terminal in the form of a twin barbed crescentic projection with an oval loop and six wood links of a chain carved from the one piece of wood 72 cm £1000-1500 A similar knife was sold in these rooms on the 9th of November 1979, lot 99
Lot 55 A Matty Island turtle bone axe the wood handle of circular section, the large head with sharp blade inscribed "Bt Webster May 1897" 28 cm For a similar example see number 274989 in the Fuller collection, Force page 292. These axes were probably used for splitting breadfruit.
There are no items of this description bought from Webster at the date given. In addition there are no such items listed in the CUL catalogue.

Lot 89 A Maori skirt, with woven taniko work waist-band of varying shades of brown fibre, the skirt of multiple strands of flax leaf, the pattern formed by scorching length 50.5 cm £400-600
No Maori clothing is listed in the catalogue of the second collection. Another set of items from the same sale from Stell Pitt-Rivers cannot be matched:
Lot 186 Two Bamileke clay pipe bowls one in the form a male human figure with the hands clasped to the abdomen, the other portraying a human head with pugnacious features and incised geometric decorations 13.8 cm and 12.5 cm £300-500 Provenance: Ex Pitt Rivers Collection
Again there are no pipes that match this description that can be identified. On the Sotheby's photograph it can be seen that both objects have numbers written on them '1047' and '1048' respectively. This does not refer to pages 1047 and 1048, and it is not known what it does refer to. It should make it easier to match the objects, but it does not.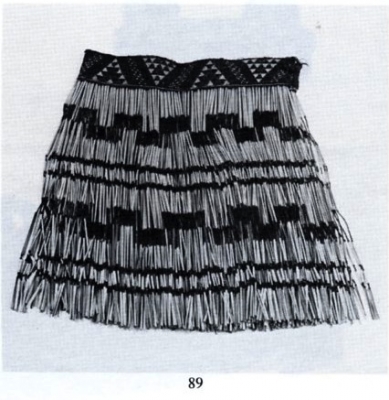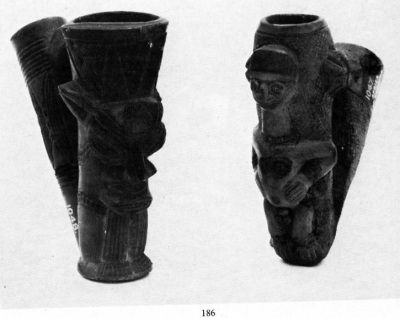 See here for Part III
AP, August 2010